Whether the Fire Phone investment was worthwhile depends on how many of the smartphones Amazon manages to sell. From a hardware point of view, it carries a low-enough BOM (bill of materials) for the online retail giant to make a profit on each sale. Amazon's new cell phone was launched on July 27.
However, the company probably spent a fortune developing the smartphone's unique features and will have to achieve blockbuster sales to recover its investment.
Matthew Miller writes in ZDNet that the Fire Phone is a great device for Amazon shoppers and media services, but otherwise he does not see it as a great smartphone. "I think it is a great device for Kindle Fire owners, but am not sure why anyone else looking for a smartphone would purchase one," he said.
According to most experts who have reviewed the Fire Phone over the last week, it is not a device that will sell tens of millions and compete with the likes of Samsung and Apple. However, as a long-term trial to determine what is required to build e-commerce into a smartphone, it is an excellent experiment.
Nobody outside Amazon knows how good initial sales have been. Amazon has been listing the Fire Phone every day as one of the bestselling cell phones since it was launched. On Monday it was placed second to the Samsung Galaxy S5.
$205 production cost
According to IHS Technology's preliminary estimate, the BOM (bill of materials) of the Fire Phone comes with a 32-gigabyte NAND flash memory which costs about $201. If you add the $4 manufacturing expense, you have a cost of production totaling $205.
With a retail price tag (unsubsidized) of $650, the Fire Phone has hit an appropriate price point to compete on a per-unit basis profitably with other similarly-priced smartphone sellers.
However, Amazon's R&D costs have been huge, and will bear down heavily on the product's profitability equation.
Andrew Rassweiler, senior director, cost benchmarking services for IHS, said:
"The features that differentiate the Amazon Fire Phone – particularly its unique Dynamic Perspective interface – required the development of specialized hardware and software. This kind of R&D effort is expensive and can only be paid off through major sales success."
"In a highly competitive smartphone space dominated by Samsung and Apple, Amazon will face the considerable challenge of selling enough Fire Phones to make its R&D effort worthwhile."
Ian Fogg, senior director for mobile media at IHS, notes that the Fire Phone's launch price sets it in direct competition with established Samsung and Apple smartphones, both of them market leaders.
Mr. Fogg said:
"This is a high-risk launch-price strategy which is unsustainable for a smartphone market entrant like Amazon. Simply having a well-known brand on the box is not enough to sell smartphones, as Nokia and Motorola know well."
Dynamic Perspective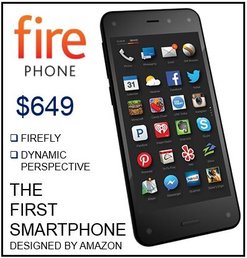 In Amazon's marketing of the Fire Phone, the company promotes the comprehensible Dynamic Perspective interface, which allows the user to access menus and shortcuts simply by swiveling or tilting the handset, or peeking at the display.
Amazon uses hardware found only in the Fire Phone to make the Dynamic Perspective technology function:
Four camera-like sensors that use processors to coordinate their activities. They are located in each corner of the device and detect the user's perspective relative to the display. They are monochrome sensors with a 400×400 pixel resolution, the IHS Teardown Service team discovered. They feature specialized OmniVision Technology – probably OmniVision's OV6211, a shutter sensor computer vision that applications use – they say.
Four infrared light emitters, one in each corner of the front bezel. Rassweiler said "These emitters may project more than just a blanket of infrared light. These IR emitters may broadcast an array of light 'points,' which are then 'seen' by the cameras, providing the camera with a 'map' of its surroundings. Though we are not sure at the moment, it is assumed that the Amazon Fire phone sensors work in a similar manner to the technology used in Microsoft's Xbox Kinect."
Qualcomm chips
Most of the Fire Phone's functionality comes from Qualcomm chips. Qualcomm Inc. has provided the core processor, as well as the power amplifier and radio frequency sections of the design.
In a press release, IHS wrote:
"At the core of the device is the MSM8974 applications processor and wireless baseband chip from Qualcomm. The Teardown Analysis service has seen several variants of the MSM8974 in more than 10 teardowns of other phones and tablets examined in 2014, including the Samsung Galaxy S5, the Nokia Lumia 1520 and the ZTE Grand S II."
"The Amazon Fire Phone also features Qualcomm's full RF 360 suite of integrated circuits (IC). While IHS previously has analyzed wireless products that contain a few chips from the suite, it never before has seen the full Qualcomm solution in a single smartphone or tablet. The suite consists of the QFE1100 envelope tracker, the QFE1520 and QFE1550 antenna-matching tuners and the QFE23xx series of transmit modules."
A fine first effort
Eric Zeman, writing in InformationWeek, describes the Fire Phone as a "fine first effort". However, he adds that it falls short of expectations.
Rather than concentrating on satisfying consumer desires or solving real customer needs, Amazon chose to add instant gratification tols and pointless interface tricks, Zeman wrote.
The phone was further crippled by an expensive price and limited availability through just one network operator.
Zeman wrote "Amazon's intent with the Fire Phone is clear: Make it easier for people to buy things from Amazon. In that pursuit, the Fire Phone succeeds. Many people, however, want more from their smartphone."
The most common complaints made by reviewers about the Fire Phone are:
Any decent Android device can already do all the things the Fire Phone can.
The user is stuck with Amazon's apps.
It has 3D, but does not have a 3D screen.
It forces you just to buy Amazon products.
There is a battle in the smartphone industry to stand out from the pack, to offer something unique. Sometimes companies' obsession with technology makes them lose sight of something much more important – customer desires and needs.
Amazon, the world's second largest online retailer, is based at Seattle, Washington. It employs more than 117,000 workers worldwide.
Video – Fire Phone review