The first Greek current account surplus since records began in 1948 was posted today by the Bank of Greece, which said that record tourist spending after the industry slashed prices has significantly helped improve figures.
Tourism income, Greece's largest earner of foreign currency, increased by 15% in 2013 to a record €12 billion.
The country has benefited from a better mix of visitors, many of whom have spent more and had longer stays.
According to The Bank of Greece, €1.24 billion more came into the country than left it in 2013, mainly driven by a 15% rise in tourism receipts and significantly lower imports.
In 2012 the country had a €4.6 billion current account deficit.
Greece's trade deficit fell to €2.4 billion euros in 2012, after exports rose slightly and imports fell by 4.5%.
Greece becoming more competitive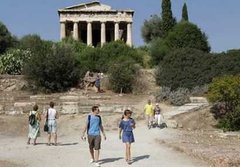 Greece used to have comparatively high wages and low productivity, making the country uncompetitive with its European Union trading partners.
Recently wages have fallen, resulting in much better competitiveness and higher exports. Exports of non-fuel goods increased by 2.1% to €14.2 billion last year.
However, Stelios Bouras points out in the Wall Street Journal that since its bailout in 2010, Greece has been implementing reforms in areas such as social security, closed professions and labor markets, "but has only managed to climb a few notches on international rankings."
Greece's lenders reduced interest rates by half to approximately €6 billion in 2013, which helped the country's current account.
Decades of current account deficits
The Greek economy has been held back for decades because of its persistent current account deficits, which forced the country to depend on loans and foreign investments to make up for the shortfall.
Most economists forecast another Greek current account surplus for 2014. However, few believe the country is safely out of danger.
Platon Monokroussos, a Eurobank economist, said to the BBC "Sustaining the surplus in the longer term will depend on whether the economy maintains its competitiveness and on its capacity to increase import substitution with domestic production. Wage growth must stay in line with productivity gains."
Greek unemployment is excessively high, with 28% of adults out of work in November. In order to gain desperately needed loans the country had to put through tough austerity measures which contributed to a nearly 25% drop in GDP over a four-year period.
After contracting for six successive years, the Greek government is predicting 0.6% GDP (gross domestic product) growth for 2014.
Euronews quoted Craig Erlam, a market analyst with Alpari, who cautioned:
"I think we're going to be looking at a much longer period of pain for Greece. The rate of the decline in unemployment is still going to be extremely slow, especially compared to the rate that it increased over the last couple of years. So while it's a positive thing that we are seeing in Greece – and if you compare it to where we were say two years ago it is a hugely positive thing – it's such a long road ahead for Greece and a lot more pain to come."