Theresa May, UK's Home Secretary, had wanted non-EU foreigners who had recently graduated from British universities to leave the country immediately and apply for visas and jobs in the UK from abroad. After an outcry from employers and research centers, Chancellor George Osborne stepped in and quashed the plans.
To quash something, such as a decision or plan, means to make it invalid or null.
Ms. May was planning to include a pledge by the Tories in their election manifesto to get recently graduated foreign students to go back home and re-apply for a visa to return to the UK. Business leaders said the plan was silly and bad for the country, to say nothing of the extra costs and inconvenience to the graduates.
According to a report in the Financial Times on Tuesday, last night Mr. Osborne crushed that plan. A Tory official was quoted as saying "We have a policy that international students can stay when they graduate if they find a graduate-level job paying £24,000 a year. That remains the policy."
Economists were bewildered by Ms. May's plan, in a country with a severe and worsening skills shortage. Surely, the plan should be to encourage qualified foreigners to fill jobs that lie vacant for several months because too few people at home have the necessary training.
In September 2014, a Recruitment and Employment Confederation (REC) and KPMG Report showed that vacancies in UK companies increased at their strongest pace since 1998, but the number of people being hired had slowed down, suggesting it was becoming more difficult to find the right people, i.e. Britain has a growing skills shortage.
Immigration has become a big political theme in the UK, with Prime Minister David Cameron trying to get concessions from the European Union to limit the number of EU citizens migrating to Britain.
The Tories face a dilemma of stemming the loss of supporters who are moving to anti-EU and anti-immigration party UKIP, while at the same time pleasing the business community.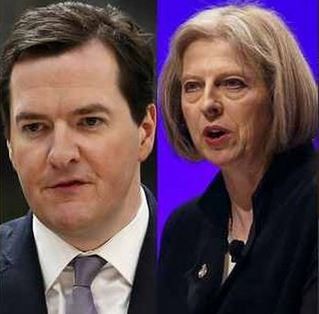 George Osborne and Theresa May are probably sharpening their weapons and positioning themselves for a possible leadership contest if Prime Minister David Cameron loses his job in May, 2015 (General Elections).
Mr. Osborne is more liberal than hard-line Ms. May. Even so, most analysts believe her stance on foreign graduates had not been properly thought through.
Head of Immigration Policy at business lobby group London First, Mark Hilton, commented that Ms. May's proposal had already damaged the UK's and London's standing as an open place for international talent.
The Evening Standard quoted Mr. Hilton, who said:
"Education is a £10bn export market for the UK and with rhetoric like this some in government seem intent on making us look like we've pulled in the welcome mat."
Mr. Hilton commented that the number of people choosing to study at British universities from core markets like India were falling.
Too many are staying, says Ms. May
According to Ms. May, 121,000 students came into the UK in one year, while only 50,000 left. She believes this gap in net student immigration is unsustainable. She did not mention, however, how many of those 71,000 who stayed got skilled jobs.
According to the British press, pressure from inventor and entrepreneur Sir James Dyson, other business leaders, and former universities minister David Willetts, prompted Mr. Osborne to force Ms. May to back down.
Non-EU foreign students used to be given 24 months to find a job after graduating in the UK. This was reduced to 4 months in 2012, making the UK the strictest of the English-speaking advanced economies.
After the period was reduced to four months, the number of graduates given extended visas fell by 84% in one year. In 2013, only 6,238 such visas were granted to non-EU graduates.
The number of non-EU foreign postgraduate students in the UK fell in 2012-2013. It would be fair to extrapolate from these data that reducing the 4 months to nothing would not only make it harder for employers to find skilled workers, but would also harm universities that make a lot of money from foreign students.
The Confederation of British Industry disagrees with the Prime Minister's stand on the free movement of labor within the European Union.
All UK business groups insist that the country's economic recovery would not have occurred without immigration. In November, CBI Deputy Director General, Katja Hall said:
"The UK's openness to trade, people and investment has been the foundation of Britain's success in the past and will remain central in the future. Immigration has helped keep the wheels of this recovery turning by plugging skills shortages and allowing UK firms to grow. Freedom of movement to work is essential to businesses getting access to the best talent and equally offers British citizens the chance to take up a job anywhere across the EU."
"Businesses agree that we must ensure the system rewards those here to work, not the few who do not contribute. But the EU matters to the future of British jobs and growth so we must work with allies to secure reform. The Government and businesses need to do more to ensure growth benefits everyone and that means not only helping more people into work, but equipping them with the skills they need to move up the career ladder."