Fossil Group Inc., the fashion accessories retailer, posted impressive sales and profit for the third quarter, well ahead of expectations, as demand is strong for its watches and jewelry. Its share price surged by 18.5 percent in extended trading.
Jewelry sales increased by 23 percent in the quarter for the company. Fossil has achieved significant success by marketing its jewelry line as "affordable luxury", an image it has with its watches and handbags.
The Texas-based retailer announced a $1 billion share repurchase program, which will end in December 2018.
In the third quarter ended October 4, Fossil reported that revenue rose 10 percent to $894.5 million.
and net income rose 15.6 percent to $103.7 million, or $1.96 per share.

Fossil employed a "affordable luxury" image that helped it boost sales.
Watch sales rose by 12.4 percent to $696.3 million (accounting for over three quarters of the company's net revenue).
The company narrowed its forecast range for 2014 profit, now expecting to earn between $7.00-$7.30 per share in 2014, up from its previous forecast of $6.95-$7.35 per share.
It expects current quarter earnings in the region of $2.91-$3.21 per share and sales growth of around 3 to 6 percent.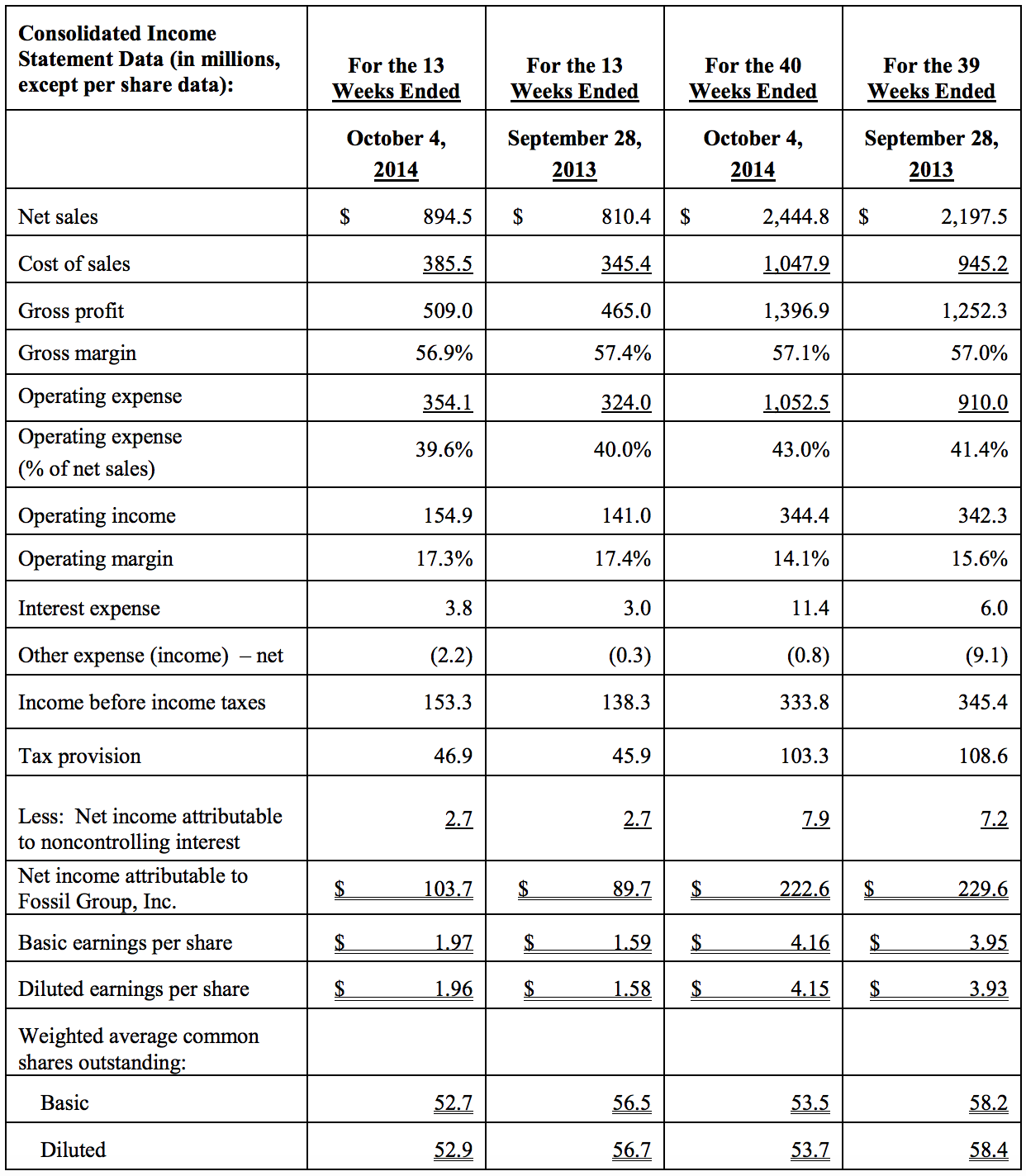 Kosta Kartsotis, Chief Executive Officer, commented on the results:
"The third quarter marked another strong period for our company. We reported better-than-expected top and bottom line results, advanced many of the strategic initiatives that we expect will continue our favorable performance in the future and returned value to shareholders by capitalizing on our strong balance sheet and executing our share repurchase program. The quarter was highlighted by growth across our major geographies and driven by strength in our multi-brand watch portfolio, jewelry and our Fossil and Skagen lifestyle brands."
Adding:
"We launched our Tory Burch watch collection – adding another powerful brand to our portfolio and furthering our Swiss watch initiative. We announced a partnership with Intel to support our wearable technology initiatives and just today, we announced the renewal of our licensing agreement with Michael Kors for ten years. Our overarching goal is to consistently deliver profitable top-line growth while investing in high return initiatives that can fuel our momentum over the long term and we believe fiscal 2014 is shaping up to represent a year of progress toward this objective."
Mr. Kartsotis concluded:
"Our consistent performance continues to demonstrate the strength of our portfolio of owned and licensed lifestyle brands, the innovation in our designs, the power of our global distribution model, and the disciplined execution of our growth strategies by our team. We continue to expect to capitalize on our strengths as we look to take advantage of the white space opportunities that exist for our company across geographies, categories, price points and channels of distribution. We also expect to drive efficiencies in our operating structure as we leverage the investments we have made over the past few years. All of this positions us well to consistently drive profitable growth into the future. Over the long term, we are very excited about our future and are well positioned to deliver sustained growth and outstanding returns for our shareholders."