Sainsbury's posted a pre-tax loss of £290 million for the quarter ending September 27th, while at the same time announcing a £150 million additional investment in slashing prices as it joins the other supermarket giants in a fight for life against discounters such as Aldi and Lidl.
Britain's third largest supermarket warned that its profitability will fall even lower in the second half of the fiscal year compared to the first half. Full-year dividends are also likely to be significantly down, it added.
The Holborn-based company said it was cutting its new store program to 500,000 square feet of space annually from its previously announced 750,000 square feet.
Sainsbury's says it will broaden its range of non-food items, including homewares, clothing and seasonal goods for two reasons: 1. To widen its appeal. 2. To occupy store space that has become empty because shoppers are drifting in increasing numbers from large supermarkets to smaller, local stores.
Capital expenditure will be cut to between £500 million and £550 million annually until 2017, which will reduce costs by approximately £500 million over the next 36 months. The savings will go towards funding lowers prices.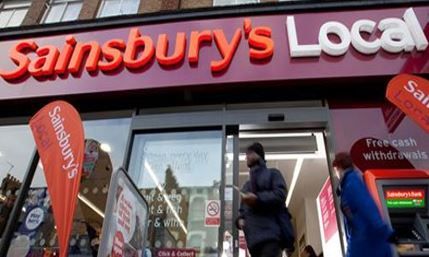 Sainsbury's smaller convenience stores are doing well, unlike its large supermarkets.
Its interim dividend stays at £0.05p. The company has fixed its dividend cover at twice its underlying earnings for this and the next three fiscal years. Consequently, given its lower profitability, full year dividends will be down on last year.
Sainsbury's shares closed at 269 pence on Tuesday, thus valuing the group at £5.13 billion.
CEO, Mike Coupe, who took over in July 2014 from Justin King, said he plans to significantly expand the retailer's online businesses.
Shopping habits have shifted
Since 2008, when the global financial crisis hit, British consumer preferences have changed, as have their shopping routines. Brits are more price conscious today than at any time since WWII, and the "price is king" mentality is likely to be here to stay, say experts.
Sainsbury's had been faring better than the other three UK supermarket giants, boasting nine successive years of growing sales, until the last quarter of the 2013-14 fiscal year. Since then, sales have declined every quarter.
Mr. Coupe is under massive pressure from investors to implement a strategy that shows them convincingly that the company is no longer sliding down a slippery slope into deeper problems, like those experienced by rival Tesco.
In his 30-year career, Mr. Coupe said he has never seen such challenging conditions as those he is facing today. The current retail environment of declining prices and shoppers obsessed with bargains has led to a supermarket price war.
According to Mr. Coupe, only about 75% of Sainsbury's supermarkets are in the "right locations and are of the right size for our food and non-food offer," the rest have excess retail floor space.
Mr Coupe said:
"We have examined every aspect of our business and we have good foundations for future growth in our supermarket and convenience estates, our online and non-food businesses and in Sainsbury's Bank."
"However, we need to make sure that we are investing in the right areas and by reducing our costs and capital expenditure we are ensuring that we have the resources to enable us to do so."
"We are facing into a once-in-a-generation combination of cyclical and structural change in the industry, but I firmly believe that this strategy, building on our unique heritage and track record of success and delivered by the most experienced management team in retail, will focus and energise our business to the benefit of customers, colleagues and shareholders alike."
Morrisons has already declared a price war
Morrisons, Britain's fourth largest supermarket, saw sales decline by 6.3% in the last quarter, which was less than the 7.1% and 7.6% falls posted in the previous two.
Morrisons said it would start matching prices against those offered by discounters in its quest to stop losing market share.
Video – Interview with Mike Coupe, CEO of Sainsbury's