Fracking for shale gas 1,200 metres below national parks and other protected sites has been approved by MPs (Members of Parliament) in a 298 to 261 vote. Companies will now be allowed to drill from outside national parks and protected areas, as long as they comply with the minimum depth.
Campaigners and opposition MPs, who criticized the lack of debate on the issue in the Commons, say ministers have done a massive U-turn. According to the opposition parties, Tory ministers had previously promised to push for an outright ban on fracking below all the country's national parks.
According to the Government, its plans will protect Britain's most precious landscapes, adding that the country had "one of the best track records in the world for protecting our environment while developing our industries."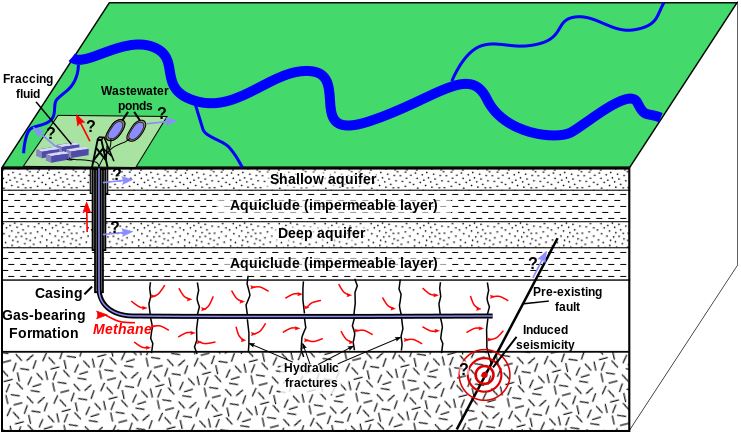 According to the US Environmental Protection Agency "Hydraulic fracturing (or fracking) produces fractures in the rock formation that stimulate the flow of natural gas or oil, increasing the volumes that can be recovered. Wells may be drilled vertically hundreds to thousands of feet below the land surface and may include horizontal or directional sections extending thousands of feet." (Image: Wikipedia)
U-turn on 'outright ban' in national parks
In January this year, MPs had overwhelmingly turned down a bid to suspend drilling for shale gas in a Commons vote. It was then that ministers pledged an 'outright ban' on fracking in national parks.
The Government's proposal, which was first published on 16th July, 2015, said:
"The draft regulations set out further protections for groundwater and National Parks, Areas of Outstanding National Beauty, the Broads and World Heritage Sites, ensuring the process of hydraulic fracturing can only take place below 1200 metres in these areas. Drinking water is not normally found below 400m."
Friends of the Earth says Government can't be trusted
Rose Dickinson, of Friends of the Earth, said following the Commons vote:
"This just goes to show that we really can't trust the Government on fracking, and the only way to protect people and the environment is to make sure the UK stays frack free."
"Yet again, the Government has revealed that it is firmly on the side of the fracking industry, and willing to do anything to get it off the ground."
UKOOG says fracking is safe
According to UK Onshore Oil and Gas (UKOOG) – the representative body for the UK onshore oil and gas industry including exploration, production and storage – shale gas can be produced usefully and safely in the UK. It adds that fracking is no more risk to the public than other comparable industries.
"Gas is integral to our life providing electricity, heating for over 80% of our homes and as a vital raw material for making products such as computers, clothing, medicines and cosmetics as well as providing fertiliser for food production."
We have already seen a significant shift to imported gas and this is set to continue. Shale gas will provide a means of addressing this and is a clear way of enhancing the UK's energy security and will help combat concerns about the security of supply."
"The UK onshore oil and gas industry is committed to working with communities and enabling them to share in the economic benefits that flow from gas exploration and production sites located near to them. The industry is in the process of setting up a number of pilot schemes with respect to initial communities in which we hope to learn exactly what works for those communities involved. It is clear that this needs to be community led."
UKOOG believes companies now need to get on and determine how much shale gas there is below ground in the UK. The industry could be a provider of thousands of highly skilled jobs across the country, as well as energy security for the UK, it adds.
What is fracking?
Fracking is the slang term for hydraulic fracturing, which refers to the procedure of creating fractures in rocks and rock formations. This is done by injection fluid into cracks to force them to open further.
As the fissures (cracks) open up, more oil and gas flows out of the rock formation and into the wellbore, from which it can be extracted.
Fracking has been big business in the United States since the turn of the century, and is well on the way to turn the country into a net exporter of fossil fuels.
Video – What is fracking?
You have heard of fracking and know politicians and groups argue about it a lot. But perhaps you do not know how it actually works. This video explains what fracking is in a non-scientific and easy-to-understand way.