UKIP leader Nigel Farage told MEPs the British EU referendum could be a tipping point for those who are against the 'European Project'. He described Prime Minister David Cameron's renegotiation strategy as nothing more than a 'charade' which at best would yield just 'minor changes'.
UKIP, known formally as the UK Independence Party, is a right-leaning British political party that wants Britain to leave the European Union. It has one MP (Member of Parliament) in the House of Commons, three representative in the House of Lords, and 22 members of the European Parliament. It is, in fact, the largest UK party in the European Parliament.
The leaders of the EU Member States will discuss the UK's proposed reforms at a dinner on Thursday. Mr. Cameron would like to restrict benefits for foreign workers during the first four years in the UK.
Mr. Farage said "It's funny every single time a European Union policy fails, and that's pretty often, the demand is more centralisation and more Europe."
No concrete agreement is expected during the two-day EU Council meeting. However, Mr. Cameron says there will be 'substantive and frank discussions', which could pave the way for a deal in February, which he hopes will appeal to the British electorate.
---
---
The main proposals Mr. Cameron says he is pushing for are:
– A 4-year ban on foreign workers (EU migrants) claiming in-work benefits.
– More powers for national Parliaments.
– Safeguards for non-Eurozone nations.
– An opt-out for Britain from the principle of every-closer union.
Farage expects a referendum in June 2016
Mr. Cameron has promised there will be an in-out EU referendum by the end of 2017. So far, he has not said when it will take place, and adds that no date will be considered until he has concluded negotiations.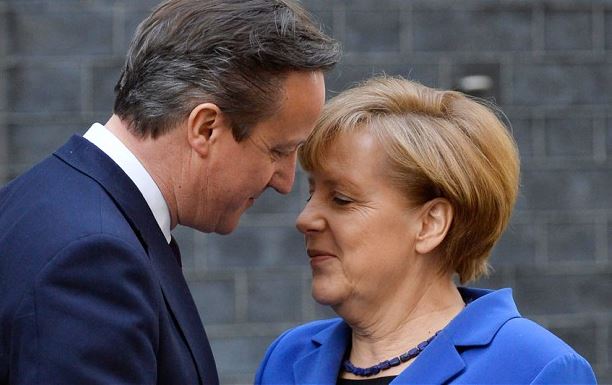 Germany, usually a UK ally in the EU, has signalled its readiness today to be 'extremely helpful' to Mr. Cameron in his quest to renegotiate British EU membership. How far can or will German Chancellor Angela Merkel go to help Mr. Cameron get what he seeks?
Mr. Farage believes the referendum will be held in June 2016.
Speaking in the European Parliament, Strasbourg in front of Commission President Juncker and political group leaders, Farage said he doubts Mr. Cameron will make any progress during Thursday's dinner.
According to the UKIP leader, the British Prime Minister was allotted just seven minutes to speak at a dinner last June when he first laid out his plans, following the Tory election victory.
Cameron has asked for nothing, says Farage
Regarding what Mr. Cameron is fighting for and what he will accomplish, Mr. Farage said:
"He has asked for almost nothing and is unlikely to get even that. But I am sure we will be treated to the usual theatricals."
"A grave-faced prime minister will come back to the UK to say how tough the negotiations have been, to say he will not give in and there will be hints that the PM will even support 'Brexit' if he does not get his own way."
"In February, the charade will come back. There will be a European summit and on something minor and inconsequential there will be a deal."
Regarding Mr. Cameron's predicted hard-man style when negotiations get tough, Mr. Farage said:
"I think we should take that about as seriously as when he banged the table and said he would not pay the 1.75bn sterling surcharge 18 months ago and yet then meekly obliged."
"Well the British referendum may be that moment and the momentum is on our side. It isn't just about getting back national democracy it is actually about getting back national self-confidence and I think for those of us that believe in nation state democracy, 2016 is a very bright dawn indeed."
Video – Mr. Farage addressing the European Parliament
In the first half of this video, Mr. Farage criticises the European Union's move regarding its border agency and maritime services, and then talks about how Mr. Cameron will fail when negotiating with EU leaders.