UK unemployment fell again during the August-to-October period, down to 5.2% from 5.3% in the previous 3-month period. However, wage growth slowed steeply, which surprised economists. The number of people with jobs increased by 207,000 to 31.3 million, a new all-time record, according to data published on Wednesday by the Office for National Statistics (ONS).
The unemployment rate for the August-to-October period has not been lower since the three months to January 2006. Last year, unemployment stood at 6%.
Compared to the same period last year, there were 505,000 more people in work. Of the 31.3 million employed workers in the country, 22.88 million are in full time employment, which is 338,000 more than a year earlier, and 8.42 million people working part-time, which is 167,000 more than during the same period last year.
Table source: Office for National Statistics.
The employment rate during the August-to-October period was 73.9% – the highest rate since comparable records began in 1971. The ONS defines the employment rate as people aged from 16 to 64 who have jobs.
The total number of people out of work stood at 1.71 million, which is 110,000 fewer than the previous May-to-July period and 244,000 fewer than the August-to-October period last year. Unemployment is defined as people without jobs who are seeking and are available to work.
---
---
Male unemployment stood at 939,000 and female unemployment at 774,000. There were 153,000 and 91,000 fewer men and women unemployed respectively compared to a year earlier.
Wage growth has slowed down
Pay for employees in the UK increased by 2.4% including bonuses and 2% excluding bonuses in the August-to-October period compared to the same 3-month period last year. This is a sharp slowdown from the 3% increase year-on-year registered in the May-to-July period.
Put simply, the British economy is robust, employment growth is strong, but wage inflation is very low.
British workers are still enjoying a boost in their purchasing power because prices in supermarkets and shops have hardly risen at all, while the price of petrol has declined considerably over the past year.
The proportion of British adults in work has never been so  high. (Image: Office for National Statistics.)
Most analysts were surprised by the data, especially since pay growth and productivity appeared to be picking up in the summer after being stagnant for six years.
The Financial Times quoted David Page, an economist at AXA Investment Managers, as saying:
"It sort of feels like going back to the future a bit. On the one side we've got very strong employment growth again, which is obviously good . . . but the Bank of England will be a little cautious about the fact we're still seeing this same 'soft productivity, soft wage growth' dynamic coming through."
With wage growth still relatively low, it is unlikely that the Bank of England (BoE) will consider raising interest rates any time soon. For annual inflation to reach the BoE's target of 2%, wages will have to rise at a much higher rate.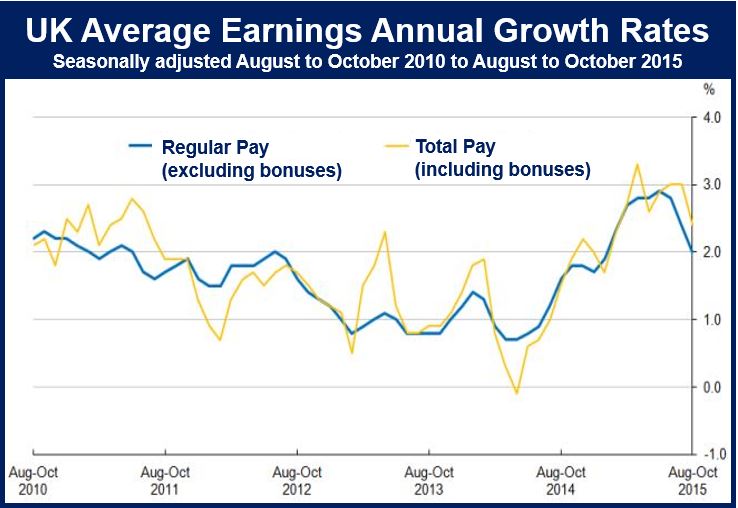 The high May-Jul wage growth was due to a relatively sharp increase in July 2015 (2.9%), while the lower figure for Aug-Oct was for the relatively low figure for October (1.7%). (Image: Office for National Statistics)
Mark Carney, the Governor of the Bank of England said he would like to see wages growing by 3% annually before he would increase interest rates.
Perhaps employers do not feel compelled to increase salaries because workers' spending power is increasing anyway.
Laura Gardiner, Senior Research and Policy Analyst at the Resolution Foundation, an independent think tank that aims to improve the standard of living of low- to middle-income families in the UK, said:
"Britain's jobs recovery continues to impress, with strong growth among both employees and the self-employed. But the pay rebound we've enjoyed throughout much of 2015 appears to have weakened, despite inflation remaining at historically low levels."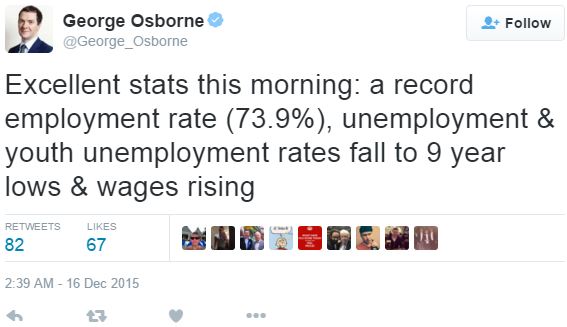 Chancellor George Osborne was clearly pleased with the figures. (Image: twitter.com/George_Osborne)
"With many expecting the Fed to raise interest rates later today, the focus will soon shift onto when the Bank of England will make a similar move. But with rising inflation likely to slow the pace of Britain's pay recovery in 2016, the first move may remain a little way off."
"The other big economic uncertainly next year is what will happen to productivity, and how it will affect pay. This challenge is particularly acute in low-paying sectors such as retail and hospitality, particularly in the light of the introduction of the National Living Wage in April."