10 Best 2D Animation Softwares for Business
If businesses want to survive in this technological era, they need to leave back the ancient ways of traditional marketing. The trends are constantly changing, and companies need to come up with new ways to bring views and engagement. One successful method is to embrace the world of animated videos with animation software.
 Animating has never been easier. However, reliable animation maker software can help. Still, there are too many of them. Some require professional-level skill, while others will create animated videos in no time. To help you choose reliable animation software, we've listed the best ones here.
How Does Cartoon Video Improve Business Efficiency?
Undoubtedly, animation is a fool-proof way to more business efficiency. We have stats to prove this statement as most businesses that have adopted animation in their marketing strategy have seen an increase of up to 40% in sales, while 93% of marketers are already using animation to drive engagement. 
As to answer how does animation does this, the reasons are listed down below: 
When a potential customer sees a cartoon video delivering the message, it helps them connect with the brand emotionally. Delivering the business message as a storyteller video will not only keep the customers engaged for a longer period but will also bring new customers to the brand. 
Additionally, a short, fun animation added at the end of each advertisement can help customers remember the brand longer and evoke a fun side of people, creating an atmosphere where customers find it easier to trust a brand. 
1. Doratoon – the Best 2D Animation Program
People in business don't have the time to invest in learning professional animation. They need a quick and cost-effective solution to market their brand, and Doratoon aims to fulfil this need. It is great for newbies in animation, significantly reducing the learning curve required in other animation software while also offering several assets to make the animation process faster. 
Some of these assets include complete animated characters with facial expressions, which reduces the effort required to create animation and enables users to shell out videos in a short amount of time. Additionally, the service provides 500MB of free storage to beginners. 
1.1 Features that make Doratoon standout
There are several features that make Doratoon miles ahead of its competition. 
The tool enables the client to select animated characters from different backgrounds. It includes business, common, professional, and animal characters, to make the animation more compelling for the viewer. Moreover, one can easily change their action and path animation using the editor.
One of the best things about Doratoon is the number of resources readily available to make a video. More than 1000 templates are there to use, with complete customization options. 
Doratoon's UI is user-friendly to a great extent. It does a great job of guiding people on making engaging videos, and even converting one's Powerpoint presentations into complete MP4 videos.
Suppose a business has no voice actors nearby. In that case, Doratoon provides dubbing through the help of AI, which can read text inputs and convert them into audible audio. 
1.2 How to Make An Animated Video?
It is fairly simple to create animated characters using the Doratoon free animation maker. Here are the steps:
Step 1: Using the web browser, access Doratoon. Sign up to create a new account or log in using an existing one.
Step 2: Once the Workbench interface is displayed, click on the "Create A New Video" button to make an animation from scratch. Besides, hit the Templates tab to select any from the built-in library. Use the Doratoon feature to edit the video. Click Preview to check the changes.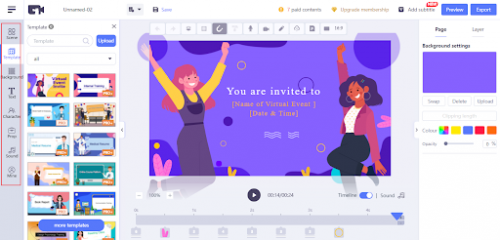 Step 3: Finally, click on Export and enter the animation title, description, and select the quality. Press OK to save the video back to the device
Start making animations today with Doratoon.
2. Pencil2D
For those who want to get straight into animation without all the gimmicks, Pencil2D is the way to go. It is also wholly open-source, so there's no need to pay for a monthly subscription, saving a business much budget in the long run. Additionally, the animation software is also available on a variety of platforms.
This animation maker itself is relatively simple. The layout of the program makes it easy to start making your animations. Simple drawing tools are available to the user, along with other helpful tools such as the timeline. It is also important to note that Pencil2D is missing painting tools, along with other complex ones. 
All in all, it is a  simple approach to animation as compared to the other tools on this list. However, it gets the job done and gets it done for free, for those that have the time to invest in it. 
3. Canva
The second software on our list is one most have probably heard before, thanks to its effectiveness in making videos and digital marketing posts and presentations. Through Canva, people who didn't even have the slightest knowledge of animation have been producing quality content for their businesses. 
However, the animation feature of Canvas does stand out, as it allows seamless addition of animation to presentations, social posts, etc. These animations can then be downloaded in a GIF or video format. 
Most of its animation revolves around making visuals move around, fade, and more. There are also about 14 premium animation styles that can contribute to the overall design. Canva is also free with limitations. Still, these limitations should not mean much for beginners and will be enough to test out the software.  
4. Visme
Visme features an easy-to-use interface and helps users make animations for presentations. Most users commented on how straightforward the editing tools were, yet it still allowed for more advanced editing options. 
Visme will help entrepreneurs get presentations ready in a relatively short amount of time through the help of a huge library of stock images, animations, templates, and other assets. Boardroom-ready presentations are also effortless to make through this animation maker. They will allow the user to demonstrate their industry or skill in a highly impactful manner. 
To make these presentations stand out even more, Visme also offers the use of ready-made charts and infographics. No one likes boring numbers, so these charts not only help to visualize the impact those numbers have but also enable the audience to retain the information for much longer. 
5. Biteable
Biteable is an animation maker tool that gives the users everything they need to produce a video in under 5 minutes. It's heavily focused on marketing campaigns and will help entrepreneurs with no proper experience in graphic design to create stunning and good-quality animations. 
It aims to target those looking for a good yet simple tool for their Facebook ads and social media videos. Biteable is perfect for this purpose. It comes with an abundance of stock music, tons of stock footage, and a fast video editor for Facebook ads. Moreover, it states how people from several different work backgrounds can use this tool on their website. 
The animation maker has video templates for all types of situations, including software promos, advertisements, training videos, event promos and announcements, and E-Commerce promos.  Apart from all of this, Bitesize has also been said to have great customer support.
6. Crello 
Crello is another software that makes sure users are never starting from scratch when working with animation projects. It achieves this through the help of 10,000 templates that have a wide range of customizations. 
These templates are not only available for animations, as Crello has templates for several other use-cases such as Facebook posts, posters, logos, flyers, YouTube thumbnails, etc.
The good thing about these templates is that once a user selects a template, the dimensions are automatically adjusted according to the template. So, for example, one chooses a template for Facebook, the width and height will be adjusted according to what Facebook prefers, saving the designer lots of time. 
Apart from all this, millions of visual assets make animations faster and more efficient. These assets include high-quality videos, photos, and illustrations for the project. Additionally, every design can be copied in the desired format and dimensions multiple times. 
7. Animaker
Animaker is a cloud-based tool that aims to fulfil the animating needs of educational institutes, businesses, and personal video makers. The good part is that since the software is cloud-based, no installation is required at all and can be accessed from almost any device. This also means that both Mac and Windows-based systems can easily use the software. 
The software itself is easy to use, featuring a drag and drop workflow that not only makes it easy to get into animation but also helps users create animations faster. In addition to this, Animaker also offers free templates and a vast library of characters, audio, images and more, to get beginners started on their videos. 
Moreover, users have also praised their email support team, as they are both responsive and helpful whenever a problem arises. Animaker does feature a subscription-based model, but there's a free version to try out. 
8. Blender
No animation maker tools list will ever be complete without mentioning Blender. Competing against the top professional animation software out there, Blender can produce high-quality animation videos. 
Blender also has many uses other than animation, as users can sculpt 3D models and render beautiful environments to use in animations, games, etc. 
Apart from this, Blender has a very supportive community, and the tutorials are abundant on the internet. A good community also means that various plugins are also available to make the animation development work even faster. 
The best part is, Blender is completely free and open-source. Considering how it can create production-level animations that rival the best animation tools out there, Blender is a tool every animator should at least consider when entering the professional animation industry. 
9. Powtoon
Another completely web-based tool, Powtoon, allows users to create all sorts of cartoons, infographics, and whiteboard videos. Since it's cloud-based, the compatibility is great, and no installation is required. Powtoon is targeted towards those who wish to make either educational or marketing videos. 
It features a simple and easy-to-use interface that is great for beginners to start making their videos. The platform also states on its website that regardless of the skill of the user, the tool will help create professional-level animations. 
Moreover, Powtoon also offers complete animated characters, templates, video backgrounds, and soundtracks that help decide how to make your animation and provide materials for faster development. Besides, it is used by several leading brands such as Microsoft, Coca-Cola, IBM, and Unilever. Considering how big these brands are, this certainly adds to the tool's credibility.  
10. Adobe Spark
Adobe Spark is another animation tool focused on getting non-designers to make engaging animations and posts in a relatively short amount of time. It features both a web and mobile app. It enables users to create engaging social graphics, web pages, and short videos. 
These animations can then be used on several social media platforms such as TikTok, IG Reels, Facebook Stories, etc. Uploading bite-sized animations such as these leads to more engagement from the audience and will translate to sales for businesses. 
Adobe Spark has one feature that most animation tools are missing, the ability to work together, send assets, and manage work, all on the cloud. This means that each user in the workplace will have instant access to all these assets, leading to faster animation development. Moreover, since it's an Adobe app, there is seamless integration to Adobe software such as Photoshop and Illustrator. 
Conclusion
The animation industry is a necessary venture for any business looking to drive sales and engagement. Hopefully, this list offers enough options for several use-cases out there. If one still feels overwhelmed by all the choices available to choose from, a simple requirements list can help analyze what each animation software offers and which one will be beneficial to the company. 
---
Interesting Related Article: "How To Leverage Videos For Your Business Online Presence"