The value of the pound rose and the FTSE 100 index entered bull market territory after Andrea Leadsom quit the Conservative Party leadership contest, paving the way for Home Secretary Theresa May to succeed Prime Minister David Cameron.
The FTSE 100 rose 58 points, or 0.9%, to 6,650 – 20% higher than February's lows- and the FTSE 250 was up 439.11 points, or 2.7%, at 16,616.86.
The pound sterling was up 0.3% against the dollar, reaching $1.299, after hovering around $1.286 in the morning.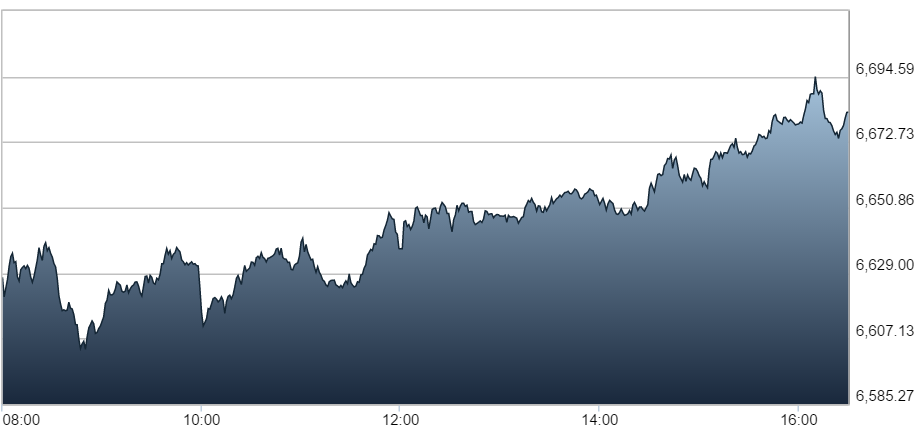 "There is a bit more political clarity which is giving sterling a bit of a boost," John Hardy, head of currency strategy at Saxo Bank told the BBC.
However, he said that the pound should see a "fair bit of resistance" around the $1.30 area.
---
---
With the FTSE 100 reaching an 11-month high are investors giving Brexit the thumbs up? Not really.
When converted into US dollars, the FTSE 100 has underperformed major equity indices in the US and Japan, while the more UK-focused FTSE 250 has fared even worse than Greek equities.
Fathom Consulting said in a report:1
"A number of prominent Brexiteers have suggested that the FTSE 100's outperformance against other major international equity indices is an endorsement by investors about the outlook for the UK economy.
"A more sobering explanation is the fact that firms listed on the FTSE 100 derive most of their earnings from outside the UK.
"Given the large fall in sterling since 23 June, these earnings are now worth more in sterling than they were before the referendum. This has nothing to do with the outlook for the UK economy."
---
1 Fathom Consulting – 'Is the UK economy really coping with Brexit?'