As soon as it became clear that Theresa May would be the new Conservative Party leader, and thus Britain's next Prime Minister, London's FTSE 100 Index, the city's top flight stock market index, as well as the pound sterling both rallied. Investors clearly considered Ms. May as a safer pair of hands than her rival Andrea Leadsom.
The FTSE 100 is an index containing the 100 largest companies listed on the London Stock Exchange. These 100 companies are commonly referred to as blue chip companies. Experts say that the FTSE 100 Index is generally used as a good indicator of the performance of the country's major businesses.
News that Theresa May – the UK's longest-serving Home Secretary for the past half decade – would become the next Prime Minister, broke earlier today when her rival Andrea Leadsom, a Minister of State for Energy, announced that she had decided to withdraw from the race.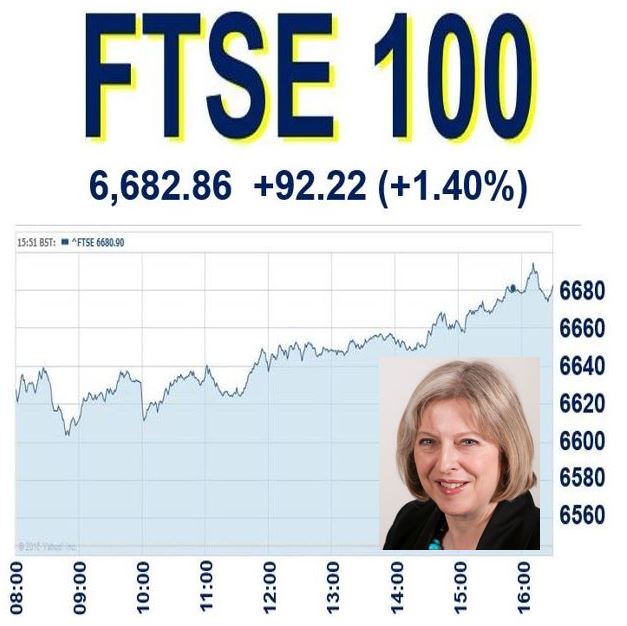 London share prices had a good day today after investors heard that Theresa May would become the new Prime Minister. (Image: adapted from uk.finance.yahoo.com)
FTSE 100 and pound up
The FTSE 100 closed up 92.22 (1.4%) today at 6,682.86, reaching an 11-month high. Investors hate uncertainty, and since the UK voted on 23rd June to leave the European Union, uncertainty has dominated the British economic and political scene.
Since 23rd June, David Cameron resigned as Prime Minister of the country and Leader of the Conservative Party, the pound took a nosedive, the stock market crashed and then fluctuated (gradually recovering), the Labour Party tore itself to pieces and culminated in a leadership challenge against Jeremy Corbyn announced today. Uncertainty has become the norm in the country.
---
---
News that one of the two main parties – Conservatives – now has a new leader, and the country has a Prime Minister again, were like words from heaven as far as investors and the markets were concerned.
The FTSE 250 Index, which many say is a better indicator of the UK's economic health, also fared well today, closing 3.27% higher at 16,706.4, after Mr. Cameron said he would make way for Theresa May by announcing his resignation to Queen Elizabeth on Wednesday afternoon.
As soon as people heard about Theresa May's win, the pound started to rise. (Image: adapted from uk.finance.yahoo.com)
The pound sterling, which over the past three weeks declined from $1.50 to $1.28, immediately rose to the $1.30 mark, after falling back marginally to $1.299 – it was still a good end to the day. Against the euro, the pound increased by 0.3% to €1.176.
Expectations of a cut in interest rates by the Bank of England, something the Governor Mark Carney signaled late last week, are also helping the London market. Mr. Carney hinted that the central bank's MPC (Monetary Policy Committee) would vote to cut rates over the summer.
---
---
Economists and analysts across London are talking about an imminent reduction from 0.5% to 0.25%.
About Theresa May
Theresa Mary May – born in Eastbourne on 1st October, 1956 – has been the Home Secretary since 2010, and a Conservative Member of Parliament (MP) for Maidenhead since 1997.
She is now Leader of the Conservative Party, and as from Wednesday, 13 July 2016, will be Prime Minister of the United Kingdom. She is the country's second female Prime Minister, after Margaret Thatcher (1979-1990).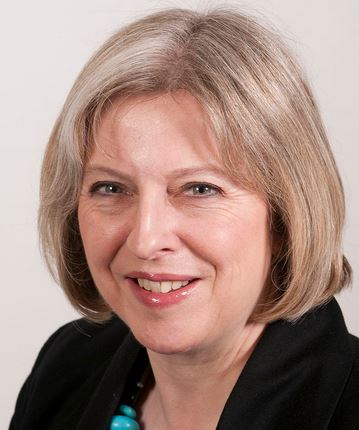 Theresa May (Image: Wikipedia)
Ms. May is a One-Nation Conservative, a belief that societies exist and develop organically, and that each citizen has obligations to other citizens. Also known as Tory Democracy, there is particular emphasis on the paternalistic obligation of the upper classes to the other classes.
The upper classes or upper class consist of the richest people in a country.
Ms. May is daughter of Zaidee Mary (1928-1982) and Hubert Brasier (1917-1981), a church of England clergyman. Both her parents died suddenly, her father in a car accident.
Ms. May was educated at primary and grammar schools (state schools), and spent a short spell at an independent Catholic school. She studied geography at St. Hugh's College, Oxford.
TM: "We must leave the European Union – and forge a new role for ourselves in the world." #TM4PM pic.twitter.com/qEtjxJxBo4

— Theresa May (@TheresaMay2016) 11 July 2016
She worked at the bank of England from 1977 to 1983, and at the Association for Payment Clearing Services from 1985 to 1997. During this period she was also a councillor for the London Borough of Merton's Durnsford Ward. In 1997, she was elected MP for Maidenhead in the general election. She became Chairman of the Conservative Party in 2002.
She joined William Hague's front-bench Opposition team in 1998 as Shadow Spokesman for Schools, Disabled People and Women, until June 1999. In 1999, she was appointed Shadow Education and Employment Secretary. The new Conservative leader, Iain Duncan Smith moved her to the Transport portfolio in the Shadow Cabinet in 2001.
She was the first female Chairman of the Conservative Party when appointed in July 2002. In a famous speech, she warned that people saw the Tories as the 'nasty party', and said things had to change.
.@David_Cameron: @TheresaMay2016 is strong, she is competent & will provide the leadership our country needs.https://t.co/KVG9QAQ3qb

— Conservatives (@Conservatives) 11 July 2016
Ms. May was sworn of the Privy Council in 2003, and appointed Shadow Secretary of State for Transport after Michael Howard became Conservative Party and Opposition Leader in November 2003.
From 2004 to 2010, she held several shadow cabinet positions including Shadow Secretary of State for Culture, Media and Sport, Shadow Leader of the House of Commons, and Shadow Secretary of State for Work and Pensions.

Western Europe's two most powerful nations – Germany and the UK – are now led by women; (left) Theresa May and (right) Angela Merkel. If (middle) Hillary Clinton wins the US presidential elections later this year, women will be in charge of a significant proportion of the top Western economies globally.
On May 12th, 2010, Ms. May was appointed Home Secretary and Minister for Women and Equality by Prime Minister David Cameron, as part of his first Cabinet. She has been the Home Secretary ever since. The Home Secretary heads the Home Office, which is the equivalent to the Interior Ministry in most countries.
Video – Theresa May give statement