With oil prices hitting 5-year lows and Chinese economic data pointing to a greater likelihood of a hard landing, London's FTSE 100 posted its steepest one-week decline in three years.
The FTSE 100, a share index of the 100 largest companies (by market capitalization) on the London Stock Exchange, fell 2.49% or 161.07 points to 6,300.63.
In just one week, over £110billion were wiped off the UK stock exchange.
With Brent Crude falling below $63 per barrel and US crude staying below $60, oil-related stocks took a beating. Oil giants Shell and BP saw steep falls, while oilfield services company Petrofac plunged 6.35%.
Mining shares also suffered after China released weak production data. Factory output growth fell from 7.7% (annually) in October to 7.2% in November. Analysts had expected higher growth.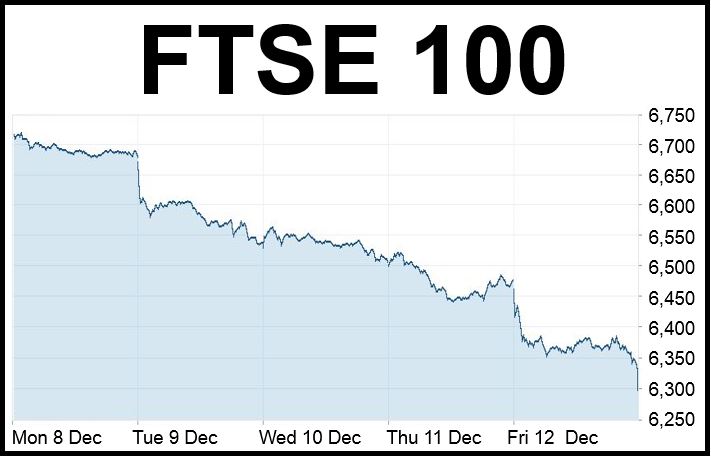 The FTSE 100 had the biggest 1-week fall in 3 years.
China is the world's number 1 imported of raw materials. When industrial output growth slows down, mining companies and countries reliant on raw materials exports, such as Brazil, Australia and Canada suffer.
On Friday, mining companies BHP Billiton and Anglo American dropped 2.65% and 3.15% respectively.
Political uncertainty in Greece also spooked investors. Greece's coalition government admitted on Thursday that it does not yet have the required support to prevent its collapse in a parliamentary vote later in December.
Markets across Europe have had a week they would rather forget about. Germany's Dax was 2.72 down, Italy's FTSE MIB fell 3.13%, and France's CAC40 dropped 2.77%.
Bad week in North America too
Despite the US economy doing well and a raft of positive economic data issued over the past few months, the Dow Jones Industrial Average had its worst week since 2011. Fund managers reported that they and their clients were becoming more anxious.
In just five days, $1.2 trillion vanished from global equities.
The Chicago Board Options Exchange Volatility Index, which gauges trader anxiety, jumped to 78% after hovering around 25% for most of the year.
Canada's TSX, the country's main stock index, fell 5% on the week, its steepest decline since September 2011.
A stock index is a sample of shares that are representative of a particular industry, stock market, country or geographical area.