London's FTSE 100 index edged up today on hopes that the Bank of England will respond to alarming economic data pointing to a dramatic slowdown in the British economy – Vodafone and CRH gained on positive updates.  The UK's central bank as well as many political leaders across the world warned that voting to leave the EU would be bad for the British economy. The first signs of this predicted slowdown appeared today.
Investors, analysts and economists expect Britain's central bank will do more in August to stimulate growth after a Markit Purchase Managers' Index fell to 47.7 in July, its lowest level since April 2009. The dramatic downturn followed last month's Brexit vote.
The FTSE 100 index, which lists major blue-chip companies, rose 0.5% to 6,730.48 points when trading closed. The benchmark has posted its fifth consecutive week of gains following a gradual rebound after a post-Brexit sell-off.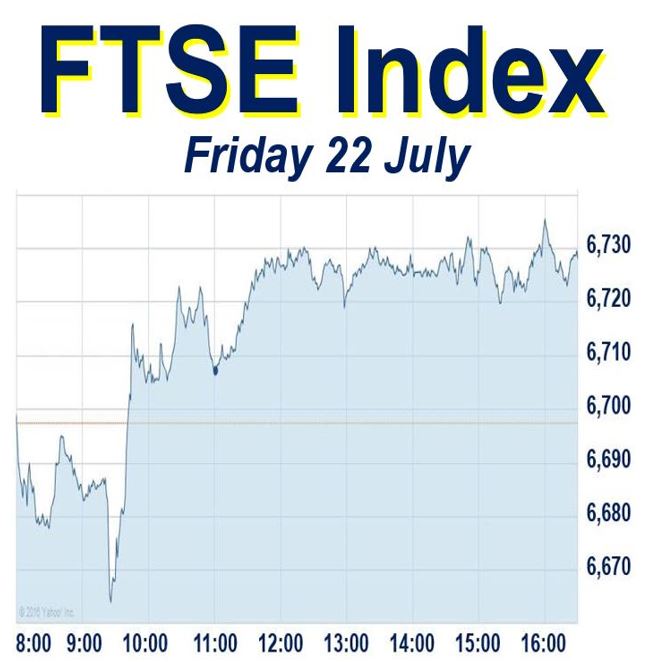 The FTSE rose today, and has surged each week for the last five weeks. (Image: adapted from Yahoo Finance)
The Daily Mail quoted Augustin Eden, an analyst at Accendo Market, who said:
"The FTSE 100 is actually reacting in a positive manner. That, of course, is down to expectations the Bank of England may apply the economic stimulus markets absolutely love in August."
"We've been wondering about over-egged expectations due to a lack of economic data to either confirm or refute the negative implications of the Brexit vote. The PMI data has now given us one good reason to expect an August rate cut, more quantitative easing or an extension of the funding for lending scheme."
---
---
Some companies rose while others fell
Vodafone, the world's second biggest mobile operator, saw shares rise by 4.6% after reporting a greater-than-expected gain of 2.2% in Q1 organic service revenue – this is the company's eighth successive quarterly rise.
CRH plc, the parent company for an international group of diversified building materials businesses, rose by 2.6% after a better first-half performance than it had predicted.
---
---
Some companies, however, had a bad day. After Barclays downgraded Marks & Spencer's stock to underweight from equal weight, the retailer's shares declined by 3.6% – its price target was reduced to 290 pence from 410 pence.
Even though Marks & Spencer's new management's strategy of focusing on customers and product is expected to eventually turn the retailer around, many experts predict that things will likely get worse before they improve.
EasyJet, whose boss Carolyn McCall said costs have jumped by £40m ($53m) since the Brexit vote as a result of the weaker pound, fell 3.7% on Friday, extending its losses following Thursday's disappointing results update.
EasyJet warned that it is earning less from each passenger since Britons voted to leave the European Union and the pound weakened against the dollar by over 11%.
Even though passenger numbers have been increasing – up to 20.2 million – air traffic control strikes, terrorist attacks, extreme weather and now a weaker pound have all contributed to a fall of nearly 8% in revenue per seat.
However, Ms. McCall argued that the drop in revenues was beneficial to travelers. In the BBC's Today programme, she said:
"It is worth pointing out that although every airline is having a tough time, it is very good news for passengers. It actually means it's cheaper to fly and ticket prices are low."
She added that the weaker pound since the referendum has also had an impact on consumer confidence, and people's willingness to book flights and holidays.
"If you are a passenger, you are reading every day in the papers that it is more expensive to spend money on holiday," Ms. McCall explained.