The G20 economies expanded by 0.8% in the second quarter of this year, according to data published by the OECD (Organization for Economic Cooperation & Development).
The international economic organization warned, however, that the figure does not show clear divergence in the pace of GDP growth among member nations.
While China posted GDP growth of 2% compared to 1.5% in the first quarter, Japan's economy in Q2 shrank by -1.8% after growing 1.5% in Q1.
Industrial production in August in China grew by 6.9%, the slowest growth rate in more than six years. There is concern that deteriorating domestic demand may undermine GDP growth.
In Japan's case, Aprils sales tax hike from 5% to 8% encouraged consumers to spend their money in the first quarter and hold back in the second.
United States – contrasting Q1 and Q2
The economy of the United States has had a bumpy first six months. In the first quarter GDP contracted by 2.1%, and then expanded by 4.2% in Q2.
US non-residential fixed investment increased significantly, as did private inventory investment, state and local government spending, and residential fixed investment. Corporate profits reached record levels in Q2 2014.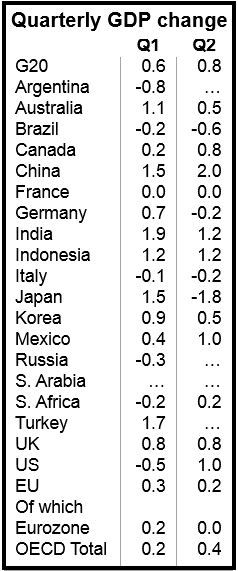 The British economy grew by 0.8% in the second quarter, following 0.8% expansion in Q1. The British Chambers of Commerce forecast GDP will grow by 3.2% in 2014.
Mexican GDP increased by 1% in Q2, compared to 0.4% in the previous quarter, while Canada's grew 0.8% and 0.2% in Q2 and Q1 respectively.
Growth in India slowed to 1.2% in the second quarter from 1.9%.
German Q2 contraction unexpected
German GDP actually shrank in the second quarter, by 0.2%. The Federal Statistical Office, Destatis, commented that "The German economy is losing momentum."
The German contraction, the first in more than one year, surprised economists. The country's 0.4% growth in Q1 2014 was probably due to an extremely mild winter.
The Brazilian and Italian economies continued to shrink in the second quarter, by 0.6% and 0.2% respectively, following contractions of 0.2% and 0.1% in Q1.
The total GDP of the G20 nations in Q2 2014 expanded by 3.2% compared to Q2 2013, versus a 3.4% expansion for Q1 2014 from Q1 2013.
Year-on-year, China posted the largest growth (7.5%) and Brazil the biggest contraction (-0.8%).