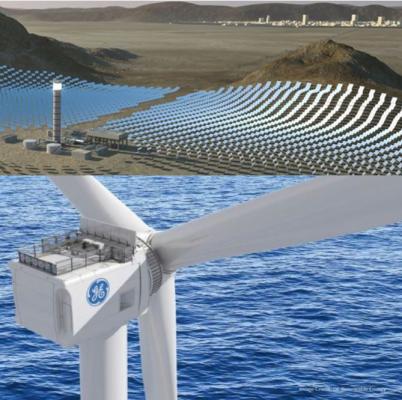 GE announced on Wednesday that it proposes to consolidate its renewable and grid assets under one banner – 'GE Renewable Energy .'
Worldwide demand for renewable energy and the associated grid integration continues expanding apace. The latest International Energy Agency report shows that renewable energy represented over two-thirds of global net electricity capacity growth in 2017.
In 2017, renewable capacity additions amounted to 178 GW (gigawatts). That is enough to power approximately 124 million homes.
GE Renewable Energy – one of 3 moves
GE's moves are part of the company's broader effort to position itself to meet the power market's evolving needs. Renewable energy growth forms part of those needs.
The moves include:
Moving the company's grid solutions and hybrid renewables technologies into GE Renewable Energy. This will complement its current onshore and offshore wind, LM Wind Power, and hydro offerings.
All offerings will be complemented with digitally-enabled services.
Eliminating its headquarters layer and streamlining its Onshore Wind structure. It will also elevate its current regional teams to improve competitiveness, customer focus, speed, and local execution in the Onshore Wind Business. Current regional teams include APAC (Asia-Pacific), MENAT (Middle East, North Africa and Turkey), Europe/Africa, and Americas.
GE Renewable Energy – comments
H. Lawrence Culp, Jr., GE Chairman and CEO, said:
"This strategic realignment positions GE to lead in the fast-growing renewable energy market. This move will help our Renewable Energy teams to better support their customers in leading the energy transition by simplifying the way they can access innovative products, integrated solutions, and services that reflect the evolution of the clean energy marketplace."
Jerome Pecresse, GE Renewable Energy CEO, said:
"With the unique diversity and scale of this portfolio and the combination of expertise, technology, and local reach, we will create enhanced value for all our customers seeking to power the world with affordable, reliable green electrons. Our team is excited by the possibilities this new structure creates to help us lead the energy transition for GE."
What is renewable energy?
Renewable energy is electrical energy whose source never runs out. In other words, it is everlasting. 'Everlasting,' in this context, refers to a human timescale.
Wind energy captures energy from moving air, i.e., the wind, and converts it into electricity. We never run out of wind. Therefore, wind energy is a type of renewable energy.
Solar energy uses energy from the Sun to generate electricity. As far as we are concerned, the Sun and its energy are always there. Therefore, solar energy is also renewable energy.
Other types of renewables include geothermal energy and biomass energy. Hydropower is also a renewable energy.
GE Renewable Energy is one of the world leaders in the race to produce green energy.
---
Video – Wind Energy
---