A $35 million General Motors fine for delays in recalling small vehicles with defective ignition switches has been announced by the National Highway Traffic Safety Administration Board (NHTSA). According to General Motors (GM), the company has started reviewing its policies and processes to make sure recall delays do not happen again.
The NHTSA said it was the single largest civil fine ever levied following a recall investigation.
Faults linked to 13 deaths
The faulty ignition switches had been associated with 13 deaths. The company recalled a total of 2.6 million small cars. The defective ignition switches resulted in the non-deployment of airbags and sudden shutoff of the engine in certain Chevrolet Cobalt and other models.
According to US law, car manufacturers must notify NHTSA about any safety-related defect within five business days of identifying it. GM admitted in the Consent Order that it failed to do so.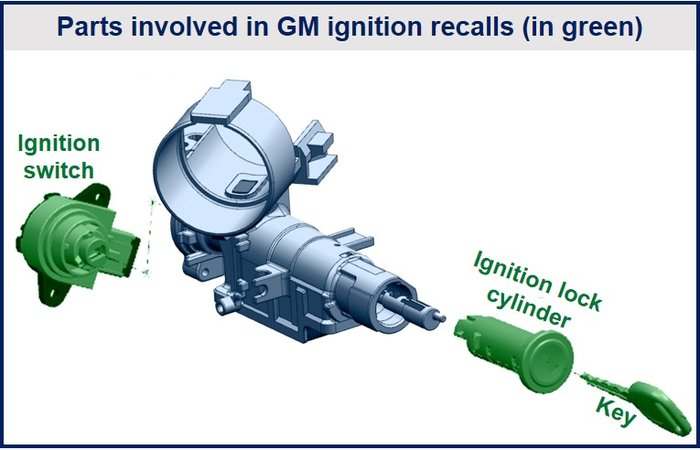 The faulty ignition switch affected the Chevrolet Cobalt, Pontiac G5, Saturn ION, Saturn Sky, Pontiac Solstice, Pontiac Pursuit, And Chevrolet HHR.
U.S. Transportation Secretary Anthony Foxx said:
"Safety is our top priority, and today's announcement puts all manufacturers on notice that they will be held accountable if they fail to quickly report and address safety-related defects."
"While we will continue to aggressively monitor GM's efforts in this case, we also urge Congress to support our GROW AMERICA Act, which would increase the penalties we could levy in cases like this from $35 million to $300 million, sending an even stronger message that delays will not be tolerated."
NHTSA to monitor GM
In the Consent Order, GM will provide NHTSA with the results of its internal investigation into this recall, and will take measures to make sure its employees report safety-related concerns to management. The process for GM to decide whether a recall is required will become faster.
The NHTSA said it received reports in 2007 and then again in 2010 regarding defects in the switches. However, each time it "determined it lacked the data necessary to open a formal investigation".
Customers have criticized both the NHTSA and GM for their poor response to safety concerns.
In April, GM announced that it had taken a $1.3 billion hit to cover the recall costs.
Cars made before 2009 not included
The judgment and GM's consequent agreement does not cover cars with defects manufactured before 2009, when the US taxpayer bailed out the company – a report found that the US taxpayer is still $10.5 billion out-of-pocket regarding the GM bailout. GM has had problems with its vehicles for the past ten years.
NHTSA says its defect investigations have resulted in 1,299 recalls (across all vehicle companies), involving over 95 million vehicles and vehicle equipment items. The Agency says its activities have helped reduce vehicle deaths to all-time lows.
NHTSA wrote:
"Including today's consent order, the agency has obtained record fines of $124.5 million in the last five years from automakers who have failed to promptly report defects to NHTSA."
Video – General Motors Fine