European car sales increased by 4.6% in April 2014 compared to April 2013, its eighth successive month of growth, but down on March's 10.6 increase. However, in absolute figures, the total of 1,089,226 vehicles registered April was the third lowest sales figure to date for a month since the European Automobile Manufacturers Association (ACEA) began the series with the enlarged EU in 2003.
New car registrations increased by 7.4% during the first four months of 2014, totaling 4,336,013 vehicles.
Germany was the only major market to see new car registrations decline in April (-3.6%). The other major markets reported growth.
April car sales increase:
Spain +28.7%
UK +8.2%. Sales in the previous month were higher than in Germany.
France +5.8%
Italy +1.9%
January-to-April car sales increase:
Spain +16.2%
UK +12.5%
Italy +5.0%
France +3.7%
Germany +2.9%

(Source: ACEA)
Non-EU European car sales down
When EFTA (European Free Trade Association) countries are included, such as Switzerland and Norway, April new car sales were slightly lower at 4.2%. April 2014 car sales in EFTA were 5.5% lower than in April 2013.
According to ACEA, mass-market carmakers Opel, Renault, Fiat and Ford had stronger growth than luxury cars.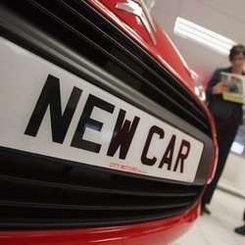 Europe's slower car market reflected the trend in the region's wider economy, with EU GDP growth coming in at just 0.3% in Q1 2014 compared to 0.4% in Q4 2013. Unlike the US, the EU cannot blame a harsh winter for the economic slowdown.
Will ECB act?
As the European economic rebound has shown signs of weakening during the first quarter of 2014, expectations are increasing that the European Central Bank (ECB) may decide to take measures to boost growth at its June policy meeting, with possibly a reduction in the benchmark interest rate and bank deposits rate.
ECB President Mario Draghi gave a hint during the Governing Council's last meeting that a policy change may occur as the Eurozone faces weakening growth and persistent, very-low inflation.
Draghi stressed that the ECB is not resigned to low inflation, which at 0.7% (annualized) in April was nowhere near the central bank's target of 2%.
Mr. Draghi said:
"Looking ahead…we will maintain a high degree of monetary accommodation and act swiftly, if required, with further monetary policy easing. The Governing Council is unanimous in its commitment to using also unconventional instruments within its mandate in order to cope effectively with risks of a too prolonged period of low inflation."