Greek red tape is costing businesses hundreds of millions of euros each year and undermining their competitiveness, says a new OECD (Organization for Economic Co-operation and Development) report.
The report, titled Measurement and Reduction of Administrative Burdens in Greece: An Overview of 13 Sectors, has identified €3.3 billion's worth of Greek red tape that weighs down on businesses annually.
The authors say one quarter of the regulations could be eliminated. Approximately three-quarters of them relate to public procurement, tax administration and company law.
Greek red tape holding back GDP growth
Greece has worked hard at strengthening its public finances and restoring competitiveness as it finally comes out of a long-lasting crisis that reduced its GDP by 30% and pushed unemployment up to 27%. However, it must reduce the layers of bureaucracy on businesses to support GDP growth and the creation of jobs, the authors wrote.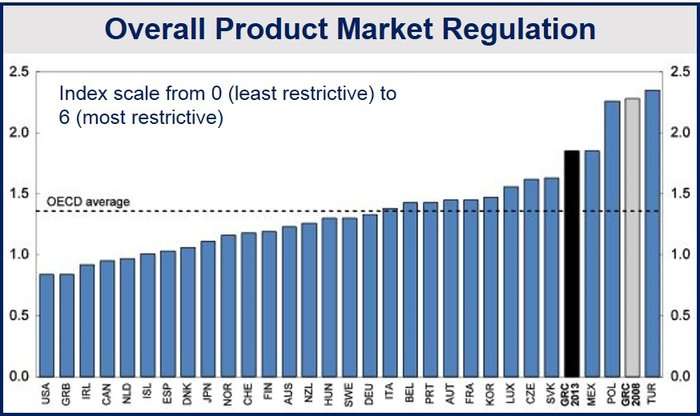 (Source: OECD)
OECD Deputy Chief of Staff Luiz de Mello, presenting the report in Athens, said:
"This report takes a careful look at what it is costing Greek businesses to comply with rules and regulations which in many cases are unnecessary. Cutting some of this red tape would enable companies to spend less on administration and more on doing business."
87 recommendations
The authors make 87 recommendations for reducing bureaucracy in 13 areas, including fisheries, telecommunications and energy. Many of them involve eliminating the need to send several paper copies of one document/dossier to different government departments.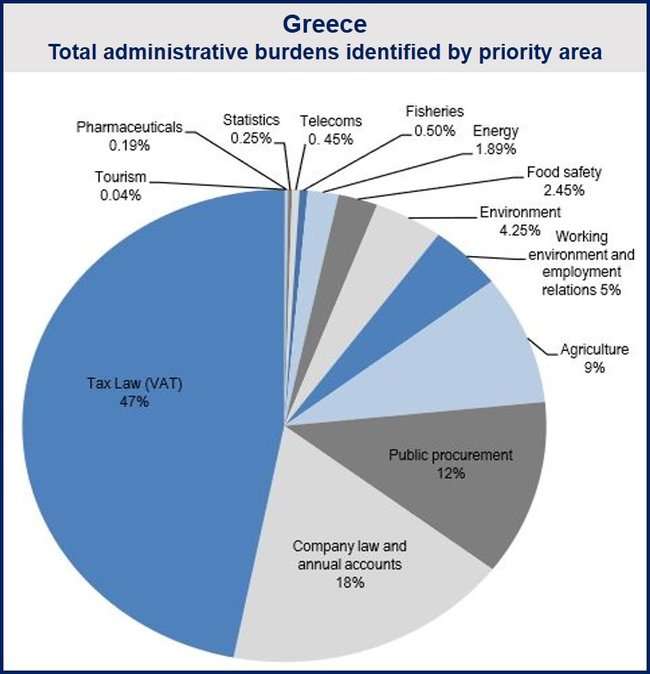 (Source: OECD)
The recommendations include:
Only companies with a turnover of €10,000 should need to submit receipts to register value-added tax payments.
The publication of annual financial statements should have fewer legal requirements.
Farmers should have faster and simpler access to EU (European Union) development aid, instead of the current extremely slow process that uses intermediaries.
Framework agreements in public procurement across all sectors should be used more often, making it simpler to draw up specific contracts.
Simplifying annual leave records that employers must keep.
The submission of environment permits should be done and tracked online, rather than through reports in paper form.