German economic growth in the private sector slowed down in March, according to the Markit Flash Germany Composite Output Index, which came it at 55, down from February's 56.4. Markit adds that "the pace of the expansion remained marked and above the long-run series average."
Economic growth slowed down across most areas of the private sector, with both service providers and manufacturers registering slower expansions than those reported in February. The weakest growth came from the goods-producing sector.
New work increased moderately
There was moderate growth in the creation of new business. Even though March registered a five-month low, the latest statistics suggest a modest expansion in new work.
The slowdown has been put down to the end of promotional sales, while the overall expansion was driven by a positive economic outlook and exceptionally mild weather.
New export work grew in March for the eighth consecutive month, with the US, Spain, and China as particularly strong sources of growth.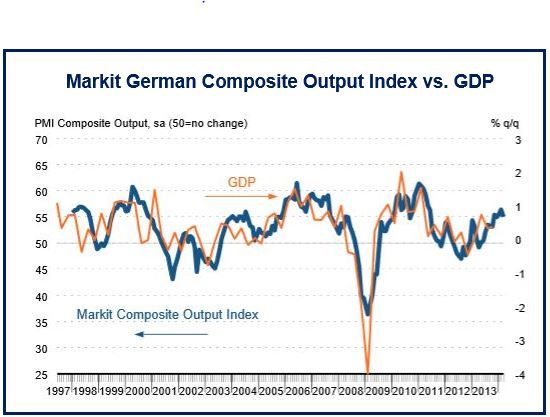 (Source: Markit/EcoWin)
Employment levels improved
For the fifth month running employment levels rose in March, mainly driven by recruiting efforts in the service sector. According to anecdotal evidence, Markit reports that "increased business requirements were the main driver for the rise in workforce number."
Backlogs of work in March were similar to February levels. While the amount of unfinished work at manufacturers had accumulated, this was offset by a decline at service providers.
Input cost inflation fell in March to an 8-month low, "easing to only a marginal pace." Weaker inflation was partly driven by a fall in some prices for raw materials, including copper, steel, and aluminum.
For service providers, higher staff costs and more expensive utility bills raised overall input costs Output charges were about the same as in February as the rate of cost inflation slowed.
German goods producers signaled further increase in purchasing activity, continuing the current growth stretch to nine successive months. Markit added "The pace of expansion, eased, however, to the slowest since November. Strong demand, meanwhile contributed to the latest drop in stocks of purchases."
Service providers in Germany have an optimistic view of business outlook. Reasons behind the positive sentiment include stronger export and domestic demand, improving economic conditions, and increased consumer confidence.
Markit economist, Oliver Kolodseike, author of Flash Germany PMI, said:
"Germany's private sector economy continued to grow at a robust pace at the end of the first quarter. Although the rate of expansion in activity eased to a three-month low, growth in the three months to March was the joint-strongest since mid-2011."
"Further encouraging news comes from the labor market, with staffing levels rising for a fifth straight month. However, the increase was largely driven by hiring efforts at service providers while manufacturing firms only reported a fractional rise in workforce numbers. Meanwhile, optimism in the service sector soared to the highest level in just three years, with improving economic conditions boosting confidence."
"The survey suggests we should expect another quarter of economic growth in Germany, with recent data pointo to GDP growth of up to 0.7% in the first quarter."
France has surprise March growth, rest of Eurozone grows
France surprised economists when companies reported their fastest rate of expansion in two-and-a-half years. Expansion was seen across both the manufacturing sectors and service providers.
In the Eurozone as a whole March figures confirmed the region's strongest period of economic expansion since the first half of 2011. Even employment, which has been a major challenge in the euro area, saw a moderate increase.
Written by [google_authorship]