While the German economy accelerated in the first quarter of 2014, France's stood still, according to latest government figures. German GDP (gross domestic product) expanded 0.8% compared to Q4 2013, which had grown at half the rate (0.4%).
According to Germany's statistics agency Destatis, first quarter growth was driven by stronger domestic demand, which it partly attributes to an extremely mild winter.
The general government and households increased their final consumption expenditure at the beginning of 2014.
Capital spending also increased, especially fixed capital formation in machinery and equipment as well construction.
German exports down, imports up
Foreign trade, on the other hand, had a negative effect on GDP growth. Provisional data show that the exports of goods were down in Q1 2013 compared to Q4 2013, while the imports of goods "were markedly up."

(Source: Destatis)
Price-adjusted GDP grew by 2.5% in Q1 2014 compared to Q1 2013, the largest increase in more than two years.
In the first quarter of 2014, the German workforce, i.e. the number of people in employment, consisted of 41.7 million workers, an increase of 0.8% or 344,000 compared to Q1 2013.
French economy stood still in Q1 2014
The French economy, in contrast, registered growth of 0.0%, caused by weak consumer spending and poor business investment. Had it not been for public spending France's GDP would have contracted in Q1 2014.
According to INSEE, France's statistics agency, after a small increase (0.2%) in Q4 2013, French GDP growth leveled off.
In the first quarter of 2014, household consumption declined by -0.5% compared to a 2% increase in Q4 2013, while gross fixed capital formation fell by -0.9% versus a -0.1% decline in Q4 2013.
INSEE wrote on its website:
"Overall, total domestic demand (excluding changes in inventories) dropped and contributed negatively to activity (–0.4 points after +0.2 points in Q4)."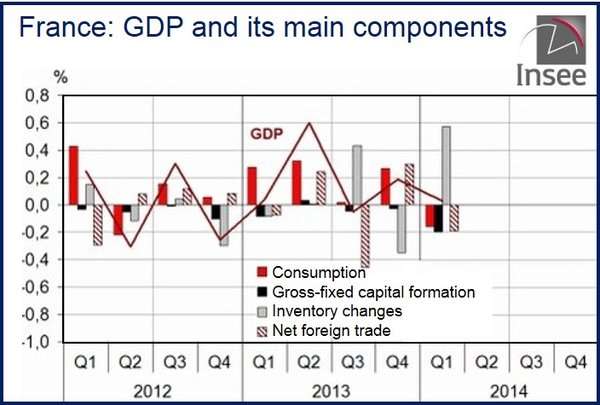 (Source: INSEE)
French imports grew faster than exports
While imports grew by +1% in Q1 2014 compared to +0.5% in Q4 2013, exports expanded by just +0.3% versus +1.6% in the previous quarter. Consequently, there was a negative contribution of -0.2 points to GDP from the foreign trade balance compared to +0.3 points in Q4 2012.
In the Eurozone, unemployment dropped slightly to 18.913 million. However, there is still concern that inflation in both the Eurozone and much of the rest of the EU is nowhere near enough the European Central Bank's target of 2% per year.