After an initial unsolicited $47 billion bid, the Valeant Allergan offer will be sweetened, Valeant Pharmaceuticals International Inc. has announced. Pershing Square Capital, an activist Allergan shareholder, says it will seek a non-binding vote as pressure mounts.
The Allergan board, which voted unanimously to reject Valeant's offer, says it "substantially undervalues Allergan, creates significant risks and uncertainties for the stockholders of Allergan, and is not in the best interests of the Company and its stockholders."
Making a move to acquire Allegan Inc., the firm that owns the trade names Botox Cosmetic and Vistabel for the treatment of wrinkles, is the largest acquisition attempt so far by Canadian company Valeant, which last year bought the eyecare firm Bausch & Lomb Inc.
Valeant's initial bid consisted of a cash-and-stock offer valued at $45.7 billion in which Allergan shareholders would receive $48.30 in cash and 0.83 of a Valeant share for every Allergan share they possess. The unsolicited bid is supported by Pershing Square Capital Management, Allergan's largest shareholder.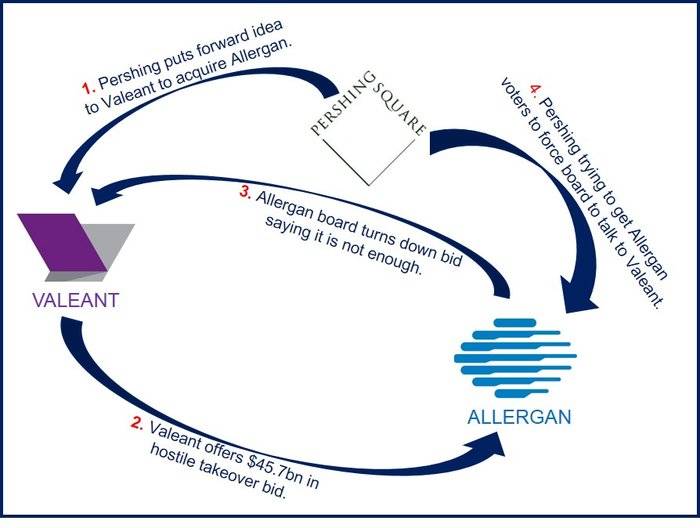 Allergan believes it has a better future by going-it-alone.
Valeant aims to be among the big five
Valeant's CEO, Mike Pearson, says he wants his company to become one of the big five global pharmaceutical multinationals by 2016. He has spent $19 billion acquiring firms since 2008.
In a letter to shareholders, Valeant's CEO wrote:
"As you are all aware, yesterday we received Allergan's letter rejecting Valeant's offer. We note that our offer was rejected without Allergan having had any discussions with Valeant. During yesterday's conference call, Allergan offered a business-as-usual strategy while attempting to discredit our company. The silver lining of such an approach is that Allergan shareholders now have two very different options to consider and choose between."
"We plan to hold a webcast on May 28th to discuss why we believe that our offer is substantially superior to an Allergan "go it alone" strategy. On the call, we will discuss why our proposal offers greater short, intermediate, and long-term shareholder value by managing Allergan's assets under Valeant's operating model. Traditionalists have questioned our operating model since we began our journey more than six years ago. We will provide further details about our operating model, business strategy, and transaction cost synergies, in addition to addressing the concerns raised yesterday by Allergan on its webcast."
Valeant wants to hear from shareholders
Mr. Pearson says he will not stop his pursuit until Allergan shareholders inform Valeant directly that they prefer Allergan's go-it-alone course to a future with Valeant. While emphasizing that it will remain "financially disciplined", Valeant says it is committed to succeeding in the takeover.
According to documents filed with the Securities and Exchange Commission, Pershing Square says it is going to ask Allergan stockholders to attend a meeting and vote on forcing the board to talk to Valeant. The vote would be non-binding.
Allergan says go-it-alone outlook good
Allergan says it expects to raise earnings per share by between 20% and 25% and achieve double-digit growth in 2015. Over the next five years it predicts double digit sales growth and 20% compounded annual growth of earnings per share.
Allergan believes this is possible "as a consequence of strong business momentum driven by a wide array of recent approvals and anticipated near term approvals, as well as an expectation that it is in a position to produce meaningful additional leverage and scale across both the S,G&A and R&D categories without negatively impacting its commitment to deliver the highest quality outcomes to customers and their patients."
Update: June 11, 2014 – Allergan rejects Valeant's improved $53 billion bid. Pershing Square Capital Management founder and CEO, William Ackman, says there is now no choice but to take the offer directly to shareholders. Valeant and Pershing say they will try to replace Allergan's board of directors.