Japanese GDP accelerated in the first quarter of 2014 as shoppers rushed to get their purchases done before sales tax (consumption tax) increased on April 1st from 5% to 8%. According to official data, the economy expanded by 1.5% (5.9% annualized) in Q1 2014 compared to Q4 2013, beating official forecasts of 1% growth.
Consumer spending during the first quarter rose by 2.1%, while capital spending increased 4.9%.
In Japan, like in the US and much of Western Europe, private consumption makes up approximately 60% of the country's economy.
Spending forecast to slump in Q2
Now that the April 1st sales increase has been imposed, spending is expected to ease off. Most economists now predict a slump in private consumption and a contraction of the economy during the second quarter.
Prime Minister Shinzo Abe, who has been in power since December 2012, implemented a huge monetary stimulus to kick-start the economy by weakening the yen and boosting domestic demand. His policy, known as "Abenomics", has had some success and the economy has managed to grow more rapidly.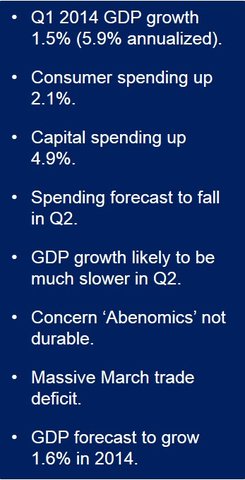 Is Abenomics sustainable?
However, some signs this year have made economists wonder whether Mr. Abe's recovery plan is durable.
With a ballooning trade deficit, which quadrupled in March to ¥1.446 billion ($14.1 billion) compared to ¥356.99 billion($3.48 billion) in March last year, analysts are concerned it could pose a risk to growth.
March's trade deficit was Japan's largest ever. Year-on-year, March imports grew by 18.1% while exports increased by just 1.8%.
The weaker yen pushed up the cost of imports, which also rose dramatically due to increasing energy costs. Since closing down virtually all its nuclear power stations following the Fukushima Daiichii nuclear disaster, Japan's energy imports have surged.
For the last three quarters, Japan's imports have been increasing faster than exports. Abenomics is boosting import demand in Japan more than the weaker yen is able to boost exports.
The sales tax hike, the first in nearly two decades, is seen as vital to reducing Japan's massive national debt. The country's public debt is the highest among the advanced economies. If it is not brought down there is a serious risk of economic harm, experts warn.
Fitch unimpressed with Abenomics
Not all economists have been impressed with Mr. Abe's economic strategies. In a report this week, the Fitch ratings agency wrote "More than a year after the launch of 'Abenomics', structural reforms and deregulation proposed by Prime Minister Abe to spur economic growth remain largely undefined. Any reversal in optimism surrounding Abenomics could result in a deterioration of market conditions."
Fitch expects Japan's economy to grow by 1.6% in 2014. However, it adds that the country's prospects of achieving sustainably higher real and nominal GDP growth remain doubtful.
"A self-sustaining inflationary process is likely to require stronger wage growth, which has yet to take hold unambiguously. Current structural reform plans appear insufficient, in Fitch's judgement, to deliver the government's ambition of raising the real growth rate to 2% per year on average over the decade to 2023, compared with the average of 0.8% per year over 1992-2012," the agency wrote as it affirmed Japan at 'A+'; Outlook Negative.
Video – Japanese GDP accelerated, but will it last?