German employment, the number of Germans with jobs, increased to an all-time record of more than 43 million in October, according to data published on Thursday by Destatis, the Federal Statistical Office.
The figures will help boost business and investor confidence in Europe's largest economy.
According to provisional calculations, a total of 43,006,000 German residents were in Employment in October, representing a 408,000 or 1% increase over October last year.
The growth rate in October during the May-to-Sept period remained stable at 0.9% annualized.
In October, there were 1.98 million people unemployed, which was 121,000 fewer than the same month in 2013. The adjusted unemployment rate was 6.6%, which was the same as the revised figure for September, marking the lowest level in over twenty years.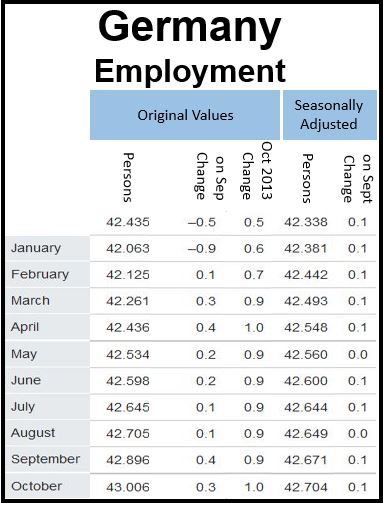 Source: "Persons in employment whose place of residence is in Germany," Statistisches Bundesamt, Wiesbaden 2014.
The number of people in jobs increased by 110,000 or 0.3% in October compared to September, which Destatis said was due to the autumn upturn.
October's employment increase versus the previous month's was 96,000 on an average of the last five years. After factoring in seasonal variables, the number of Germans in jobs increased by 33,000 in October compared to September.
The German economy only just managed to return to economic growth in Q3 after shrinking in the second quarter. Investor sentiment and business confidence improved in November following the ECB's (European Central Bank's) injection of money into the Eurozone.
The labor market in Germany has now come very close to full employment and shows no sign of any significant slowdown, despite sluggish GDP growth.