Canada posted its narrowest current account deficit since 2008 in Q3 2014, as deficits in tourism and investment fell and non-energy exports surged, Statistics Canada reported on Thursday.
Canada's current account deficit came in at C$8.4 billion for the Jul-Sept period. The second-quarter estimate was also revised down from C$11.9 billion to C$9.91 billion.
What is a current account deficit?: it is when the value of goods and services exported is less than the value of goods and services imported. It is a broader measure (but similar) than the "trade deficit".
Stephen Poloz, Governor of the Bank of Canada, said earlier this year that sustained improvements in exports and business investments are needed to get the economy back to full output over the near-term future.
Will the current-account deficit decline continue? It is doubtful, given the considerable fall in oil prices, a commodity which contributes significantly to Canadian exports.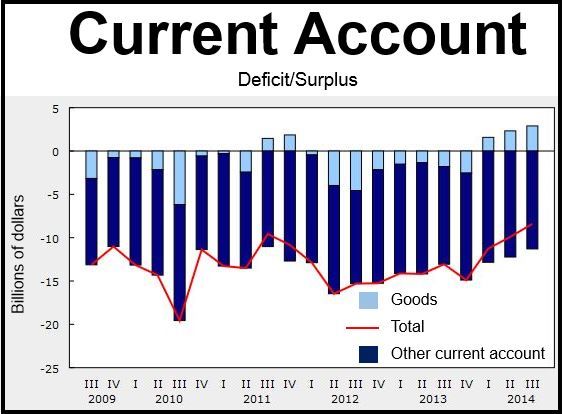 Source: Statistics Canada.
Analysts predict that the decline in oil prices will probably undermine the fourth quarter results significantly.
Canada's surplus in traded goods grew to $C2.90 billion in Q3 2014 from $C2.33 billion in Q2.
While energy exports fell by C$1.1 billion following the crude oil price decline, exports of metal and non-metallic minerals increased by C$1.3 billion, while motor vehicle and parts shipments grew by C$400 million.
The travel services deficit went down to C$4.38 billion from C$4.55 billion, as a smaller number of Canadian nationals visited the US.
Higher earnings from companies abroad by Canadians helped reduce the investment income deficit to C$3.97 billion from C$5.14 billion.
On a geographical basis, the Canadian surplus with the US fell by C$1.5 billion to C$12.8 billion, with imports rising faster than exports. Declining energy prices dampened the value of exports to the US in the third quarter. The trade surplus with the UK surged to C$2.7 billion.
The goods deficit with China fell, while the deficits with Switzerland and Mexico grew.
Canada's current account has been in deficit since 2008. Experts say the deficit will persist well into 2016.