Forty giant coast redwood trees from California have been planted on Monday at the Eden Project in Cornwall, south-west England – it is the first time this species has been planted in Europe. In California, perhaps due to climate change, the weather is no longer ideal for these trees, while the southern English environment has become more suitable, say scientists hopefully.
The Eden Project, a visitor attraction with two massive adjoining domes, houses thousands of plant species. One biome simulates a rainforest environment, while the other has a Mediterranean environment.
The Eden Project planted forty giant coast redwoods (Sequoia sempervirens). These trees are massive, and can reach a height of nearly 400 feet – Big Ben is 320 feet tall. They can live for up to 4,000 years. The tree is known as coast redwood, coastal redwood or California redwood.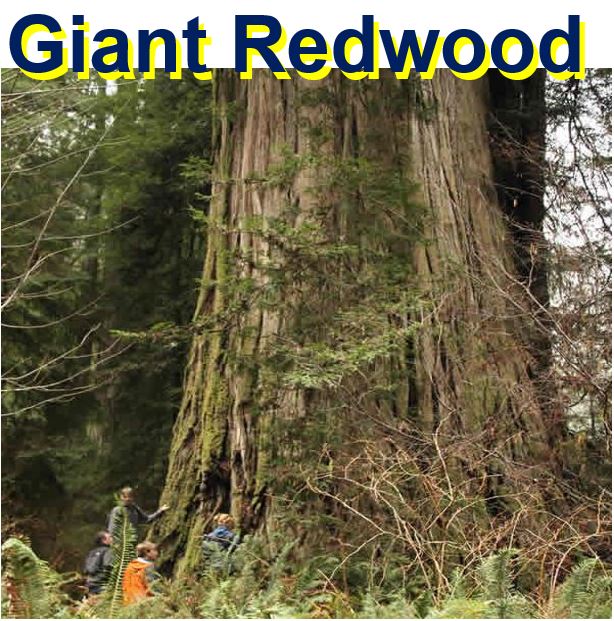 The coast redwood (Sequoia sempervirens) is the tallest living tree species on Earth, reaching up to nearly 400 feet in height (without the roots). The bark can be quite thick, up to 1-foot (30 cm), and fairly soft and fibrous, with a bright red-brown colour when freshly exposed (hence the name redwood), weathering darker. Its root system consists of shallow, wide-spreading lateral roots. (Image: ancienttreearchive.org)
A future avenue of giants
As the saplings grow, they will form an avenue of goliaths along the main entrance road to Eden.
Eden's group of twenty-seven apprentices helped plant the trees, together with Eden's horticulture team, forty children from the local Lanlivery CP School, and Eden's co-founder Sir Tim Smit.
---
---
The planting, which coincided with the start of national Apprenticeship Week, took place in the week of Eden's 15th anniversary.
The first sapling to be planted was a clone of the Fieldbrook Stump, the remains of a well-known redwood from northern California that was felled in 1890, when it was approximately 3,500 years old.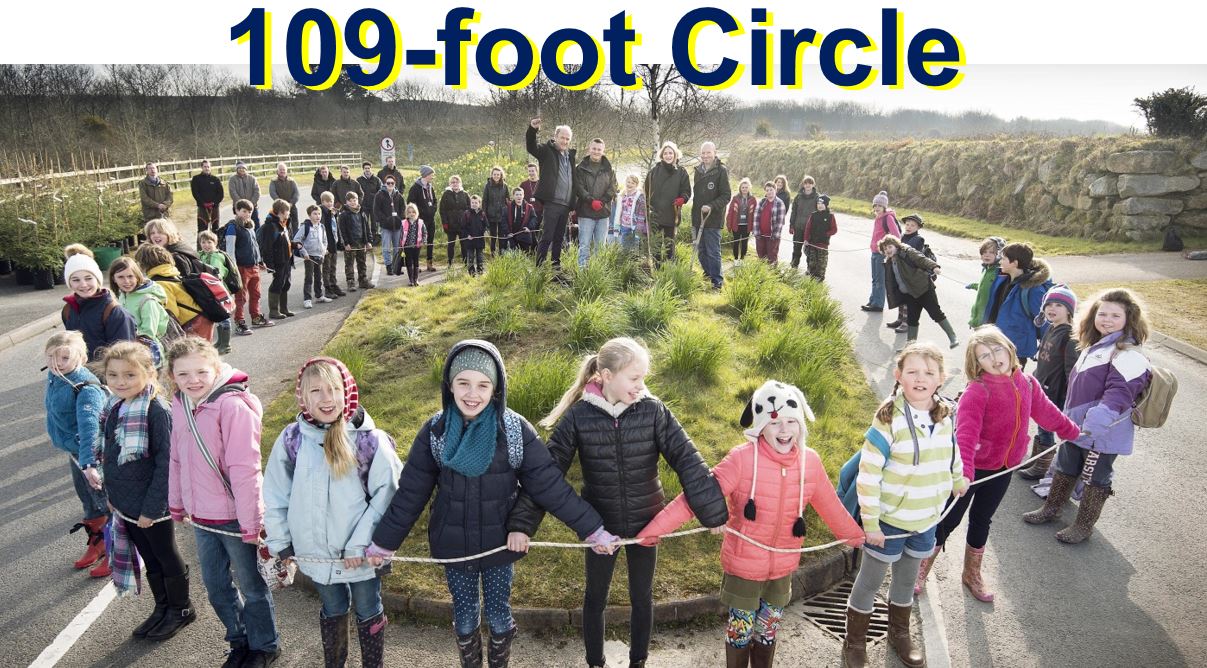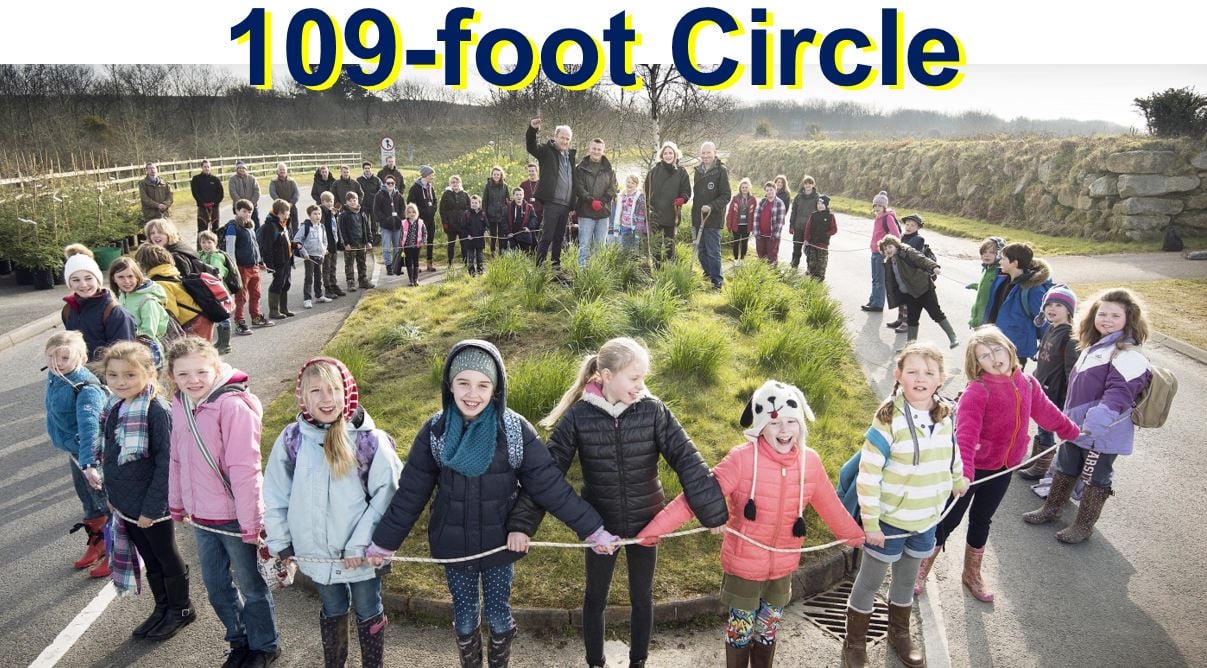 The children made a 109-foot circle – the circumference of a fully grown redwood – on the day the saplings were planted. (Image: edenproject.com)
This first sapling was planted by Jess Phillips, 7, a Lanlivery pupil, and Jake Hawke plus Rosie Wade, both Eden Project apprentices.
So far from their historical habitat
Regarding planting a tree 5,000 miles from its historical habitat, Sir Tim Smit said:
"It's very humbling to be planting these coast redwoods in their early years in the knowledge that they will probably still be here in 4,000 years time. This is about the future of Eden and getting young people to embrace horticulture."
---
---
Deputy head of Lanlivery CP School, Clare Semple, said:
"It's amazing to be part of something with such a long history and it's really good for the children to be involved in this planting. It's something that really fits with the outdoor education ethos of our school."
Loveday Varco, 10, a Lanlivery pupil, said:
"I think it's really good what the Eden Project has done for the environment. Planting these trees is good for the environment and good for nature."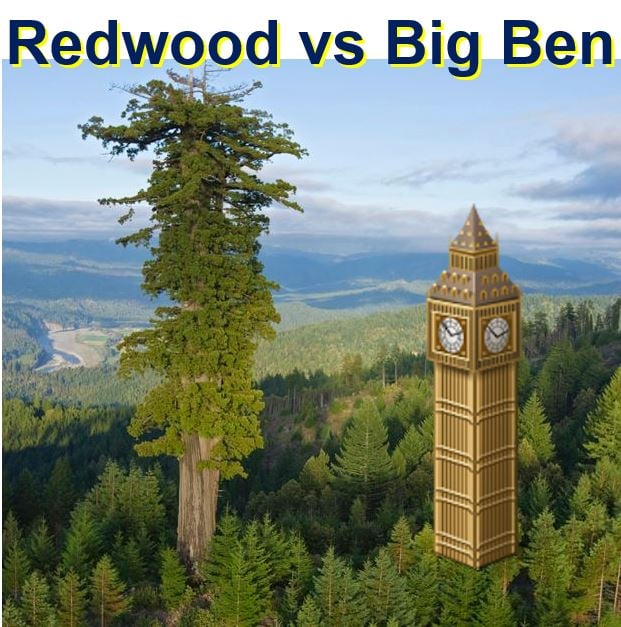 This coast redwood at the Humboldt Redwoods State Park in California is nearly 400 feet tall, making Big Ben (320ft) look rather short. (Image: adapted from blog.education.nationalgeographic.com)
Fieldbrook Stump was once a colossal tree
As part of the day's planting, the forty students made a circle 109 feet around, which represented the circumference of the Fieldbrook Stump.
Had the Fieldbrook redwood not been chopped down, it would probably be the tallest tree in the world today. It left a massive 35-ft-diameter stump, wider than any other single stump ever recorded.
To clone the new saplings, material was taken from the basal shoots that grew from the stump.
The Fieldbrook was reportedly the one cut down by American millionaire and later British resident William Waldorf Astor, and was shipped to the UK as the clincher to win a drunken bet that he could make a 40-seater table from a single cross slice.
The slice, which was never made into a table, is still in the garden of Lord Astor's home in Clivedon, which today belongs to the National Trust. Later, Lord Astor denied ever being involved in a drunken wager (bet) in a letter to The Times, and threatened to sue anybody who repeated the story.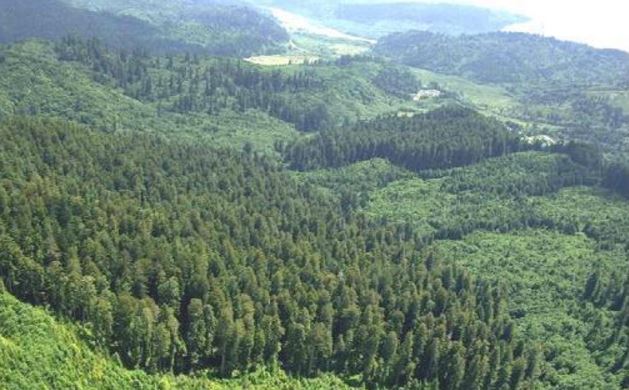 A coast redwood forest. Because of forest fires, droughts, and the decline in foggy and sometimes chilly conditions these trees thrive in, their population in California and Oregon has decreased significantly. (Image: redwood.forestthreats.org)
The planting of these forty giants is the result of a partnership between the Michigan-based Archangel Ancient Tree Archive (AATA) and the Eden Project. AATA aims to propagate the world's most important old growth trees before they are gone.
Trees should thrive in Cornwall
The coast redwood trees that were planted were sent from AATA to Eden as cloned saplings and have been grown on. They grow naturally in California and Oregon, and experts believe they will thrive in Cornwall's mild, damp climate.
Sir Tim has worked closely with David Milarch, a celebrated tree champion who founded AATA, on the project to establish the first old-growth redwood forest in Europe. In 2015, the two men dug in the first sapling to seal the partnership.
David Milarch said:
"Tim, the schoolchildren and the Eden apprentices are planting an eternal forest – a first not just for the UK but for Europe."
"This is an unique archive, a living library of genetics that can be utilised for our generation and for hundreds of generations into the future to rebuild and replace what we've damaged."
The Eden Project also aims to link with 'One Tree Per Child', which aims to have every single child planting at least one tree as part of a primary school activity.
Sir Tim said:
"One Tree Per Child is an international project and we are aiming to link the three – Eden, Archangel and One Tree Per Child – into a force for good."
Video – Coast redwoods and climate change
What effect will climate change (global warming) have on these giant redwood trees of California?