The Ivanpah solar thermal power plant started operating in the Mojave desert in California on Thursday.
The $2.2 billion power-generating plant covers an area of 3,500 acres and has over 300,000 mirrors that reflect sunlight onto boilers located on top of three towers.
According to BrightSource Energy, Inc., it is the largest solar thermal power plant in the world.
The plant's three 450-foot high towers are capable of producing up to 392 megawatts (MW) of solar power, enough to provide the electricity needs of 140,00 Californian homes "with clean energy and avoid 400,000 metric tons of carbon dioxide per year, equal to removing 72,000 vehicles off the road."
The Ivanpah solar thermal power plant, known as the Ivanpah Solar Electric Generating System, is a joing venture between Google, NRG and BrightSource Energy. The project, which had a loan guarantee from the US Department of Energy for $1.6 billion, achieved commercial operation on the last day of 2013. A loan guarantee means that in event of a default the guarantor pledges to service the debt.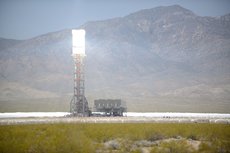 Ivanpah accounts for nearly one third of all solar thermal power currently produced in the United States. It is the largest project of its kind globally.
Tom Doyle, president, NRG Solar, said:
"Cleantech innovations such as Ivanpah are critical to establishing America's leadership in large-scale, clean-energy technology that will keep our economy globally competitive over the next several decades."
"We see Ivanpah changing the energy landscape by proving that utility-scale solar is not only possible, but incredibly beneficial to both the economy and in how we produce and consume energy. Whether it's partnering, developing or investing, NRG will continue to provide a diverse set of solutions and technologies to get the U.S. to the ultimate goal of providing affordable, reliable clean energy for everyone."
The electricity generated by Ivanpah's Units 1 and 3 are being bought by Pacific Gas & Electric under two long-term agreements, while the energy produced at Unit 2 is being purchased by Southern California Edison under a similar contract.
Rick Needham, director of energy and sustainability and Google, said:
"Congratulations to the Ivanpah team for achieving commercial operation. At Google we invest in innovative renewable energy projects that have the potential to transform the energy landscape and help provide more clean power to businesses and homes around the world. Ivanpah is a shining example of such a project and we're delighted to be a part of it."
David Ramm, chairman and CEO of BrightSource Energy, said:
"This is an exciting culmination of many years of hard work by all of our partners at Ivanpah. The completion of this world-class project is a watershed moment for solar thermal energy. With all three units now delivering power to our customers' specifications, BrightSource has demonstrated its solar power technology at scale. This is a great kickoff to 2014, as BrightSource focuses increasingly on international markets and applications for our solar steam technology."
Other technologies now cheaper than solar thermal power
As is common in giant projects, during the construction period other technologies emerge. Experts doubt more plants like Ivanpah will be built, because there are now other solar technologies that are far cheaper than solar thermal.
The disappearance of federal guarantees for renewable energy projects, as well as natural gas plants that are much cheaper to build also make it highly unlikely that we will see any new solar thermal power plant projects.
Without government funds for these types of projects, which the Obama administration has not renewed, natural-gas fired plants costs approximately $1,000 per megawatt compared to $5,500 that Ivanpah cost.
Traditional solar panels have dropped in price significantly since the start of the Ivanpah project in 2010, making solar thermal much comparatively much more expensive today.
BrightSource Energy Inc. has not managed to secure permits for other solar thermal projects in California, partly because of fears that the extreme heat and energy around the plant could kill local birds, as well as some other environmental concerns.