Temporary tattoos for kids are one of the best ways to have fun at special occasions like birthday parties, Halloween, and other kids' parties. They make great party favors. No matter the occasion, kids will enjoy decorating themselves with temporary tattoos. The fun-looking kids' tattoos allow kids to express themselves in unique ways during joyful events.
The tattoos look so real and are great for any custom-designed party supplies.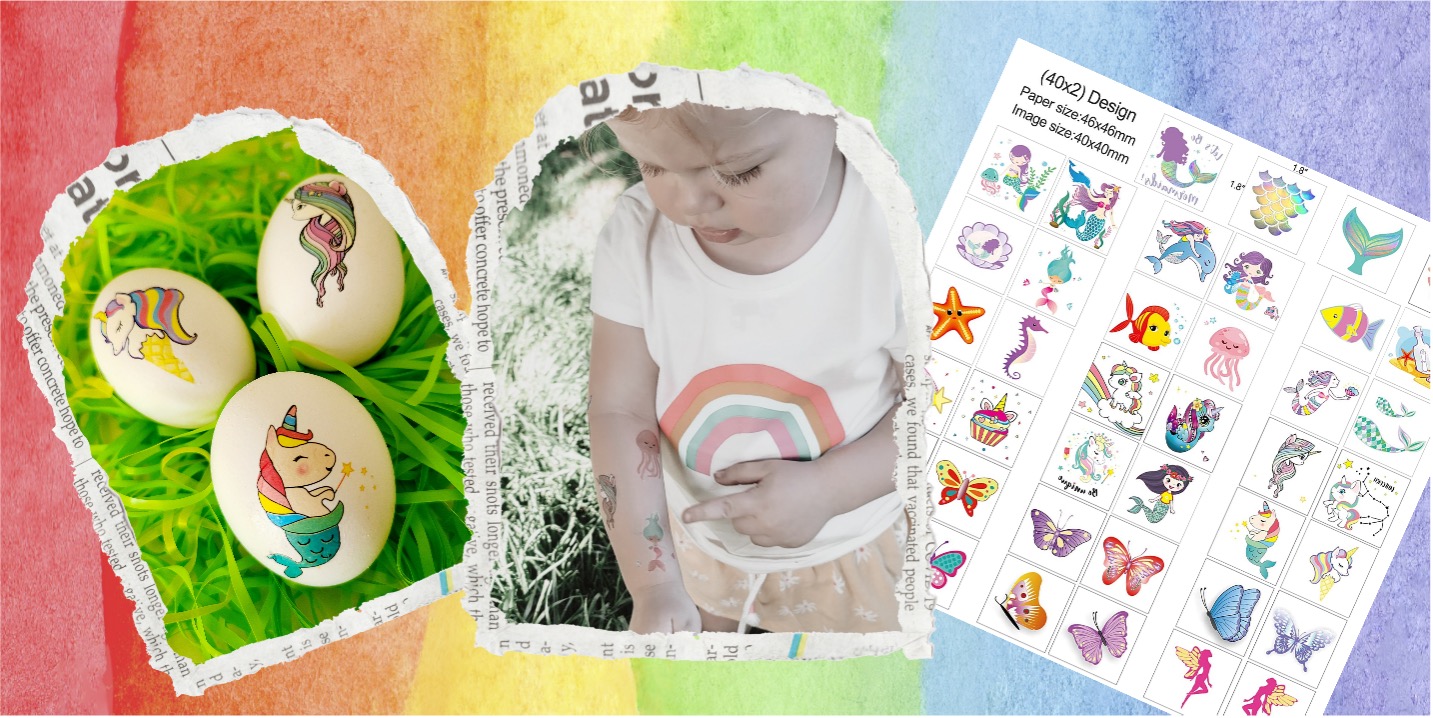 Overview
80 pieces kids' temporary tattoos pack is a great party favor, gift pack, and stocking stuffer. Each pack contains glitter mermaid unicorn and butterfly tattoos. The tattoos are available in different designs, and you will find all the popular designs you need for your party in the pack.
The temporary kids' tattoos are not just stickers. They are a unique gift pack for kids for various occasions. The best part about temporary tattoos is that they are non-permanent. You can remove them whenever you wish.
Although temporary, they can last on your kids' skin for days. If you correctly apply them and care for them appropriately, they can last for even 5 days. To apply the temporary tattoos:
Ensure the kids' faces, hands, legs, or the part you are applying is clean and dry.
Place the temporary tattoo face down on the specific region.
Gently apply even pressure on the area using a wet sponge or clothing.
Wait for at least 20 seconds, then remove the paper. Let the tattoo dry completely for best results and longevity.
These tattoos are a perfect choice for Halloween, parties, and the like. You can use them quickly on the spot and then throw them away when you're done. This works out really well for children who want temporary tattoos and do not want to deal with the fuss of taking them off after the end of the party.
Feature Details
Temporary kids' tattoos have shiny colors that are eye-catching.
They are durable. Once you apply them, they can last for up to 5 days without fading.
The tattoos are manufactured using safe, non-toxic material that is gentle on your child's skin. Unless one has hypersensitive skin, they are safe for most users.
Temporary kids' tattoos are an inexpensive gift for birthday parties and other occasions. 
Versatile and suitable for different occasions
The temporary tattoos are perfect for children to express their creativity and imagination while having fun. They are designed for kids who want to have fun in their childhood, and they can be used for any occasion.
They have a variety of themes, from glitter, butterflies, and unicorns to princesses and flowers. They have an extensive selection of characters and types to choose from.
Konsait has been offering impressive discounts to the customers. You can avail temporary tattoos pack at a 25% discount by using code Konsait38.
Use Promo Code to Get Discount
Please click on the link and enter the code to get a 25% discount.
link: https://amzn.to/3i5Z3ok
Code: Konsait38
Start date:2022-4-15 00:01 PDT
End date:2022-5-31 23:59 PDT
Pros
The temporary color tattoo can be applied easily to the skin. It uses water to activate without the need for a machine or stick.
Once applied to the skin, they are waterproof and can stay there for several days. A child can wear them to school without any problem. They can even take a shower or bathe without the fear of the tattoo coming off. The tattoos are waterproof and will not fade away when you wash them.
The temporary kids' tattoos last for days and are safe to touch and play with even after it wears off. They stay on well and are easy to remove since they are excellent quality material.
Temporary tattoos are always beautiful and popular amongst kids of all ages. They look gorgeous on kids who enjoy playing and exploring their looks with different colors and designs.
They are just like regular tattoos, but without the pain involved in a real tattoo.
Cons
Can trigger allergic reactions
Do not apply to sensitive skin, especially if your child is allergic to adhesive.
Require parental supervision
Always require parental supervision when using them on toddlers. Also, they may not be suitable for children under 3 years old.
Verdict
If your child wants some cool-looking body art, instead of getting permanent tattoos, you can get them the kids' temporary tattoos. The beautiful-looking temporary tattoos for children are available for a reasonable price.
Therefore, if you have been looking for a product that will be easy to use for your little ones, then temporary fake tattoos can be your great choice. Kids, especially girls, will love them. You can buy them for your daughter, nieces or your friends' kids. They require the shortest time to apply, and they can last for up to 5 days.