A global climate change deal to mark the end of the fossil fuel era is imminent, said negotiators at the 2015 United Nations Climate Change Conference, also known as COP 21, who claimed a final draft was agreed upon. As the hottest year since records began nears its end, a landmark deal will probably be reached on Saturday which will hopefully break the momentum of global warming.
The Paris talks come after four years of fraught negotiations with rich countries pushing for things that most of the poor nations have been pushing against. By 11:30 am (10:30 GMT). Laurent Fabius, France's Foreign Minister, will present to the world the latest text of a climate deal.
According to a French government source, negotiators have agreed on a new draft of the agreement, which is currently being translated into the UN's six official languages. It will then be presented to ministers, and – fingers crossed – hopefully adopted.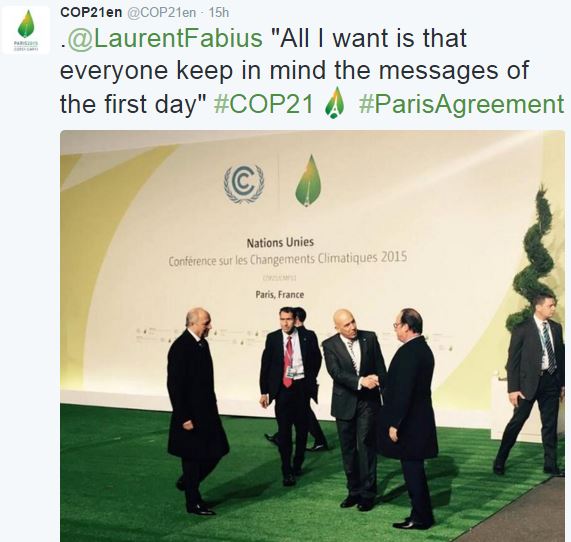 Laurent Fabius on Friday evening expressing his hope during the Paris Climate Summit. (Image: twitter.com/cop21en)
Mr. Fabius expected to announce a new deal today
All eyes are on Mr. Fabius, who is expected to secure an agreement to halt the rise in greenhouse gas emissions this morning. If he doesn't, the talks are likely to continue to the end of the weekend.
Representatives of more than 190 countries actively negotiated throughout the night, seeking to find consensus on the final sticking points, which most agreed were not insurmountable.
---
---
On Friday evening, a tired-looking but hopeful Mr. Fabius told reporters:
"All the conditions are in place to have a universal, ambitious final deal. There has never been such a strong momentum."
The French Foreign Minister has been urging countries to resolve some deep disagreements, such as how much financing there should be for developing nations and the citizens of, for example the Pacific Ocean Island nations, many of whom may very soon have to relocate.
Several tens of billions of dollars will be needed to help countries shift to low-carbon fuels, and to be able to withstand the impacts of climate change, ranging from searing heat waves, prolonged droughts, storms and floods.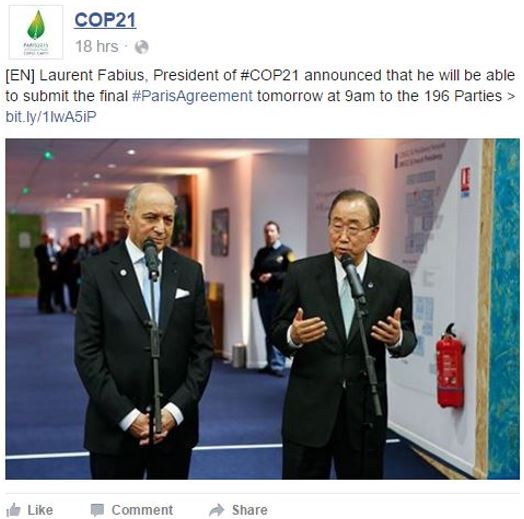 French Foreign Minister Laurent Fabius (left) and UN Seceretary General Bank Ki-moon during a Friday evening press conference. (Image: facebook.com/COP21fr)
There is no doubt that when the final agreement is announced, some will hail it as a major milestone in human history, while others will complain that it is nowhere near enough.
Millions of people never expected the leaders of virtually every nation on Earth to come to an agreement and share a common vision for reducing greenhouse gas emissions, which are the result of human activity and are causing the temperature of the world's atmosphere and oceans to rise.
A common vision and goal is crucial if we want governments and investors to spend trillions of dollars to switch from fossil fuels to renewables.
United Nations Secretary-General Ban Ki-moon, said yesterday:
"I am encouraged by what we have been doing until now. And I would like to take this opportunity to highly commend and appreciate the strong commitment and engagement of the ministers, negotiators and all the staff who are engaged in this very difficult negotiation."
"I have been attending many difficult multilateral negotiations, but by any standard, by far, this negotiation is most complicated, most difficult but most important for humanity. We have just very limited hours remaining. I sincerely hope that the negotiators and ministers will take strong leadership and engagement, and [make] wise decisions."
"There are still several outstanding issues, like differentiation or ambitions and climate financing, etc. But during many years of negotiations, they have identified all the issues; very good solutions have already been presented. This morning, we have much clearer, streamlined line text. This is a good basis of cordial negotiations. Many brackets have been dropped and a few brackets are remaining."
Video – Kerry Hopeful For Climate Deal Despite Divides