The global economic recovery is lopsided, says the OECD, with the US, UK and Canada pushing ahead, China slowing down to a more sustainable but still comparatively rapid growth rate, and the Eurozone struggling as Italy and France despair.
The OECD welcomes recent actions by the European Central Bank to boost GDP growth and encourage investment, including quantitative easing. However, given the weakness of demand, EU member states should also use the flexibility within the trading bloc's fiscal rules more fully.
Unemployment will continue declining in Japan, Canada, the UK and US. Despite Japan's recent economic slowdown, the OECD forecasts GDP will start to recover soon.
China is forecast to continue growing in a high but more durable and economically realistic growth rate, while India is expected to see accelerating expansion after two disappointing years.
Brazil, is currently going through a recession, but should soon post a modest rebound.
Good jobs elusive
OECD Deputy Secretary-General and Acting Chief Economist Rintaro Tamaki, presented the Interim Economic Assessment in Paris today.
Mr. Tamaki said: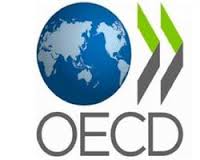 "The global economy is expanding unevenly, and at only a moderate rate. Trade growth therefore remains sluggish and labor market conditions in the main advanced economies are improving only gradually, with far too many people still unable to find good jobs worldwide."
"The continued failure to generate strong, balanced and inclusive growth underlines the urgency of undertaking ambitious reforms."
Among the major economies, the OECD has the following forecasts for GDP growth:
United States: 2.1% (2014) and 3.1% (2015),
United Kingdom: 3.1% (2014) and 2.8% (2015),
Canada: 2.3% (2014) and 2.7% (2015),
Japan: 0.9% (2014) and 1.1% (2015),
Germany: 1.5% (2014) and 1.5% again (2015),
France: 0.4% (2014) and 1% (2015),
Italy: (minus) -0.4% (2014) and 0.1% (2015),
China: 7.4% (2014) and 7.3% (2015),
India: 5.7% (2015) and 5.9% (2015),
Brazil: 0.3% (2014) and 1.4% (2015),
Eurozone: 0.8% (2014) and 1.1% (2015),
The OECD urges more monetary support for the Eurozone, given its very low-growth rate and serious risk that demand could slip further if inflation remains ultra-low or even goes into negative figures.
Mr. Tamaki said:
"The euro area (Eurozone) needs more vigorous monetary stimulus, while the US and the UK are rightly winding down their unconventional monetary easing," Mr Tamaki said. "Japan still needs more quantitative easing to secure a lasting break with deflation, but must make more progress on fiscal consolidation than most other countries."
Video – Mr. Tamaki's presentation in Paris