A new report shows that the global gender gap closed slightly from 2012 to 2013, thanks mostly to increased equality in economic and political participation among men and women.
The 8th annual edition of the World Economic Forum's "Global Gender Gap Report", issued on Friday, shows 86 out of 133 countries – representing more than 93% of the world's population – narrowed their gender gap from 2012 to 2013.
The report shows that Iceland has the narrowest gender gap, followed by Finland, Norway and Sweden.
However, while the overall picture shows a closing gender gap, a closer look reveals the emergence of a "twin-track" path towards economic equality in many countries and regions.
Global Gender Gap Index
In today's global economy, competitive advantage is no longer dependent on capital, but on more intangible assets like innovation and services: we are moving to a world where "talentism" takes over from capitalism.
In such a world, the efficient use of a talent pool where women make up half of the potential human capital, is a decisive factor in a country's economic success.
The World Economic Forum (WEF) introduced the Global Gender Gap Index in 2006 as a way to measure and track the size and scope of gender disparities.
The Index benchmarks national gender gaps in economics, politics, education and health and compares them by region and income, producing rankings to raise awareness of how gender gaps can hamper progress and how closing them creates opportunities.
It measures gender-based gaps in access to resources and opportunities rather than the actual levels of the resources and opportunities available in the countries concerned. The WEF says they do this in order to make the Gender Gap Index independent of countries' level of development.
The Index shows how well a country divides its resources and opportunities among men and women, by measuring gender inequality in four areas:
Economic equality – income levels, participation and opportunities in higher skill jobs,
Educational attainment – and access to basic and higher education,
Political participation – empowerment, representation in decision-making structures, and
Health and survival – including life expectancy and sex ratio.
14 variables are used to create the Index, 13 of which come from hard data published by international bodies such as the International Labour Organization, the United Nations Development Programme and the World Health Organization.
Global Gender Gap Index 2013 (Source: WEF)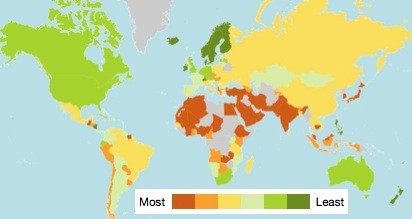 Globally, the 2013 report finds that the Gender Gap Index for health and survival is now 96% closed, while the ones for economic equality political participation are only 60% and 21% closed respectively, although it notes there is some progress since the latter has narrowed by nearly 2% since 2012.
Women's participation in economic leadership positions remains limited, when compared to their participation in tertiary education and in the workforce overall. This is the same for developing and developed nations.
Klaus Schwab, WEF's Founder and Executive Chairman, says:
"Countries will need to start thinking of human capital very differently ñ including how they integrate women into leadership roles. This shift in mindset and practice is not a goal for the future, it is an imperative today."
Global Gender Gap – Country Rankings
The report compares data from 2012 and 2013 for 133 countries, and finds 86 have actually improved their gender gap over the past year.
The key findings show that:
In terms of gender equality, Iceland leads the world for the fifth year running.
Along with Finland (in 2nd place), Norway (3rd) and Sweden (4th), Iceland has now closed 80% of its gender gap.
The top ten also includes: Philippines (in 5th place, the first time it has reached the top 5), Ireland (6th), New Zealand (7th), Denmark (8th), Switzerland (9th) and Nicaragua (10th).
In 14th place, Germany falls one place from 2012, but is the highest-placed G20 economy.
South Africa (one of the five "BRICS" major emerging economies) is placed 17th, down 1 from 2012, the UK's position remain unchanged at 18th, and Canada goes up up 1 to 20th.
The United States ranks 23rd, also down 1 from 2012.
The remaining four BRICS economies in rank order are Russia (61st), followed by Brazil (62nd), China (69th) and India (101st).
The bottom of the list includes Chad, Pakistan and Yemen.
The following table shows the 20 countries with the narrowest gender gaps in 2013, in rank order. It also shows the positions they held in 2010.
| Country | 2013 | 2010 |
| --- | --- | --- |
| Finland | 1 | 1 |
| Iceland | 1 | 1 |
| Finland | 2 | 3 |
| Norway | 3 | 2 |
| Sweden | 4 | 4 |
| Philippines | 5 | 9 |
| Ireland | 6 | 6 |
| New Zealand | 7 | 5 |
| Denmark | 8 | 7 |
| Switzerland | 9 | 10 |
| Nicaragua | 10 | 30 |
| Belgium | 11 | 14 |
| Latvia | 12 | 18 |
| The Netherlands | 13 | 17 |
| Germany | 14 | 13 |
| Cuba | 15 | 24 |
| Lesotho | 16 | 8 |
| South Africa | 17 | 12 |
| United Kingdom | 18 | 15 |
| Austria | 19 | 37 |
| Canada | 20 | 20 |
Global Gender Gap – Four Types of Economies, Two Distinct Tracks
The Index shows four types of economies emerging:
Those that have invested in women's health and education and are now seeing increased economic and political participation.
Those that are investing in these areas but are failing to make best use of this growing talent pool because of social and institutional barriers.
Those where women face significant gaps in health and education, preventing them from achieving their full potential, despite their key place in the workforce, which is often in low-skilled jobs.
Those where women face large education, economic and political gaps.
Saadia Zahidi, co-author of the Report and Head of the Women Leaders and Gender Parity Programme at the WEF, says:
"Both within countries and between countries are two distinct tracks to economic gender equality, with education serving as the accelerator. For countries that provide this basic investment, women's integration in the workforce is the next frontier of change. For those that haven't invested in women's education, addressing this obstacle is critical to women's lives as well as the strength of economies."