GM recalled 8.4 million more cars manufactured between 1997 and 2014 mainly because of ignition switch faults. The US auto giant says it knows about three deaths, eight injuries and seven vehicle accidents. The company emphasized, however, that there is "no conclusive evidence" that the ignition defects caused the crashes.
Most of the recalls (7.6 million) involve cars sold in the United States.
General Motors (GM) says it is taking a $1.2 billion charge, an increase from its previously estimated $700 million, for repairing the recalled cars.
"We undertook what I believe is the most comprehensive safety review in the history of our company because nothing is more important than the safety of our customers."
"Our customers deserve more than we delivered in these vehicles. That has hardened my resolve to set a new industry standard for vehicle safety, quality and excellence."
Ms. Barra said the company is working aggressively to find and deal with major outstanding problems that could impact the safety of its customers.
No cap on compensation awards
The latest GM recalls occurred on the same day the company published compensation fund details for recall victims. Kenneth Feinberg, who GM put in charge of dealing with compensation for people affected by the recalls, says there will be no cap on the amount victims are awarded.
Mr. Feinberg promised swift payments for victims who were critically injured and at least $1 million for the relatives of those who died.
Mr. Feinberg outlined a plan that provides for payouts that even include crashes or accidents that have not happened yet – crashes until the end of this year are eligible. The payout is likely to be in the billions of dollars. The compensation expert said he cannot speculate on the overall numbers until all the claims have been registered. Customers have from August 1 to December 21 to file a claim.
"General Motors basically has said whatever it costs to pay all eligible claims, they will pay it," Mr. Feinberg stressed.
General Motors asks owners of recalled vehicles to remove all items from their key ring, including the key fob, if present, until the ignition repairs have been performed. It also reminds drivers to remember to buckle up.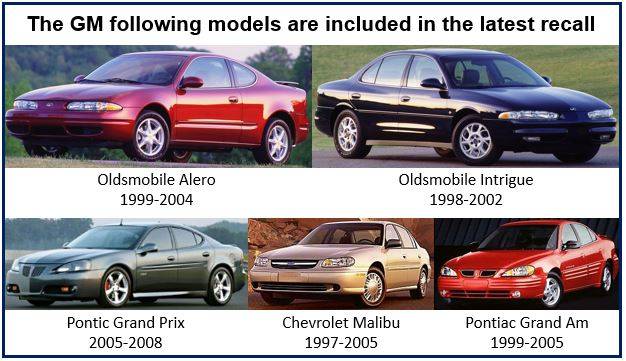 (Data source: GM)
GM facing a multi-billion lawsuit
A lawsuit in California could exceed $10 billion. Attorneys at Hagens Berman Sobol Shapiro say millions of GM customers lost money in the resale value of their cars or trucks because of the ignition switch debacle, which undermined the GM brand.
According to the complaint, which was filed with the Federal Court in Riverside, California, GM was more interested in cost-cutting than customer safety. It adds that customers were harmed because known faults were not revealed.
So far in 2014, there have been more than 41 GM recalls totaling approximately 29 million cars and trucks.
The lawyers representing the plaintiffs say that GM's procedures damaged the resale value of some late-model vehicles by between $500 and $2,600.
Hagens Berman Sobol Shapiro attorneys are not only seeking compensation for owners of recalled vehicles, but also other GM owners because the resale value of their automobiles was affected too. This could involve 15 million GM owners and a potential payout exceeding $10 billion.
The complaint says GM behaved "in truly Orwellian fashion". It allegedly encouraged employees to avoid using such words as "bad" and "failed", and to use terms like "issue" or "condition" when talking about defective parts.
Many customers say they would never have considered buying their vehicle had GM revealed the defects in time.
The lawsuit involves vehicles sold between 2009 (July 10) and 2014 (April 1).
$35m fine for recall delays
In May, the National Highway Traffic Safety Administration Board (NHTSA) fined GM a record $35 million for delays in recalling small cars with faulty ignition switches.
GM, America's largest vehicle manufacturer, eventually had to recall 2.6 million small cars. Because of the ignition switch defects, some airbags would not deploy properly and the engine would shut off.
The NHTSA says that carmakers must notify it about any safety-related defect within five working days of identifying it. In a Consent Order, GM admitted that it failed to do so.