Is Goldman Sachs the first of many financial institutions to move thousands of employees out of London after Britons voted for Brexit – Britain Exiting the European Union? While the Remain campaigners warned that this might happen, the Leavers accused them of scaremongering and assured us that nothing of the sort would occur. So, who are we to believe?
The Leave campaign also told us that the pound sterling would not decline and that business and consumer confidence would not be affected. The pound did slide, and business & consumer confidence have both taken an almighty punch in the face. So, the London exodus, if we go by Leave's widely inaccurate predictions, looks highly likely.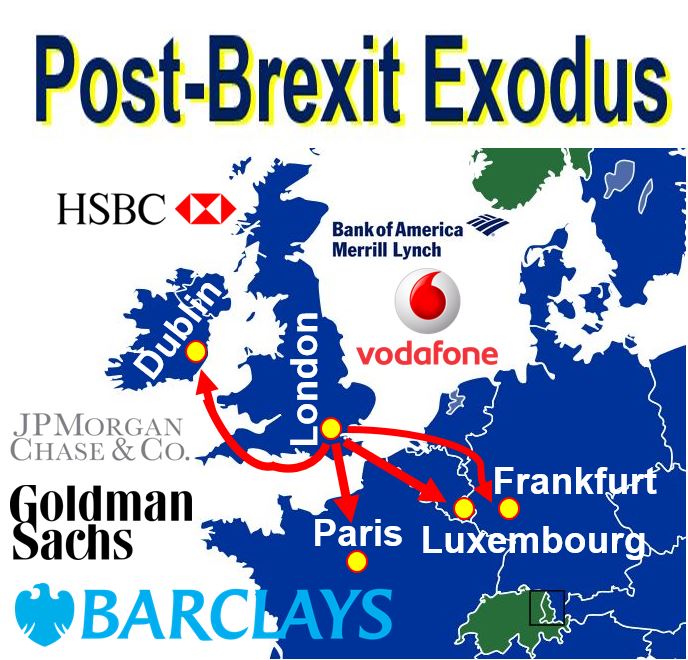 If the 'passporting' facility for financial institutions in London disappears, the exodus will be considerable, experts warn.
Goldman Sachs might 'restructure' UK operations
Goldman Sachs, a New York-based multinational banking giant that engages in global investment banking securities, investment management and other financial services, said earlier this week that it may have to 'restructure' parts of its British operations as a result of the Brexit vote.
In a Form 10-Q – a regulatory filing posted in the United States Securities and Exchange Commission (SEC) – Goldman Sachs said that the British referendum result might adversely affect some aspects of its operations in the UK and the EU. Consequently, it added, it may have to reconsider how a number of these businesses are structured.
---
---
In the SEC regulatory filing, the bank wrote:
"In June 2016, a referendum was passed for the United Kingdom to exit the European Union (Brexit). The exit of the United Kingdom from the European Union will likely change the arrangements by which U.K. firms are able to provide services in the European Union which may adversely affect the manner in which we operate certain of our businesses in the European Union and could require us to restructure certain of our operations."
"The timing and the outcome of the negotiations between the United Kingdom and the European Union in connection with Brexit are both highly uncertain. Such uncertainty has resulted in, and may continue to result in, market volatility and negatively impact the confidence of investors and clients."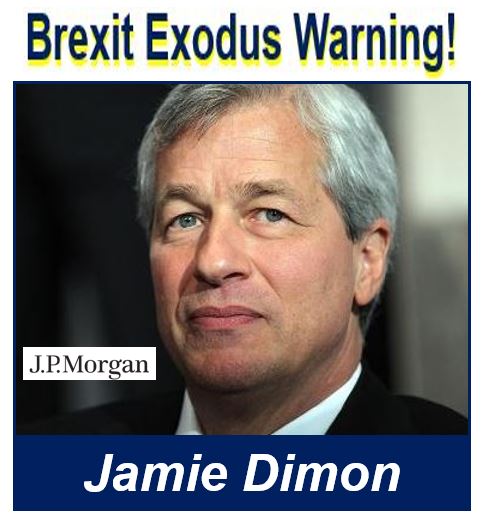 Jamie Dimon, Chairman, President and CEO of JPMorgan Chase, the largest of the Big Four banks in the USA, warned before the June referendum that a Brexit vote would result in an exodus of banking and finance staff from London.
Talk of exodus among companies growing
Goldman is not the first financial institution to warn of a possible restructuring in the UK, which most experts say is a euphemism for exodus – many have made similar comments. So far, none have taken any action. Could Goldman be the first. Will the floodgates open as soon as one makes the first move?
---
---
At The Times' CEO Summit in July, Richard Gnodde, co-head of Goldman's Investment Banking division said regarding moving staff away from the UK and into a EU nation:
"Every outcome is possible. If passporting was totally removed, we would have to adjust our footprint and where people were located."
Goldman employs 6,500 people in the UK. If they left, that would be quite a chunck money in income tax that the Government would no longer receive, but it would not break the bank. However, if dozens of others, or even hundreds followed suit, London would be in serious trouble and the Chancellor's budget deficit would start rising again.
British companies considering leaving too

Not only are foreign companies thinking of moving staff abroad in response to our decision to leave the EU, some major British corporations are looking across the channel too. London-based Vodafone Group plc., the fifth largest mobile phone operator globally, said it may move a huge chunk of its offices and operations into a EU nation.
British banking giant Barclays said it may shift its markets businesses to Dublin, as did Bank of America Merrill Lynch. There are growing rumours that JPMorgan will shift resources to a subsidiary it has in Luxembourg.
Financial institutions with a UK presence currently have the right to operate in any other part of the EU under single-market regulations that allow them to 'passport' their license across the 28 member states.
These rights could well vanish as soon as the UK leaves the EU. If this happens, banks will have to relocate if they want to continue operating across Europe.
JPMorgan, which has about 16,000 employees in the UK, said before June's referendum that it might have to move one quarter of its UK-based staff to another EU nation if the electorate voted for Brexit. HSBC is believed to be making plans to move 1,000 employees out of the UK.
How many jobs will move abroad over the next four or five years is anybody's guess. Perhaps nothing concrete has happened so far because businesses do not yet know what kind of Brexit deal the UK might eventually have.
If we have full access to the EU market, the exodus is likely to be minimal. If we are cut off, London will lose out to Frankfurt, Paris, Luxembourg and Dublin and will risk no longer being Europe's largest financial hub.
Video – Is Brexit that bad for business?
While banks may not like the idea of Brexit, other companies have been surprised at some of the positive outcomes. In this video, a bicycle maker explaines how a cheaper pound is helping boost exports globally.