UK SMEs look set to remain attractive to investors in the post-referendum environment, as long as the weakness in Sterling that followed the Brexit vote does not continue.
So conclude authors of a report that finds despite raised market uncertainty in the run-up to the Brexit vote on 23rd June, investor appetite for UK SMEs (small and medium enterprises) in the first half of 2016 was on a par with the same period last year.
This suggests investor confidence in the UK lower middle market is still strong, say private equity firm Lyceum Capital and Cass Business School, both in London, on publishing the H1 2016 edition of their UK Growth Buyout Dashboard.
"During this period of uncertainty, I am most encouraged by the data and conclusions that our research has found," says Andrew Aylwin, Partner at Lyceum Capital.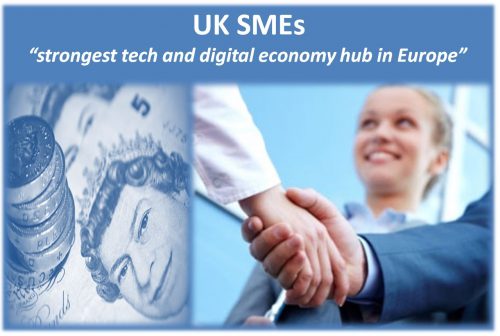 New report suggests investor appetite for UK-based SMEs likely to remain upbeat in post-Brexit environment, as long as Sterling's weakness does not continue.
Aylwin says investment volumes in the second half of 2016 are likely to be lower than first expected, as investors take stock of "the new normal."
"However," he adds, "the UK lower mid-market is set to shine again as a beacon of attractive investment opportunities, with the deepest pool of entrepreneurs and the strongest tech and digital economy hub in Europe."
Confidence in UK SMEs continues
The report shows the first half of 2016 saw 40 private equity investments with a total value of £1.63 billion in the UK lower middle market. Private equity refers to stocks and debts of private companies – those that are not listed on a stock exchange.
The second quarter of 2016 was much more active than the first, as 23 of 40 deals were completed in April or later.
---
---
Also, confidence for investment in UK SMEs appears to have continued since the referendum, reflected in the fact 10 deals have already been completed since 23rd June.
Other findings show fund managers worldwide still have a lot of private equity at their disposal, which is driving competition. UK SMEs could also be seen as good buys for non-Sterling investors.
However, nearly 4 out of every 5 deals in the first half of 2016 came from investors based in the UK. This figure could change, say the authors, if the weak position the pound has sunk to since the referendum continues.
Small business confidence at 4-year low
Meanwhile, a Federation of Small Business report for the second quarter (Q2) of 2016 finds that small business confidence is at a four year low, following the biggest annual decline in their Small Business Index (SBI) since it started in 2010.
---
---
The FSB gathered their Q2 SBI data before the referendum.
Compared with last year's, the FSB say this year's Q2 shows more small businesses reporting the UK economy could be a barrier to them realizing their aspirations.
However, on a positive note, they add, this year's Q2 sees fewer small businesses saying access to finance is a barrier to growth.
The FSB say more and more small businesses are turning to new forms of non-bank lending in order to raise capital.
Others have reported that UK firms appear to have low awareness of finance options outside of traditional bank loans and overdrafts.