Bombardier Inc. posted a quarterly loss of $490m as it struggles to pull through in an anemic business-jet market, rising costs and the burden of debt and past mismanagement. Bombardier, which reported its Second Quarter 2016 Results on Friday, always does so in US dollars.
With the smaller C Series jet now flying commercially for Swiss International Air Lines (SWISS), and having been granted certification for the larger jet (CS300), the Montreal-based multinational aerospace and transportation company says it is now moving from development into production.
Free cash usage and revenues down
This should help slow down its cash drain, the company says, though its free cash usage in Q2 was $490 million compared to $808 million in Q2 2015. Revenues declined from $4.62 billion in Q2 2015 to $4.31 billion in Q2 2016.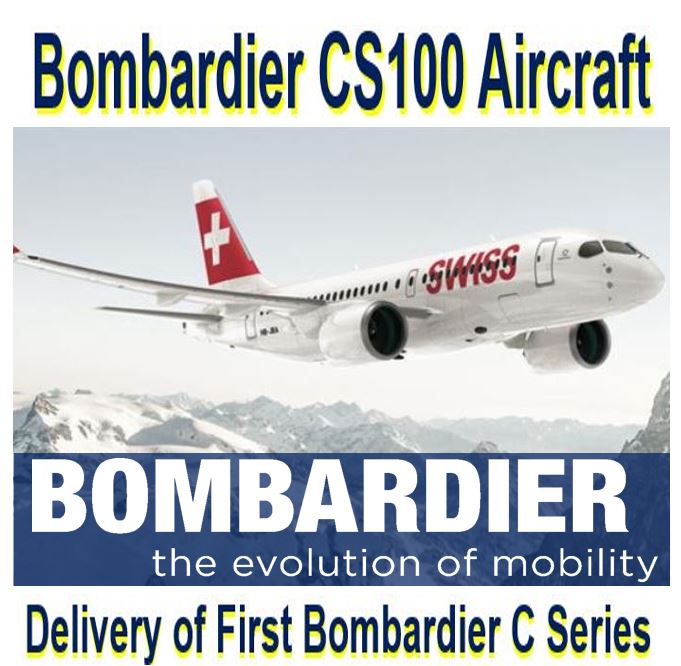 SWISS received the first of the new Bombardier CS100 aircraft on 29th June for its short- and medium-haul fleet. The aircraft made its first commercial flight on 15th July. (Image: swiss.com/CMSContent)
Including a $500 million payment from the Government of Québec, plus another $500 million due in September, the company says it has access to credit to the tune of $4.4 billion.
Alain Bellemare, who has been President and Chief Executive Officer of Bombardier Inc. since February 2015, said:
"We continue to make very good progress executing our turnaround plan. We delivered on our financial commitments, achieved our program milestones and positioned Bombardier to meet both our full year guidance and 2020 goals."
---
---
The company says its C Series offers the best passenger experience, operating costs and environmental performance in the 100-to-150 seat class.
Program beginning to generate revenue
During the second quarter, with both variants of the C Series now certified, Mr. Bellemare claims that the program has started generating revenue.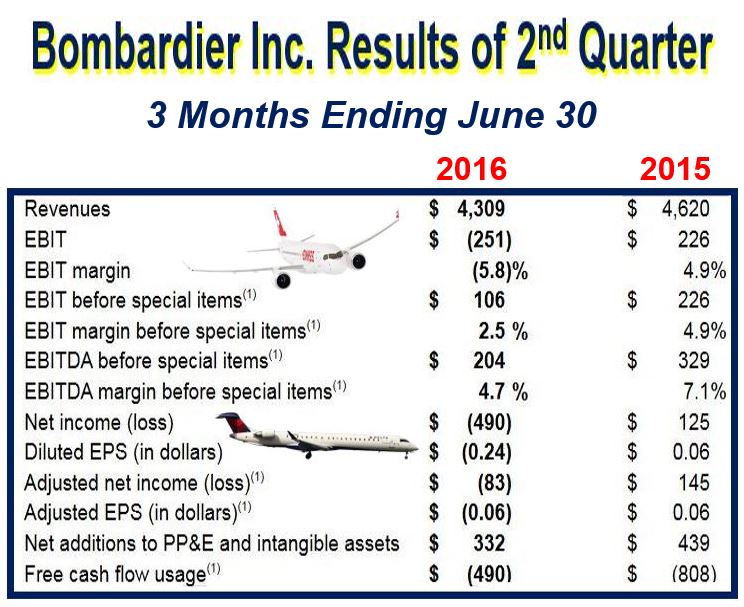 A net income of $125 million in Q2 2015 turned into a net loss of $490 in Q2 2016. The company's turnaround plan is clearly still a work in progress. (Data sourced from bombardierinc.com/content)
"Having firmly placed Bombardier on a path to profitable earnings growth and cash generation, we remain focused on delivering customer and shareholder value by improving productivity, executing flawlessly on our programs and applying a disciplined and proactive approach to our portfolio," Mr. Bellemare added.
---
---
*EBIT before special items was $106 million for the quarter and $236 million for the year-to-date, as margin improvements at Business Aircraft and Transportation were counterweighted by the production ramp-up effect of the C Series aircraft, as it came into service.
* EBIT (earnings before interest & tax) is an indicator of a business' profitability. It is calculated as revenue minus expenses, excluding tax and interest.
Improved free cash flow usage for the first half of the financial year and the completion of the equity investment by the Québec Government through Investissement Québec have resulted in pro forma liquidity of $4.9 billion as at 30th June, 2016.
These results place the aircraft maker on track to meet its full-year guidance of revenues between $16.5bn and $17.5bn, free cash flow usage between $1bn and $1.3bn, and EBIT between $200m and $400m.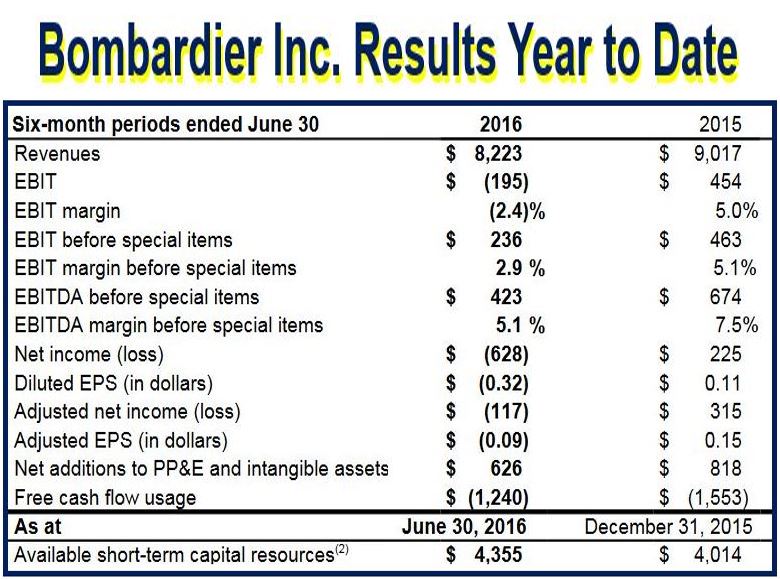 As development shifts to production and money starts coming in, figures will hopefully improve. (Data sourced from bombardierinc.com/content)
Business and Commercial Aircraft
The company delivered 73 business aircraft in the first half of this year, and achieved a book-to-bill ratio of 1.0, thus accomplishing its 2015 plan to re-align aircraft supply to market demand.
In its quarterly bulletin, Bombardier Inc. wrote:
"As outlined in our latest 10-year forecast, we remain confident in the significant long-term growth potential of the industry primarily driven by wealth creation, globalization of trade and replacement demand."
Its C Series aircraft program is shifting from the development to revenue-generating phase, in what it describes as a 'historic milestone' as it brings to market the first clean-sheet designed narrow-body aircraft in almost three decades.
Swiss International Air Lines received delivery of the first CS100 aircraft in June 29th, 2016. Its maiden commercial flight occurred on July 15th, when it transported passengers from Zurich to Paris.
Recent significant orders that totalled 127 firm orders – valued at $9.9 bn – and 80 options from airBaltic, Air Canada and Delta helped solidify the C Series aircraft program in the 100-to-150 seat category.
The program entered into service with a backlog in firm orders of 300 aircraft, which exceeded the company's target.
During the second quarter, Bombardier signed a firm order for 10 CRJ900 aircraft – worth $472m – with an undisclosed customer.
In July, Bombardier rival, São Paulo-based Brazilian aerospace conglomerate Embraer SA, underscored the soft market for business jets as it lowered its projections for executive-jet deliveries and revenue.
Of Bombardier's two airplane divisions – Business aircraft and Commercial aircraft – Business is the larger one by revenue. Business Aircraft's unit sales declined by 19% to $1.47bn in the second quarter.
Major job cuts still underway
Mr. Bellemare pointed out that the company has made some very tough decisions as jet aircraft production has weakened amid declining demand. More than sixty percent of the seven thousand planned job cuts have so far been implemented.
The company is well on its way to return to profitability he emphasized.
Mr. Bellemare added: "Bombardier is in a much better position today than we were a year ago."
Video – First Bombardier CS100 arrives at Zurich
The first delivery of a CS100 arriving at Zurich airport on 1st July 2016.