Critics and cynics seem surprisingly quiet one year after Google Cardboard was first passed around at last year's Google IO conference, because the ultra-cheap virtual reality experience device has become increasingly popular.
Google Cardboard is a fold-out cardboard mount for smartphones that, when combined with a magnet, lenses, a rubber band, and a piece of hoop-and-loop fastener, affords a virtual reality experience when held against the face.
At Google's 'Get Cardboard' webpage, it said:
"Get it, fold it and look inside to enter the world of Cardboard. It's a VR experience starting with a simple viewer anyone can build or buy. Once you have it, you can explore a variety of apps that unfold all around you."
Put simply, it is a do-it-yourself virtual reality headset. All you have to do is follow the instructions that come with the kit and place a few add-ons to make it complete. You then slide your smartphone inside the folder and hey presto, you have your own virtual reality device.
The popularity of Google Cardboard has surprised everybody. (Photo: Google Developers Blog)
Google Cardboard must be the cheapest virtual device gadget in the world. At Amazon.com, prices start at below $10, which is much, much cheaper than Gear V2.
Google claims that it has shipped over half-a-million Cardboard kits. For do-it-yourself fanatics, Google says it is about to launch new building specs. A Cardboard calibration app is also on the way, which should help builders improve their VR (virtual reality) experience.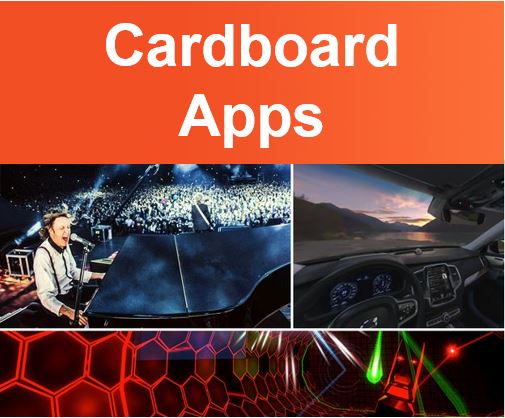 Some Cardboard apps (clockwise, from top left): Paul McCartney concert, Volvo Reality test drive, Proton Pulse 3D game. (Source: Google Developers Blog)
At a Google developers blog, Andrew Nartker, Product Manager, Google Cardboard, wrote:
"There are now dozens of Cardboard-compatible apps on Google Play, and starting today we're dedicating a new collection page to some of our favorites."
"These VR experiences range from test drives to live concerts to fully-immersive games, and they all have something amazing to offer. So give 'em a try today, and download the new Cardboard app to watch the collection grow over time."
The device shows there is definitely a market for cardboard products. How many parents remember watching their kids on Christmas Day playing with the packaging and boxes, rather than the toys that were inside them?