Google is rolling out a family music streaming plan for Google Play Music.
Until now Apple Music had a key competitive edge over Google with its family plan, but Google has finally responded with a similarly priced offer.
The Google Play Music Family Plan costs $15 per month and allows up to six individuals to share one subscription and create their own personal accounts so that music preferences can be unique to each user. The price equates to $2.50 per user.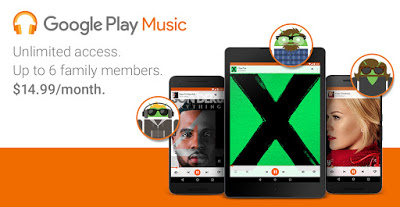 Google said in an official blog post announcing the launch:
"You'll unlock all of the same features you'd get from having individual subscriptions, including ad free, unlimited access to more than 35 million songs and the ability for each family member to stream simultaneously on any device, all for one low price. Now, you can keep your listening experiences separate from your partner and get music recommendations tailored to the music you like.
"You and your family will be able to sign up for a Google Play Music family plan in the coming days on Android devices in the US, Canada, the UK, Australia, France and Germany, with more countries coming soon. You and your family members can listen on Android, iOS and the web."
---
---
The price is in line with what its main competitor Apple is offering and is far cheaper than what Spotify charges – $14.99 a month for two family members and $5 for every additional user.
Google is also adding YouTube Red for its US customers, which is a new ad-free YouTube streaming service with the promise of original programming in 2016.