Google unveiled a sleek looking Wi-Fi router called OnHub on Tuesday. The tech giant developed OnHub with networking hardware company TP-Link.
The router, built for the "new ways" users can use Wi-Fi, is supposedly easier to use, more reliable and secure compared to other routers on the market.
The Google "OnHub"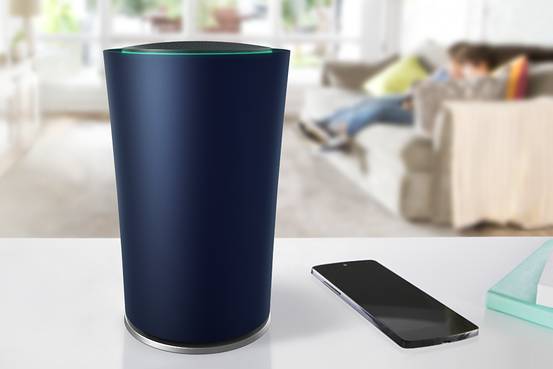 It comes with a range of features that set it apart from other routers – apart from looking a lot better.
The router intelligently seeks ways to reduce Wi-Fi congestion, allows users to allocate bandwidth to devices that need it most, and if there's ever a problem with your network the Google On app provides information on how to fix it.
According to Google:
"Today, we're using Wi-Fi in ways our old routers were never meant to handle. That's why we built OnHub, a new router thoughtfully designed for you and your home – and every way you stream and share.
"OnHub looks different from other routers out there because it's designed to be out in the open, which gives you the best signal. It has a dimmable light ring, the cables are minimized to look tidier, and its high-performance antennas are neatly hidden away inside its shell."
Video: "OnHub: a router for the new way to Wi-Fi"
---
---
The router's circular antenna design is said to offer "reliable coverage" in more directions of the user's home.
Google said that the antennas scan the airwaves to detect the fastest connection.
OnHub offers Wi-Fi at a speed of up to 1900 Mbps by supporting both 2.4GHz and 5GHz frequencies and includes next-generation technologies like Bluetooth® Smart Ready, Weave, and 802.15.4, so that over time it will support a growing number of "smart devices."
The router is available for preorder for $199 directly from Google's online store, as well as through retailers such as Amazon.com and Walmart.com. Google said that it will be in retail stores in the US and Canada in coming weeks.
---