Google Maps is becoming more social.
Google announced that users can now create lists of their favourite places, share the lists with others, and follow the lists that friends and family have shared, from within the Google Maps app.
"Starting today, you can create lists of places, share your lists with others, and follow the lists your friends and family share with you—without ever leaving the Google Maps app (Android, iOS)," Zach Maier Product Manager, Google Maps, said in an official blog post.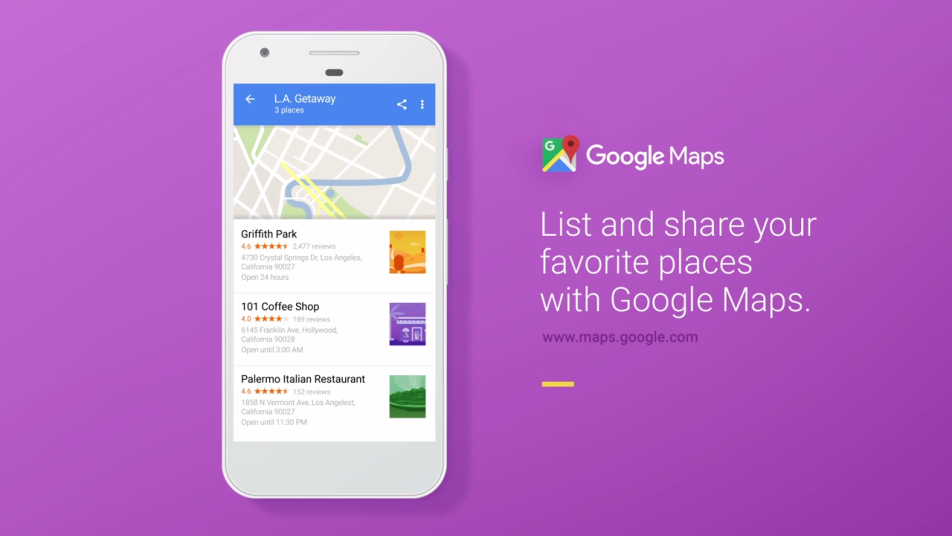 On the detail page for a specific location the place (restaurant, bar, or shop, etc.) users can tap the "Save" button to assign the location to one of several pre-set lists like "Want to Go" or "Favourites" or a custom list like "My favourite Mexican restaurants in London".
Users can share the lists with friends via text, email, social networks and popular messaging apps.
---
---
The new features add a much more social feel to the web mapping service developed by Google.
Zach Maier added:
"The lists you follow are with you wherever you take Google Maps and are viewable on mobile and desktop—and even offline. Next time you're on a trip, download offline maps of the area in advance and you'll be able to see all the places you've added to lists on the map itself.
"With the millions of landmarks, businesses and other points of interest in Google Maps, there's no shortage of places to try. Now that we've got the world mapped, it's your turn to map your world with Lists—from local hotspots to bucket list destinations worlds away."