Google submitted plans to the City Council in Mountain View, California, to expand its corporate headquarters.
The expansion will add space for an additional 10,000 employees. There are 20,000 Google employees that currently work in the city, according to a company spokeswoman.
The design of the new headquarters is considered to be extremely architecturally innovative.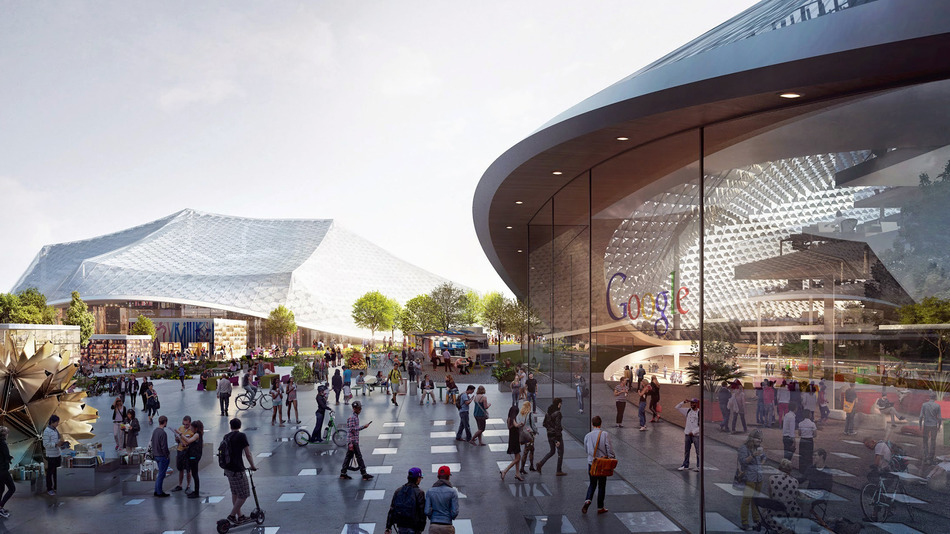 There will be large clear canopies over the buildings that will allow light to filter in.
Bjarke Ingels of the firm Bjarke Ingels Group and Thomas Heatherwick of Heatherwick Studio proposed a design of block-like structures that Google says can be moved.
According to the Silicon Valley Business Journal the plan involves building "four futuristic structures where basic building elements — floors, ceilings and walls — attach or detach from permanent steel frames, forming whole new workspaces of different sizes."
The plan would add 2.5 million square feet of space to Google's existing campus.
Chair of the landscape architecture and environmental planning and urban design department at U.C. Berkeley, Louise Mozingo, called the proposal "utopian."
"Today we're submitting a plan to redevelop four sites – places where we already have offices but hope to significantly increase our square footage – to the Mountain View City Council," David Radcliffe, Google's vice president of real estate, said in a company blog post.
"They're very ambitious," Mountain View City Councilman Ken Rosenberg said of the blueprints. "They're taking what we know about building design and significantly advancing the concept."
A former senior Google employee told Mashable:
"It's certainly a balance, and not without its downsides, as a city and corporate campus grows,"
"Some small businesses may suffer, such as those serving lunch for a workforce that is increasingly fed by their employer, but most benefit since the population and needs in and around the campus increase. Google has to be thoughtful about this expansion and work with the city, but net-net, this is a good thing and the same challenge every city sees as they grow and expand."