Greece announces tax cuts on heating oil and income. Tax on heating oil will be reduced by 30%, says Prime Minister Antonis Samaras. The income tax cut will be announced next month, he added.
Extra tax was imposed on heating oil in 2012, the aim being to bring added revenue – the measure failed. In fact, it triggered an environmental problem when millions of Greeks started burning wood to heat their homes.
He also pledged to reduce an unpopular property tax that is based on pre-crisis property values, known as ENFIA.
Mr. Samaras also indicated that taxpayers who owe money to the state will be able to pay over a longer period. He said he has a target of reducing the top rate of income tax to 32% and corporate tax to 15%.
Mr. Samaras is trying to gain support as the opposition pushes hard for early general elections. Greek voters are tired of years of austerity measures that have significantly reduced living standards.
The Prime Minister announced the tax cuts in the northern port of Thessaloniki at an annual trade fair (79th Thessaloniki International Fair) where the head of government traditionally sets out economic policy for the next year.
Mr. Samaras said he will set up a development fund and cut electricity prices, the aim being to help small and medium companies.
He stressed that it is not possible to restore wages and pensions to pre-crisis levels. However, he promised pay increases for police and military personnel.
Return to growth?
"The the overtaxaton has to end," Mr. Samaras said. He said his government expects the country to return to growth in Q3 2014. If the forecast is accurate, it will be the first quarter posting GDP expansion in eight years.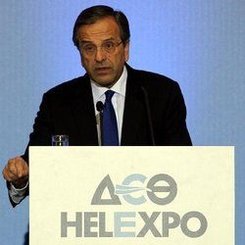 Referring to his tenure as Prime Minister, Mr. Samaras said "In a couple of years, we have made more reforms than in previous decades."
In November 2011, he agreed to support a coalition government with the socialists. He had previously opposed many of the austerity measures he later came to embrace wholeheartedly.
Since sliding into a devastating recession in 2008, Greek GDP has contracted by more than one quarter, which for Greeks was made worse by a series of austerity measures imposed by international creditors following the first bailout in 2010.
In 2010, Eurozone countries and the IMF agreed to a rescue package totaling €110 billion ($142 billion).
In 2011, it became clear that Greece would need more money, and a second bail-out totaling €130 billion was arranged. Greece had to agree to further financial reforms and austerity measures. In April this year, Greece returned to the global bond market and managed to sell five-year government bonds worth sold €3 billion at a yield of 4.95%.
In 2014, Greek GDP is expected to grow by 0.6%.
As far as ordinary Greeks are concerned, with more than 27% unemployment and high taxes, things still look bleak.