British brewery Greene King plc and pub & restaurant business Spirit Pub Company plc announced on Monday that they have agreed on a £773.6 million ($1.238 billion) cash and shares acquisition deal.
The new proposal values Spirit at 115p per share – comprising 8 pence in cash plus 0.1322 new Greene King share – compared to September's 100p proposal, which was turned down.
In the proposed deal, Spirit Pub shareholders would own approximately 28.9% of the merged company.
Pub and restaurant company Spirit, headquartered in Burton-upon-Trent, used to be part of the Bass Brewery. It was demerged from Punch Taverns in 2011. The company runs the Flaming Grill and Chef & Brewer chains. It has 794 branded, managed pubs across Britain, plus a further 433 leased pubs.
Greene King, based in Bury St. Edmunds, Suffolk, owns 1,900 pubs and restaurants including the Lock Fyne and Hungry Horse chains. The company dates back to 1799.
The deal is part of Greene King's strategy to shift towards the business of restaurants and food-serving pubs. Since Rooney Anand became CEO in 2005, the company has been reducing the number of pubs it owns. In May it sold 275 leased and tenanted pubs to Hawthorn Leisure.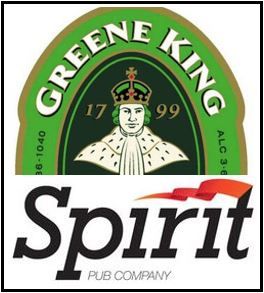 The merged company will have a dominant position in the UK pub and restaurant market.
In October Spirit turned down a £760 million offer from Dublin-based C&C Group plc.
Greene King believes the combined entity should achieve cost synergies of at least £30 million per year. The one-off costs of delivering these savings are forecast to total about £25 million.
Chairman of Spirit, Walker Boyd, said of the agreed offer:
"The combination with Greene King will take this to the next level, creating the UK's leading pub group with further opportunities for growth and accelerating progress towards our objectives of delivering attractive returns for investors."
Geene King's CEO, Rooney Anand, said:
"The proposed acquisition represents a key step towards our objective of building the best pubs and beer business in the UK. This exciting combination of the Spirit business with Greene King accelerates our momentum and is in line with our stated strategy of further improving the quality of our pub estate and increasing exposure to the growing eating-out sector."