All of us can probably agree that what is worse than losing a loved one is when their cause of death is purely unintentional and results from someone else's negligence. It is during these incidents that make you think that these victims do not deserve to lose their lives, making the grief more painful than ever.
These types of death are what wrongful death lawsuit all about. If you are suffering right now because of a family's wrongful death, this article can guide you with everything you need to know — from hiring a reliable lawyer to filing a lawsuit. Keep reading to see how you can file a wrongful death lawsuit and why hiring a lawyer can help you.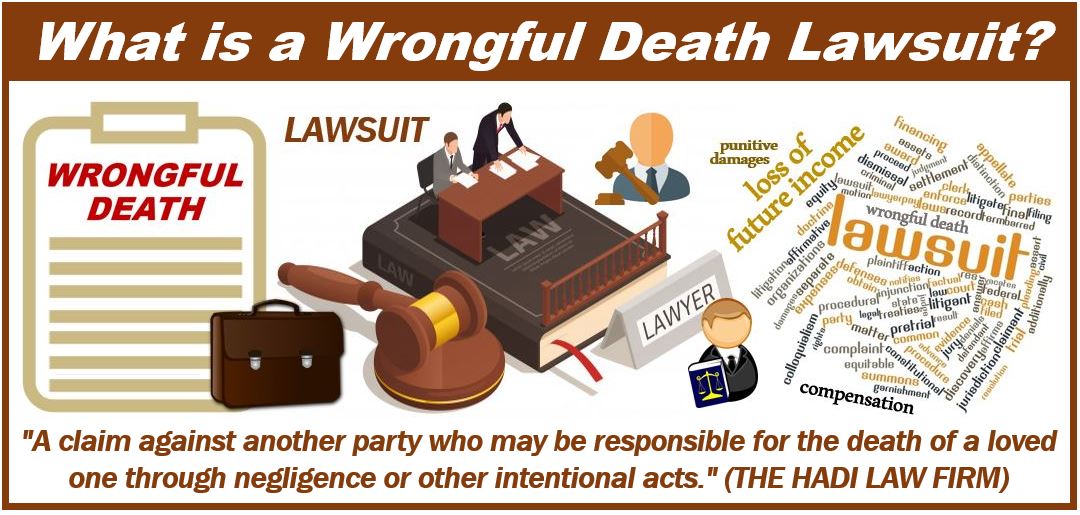 An Overview about Wrongful Death
Did you know that in 2020, unintentional injuries was placed as the fourth leading cause of deaths in the United States with more than 192,000 cases — after COVID-19 at the 3rd spot with more than 300,000 deaths.
Even though the difference between the two numbers is significant, it still shows that every year, there are hundreds of thousands of people die of wrongful deaths because of unexpected accidents and avoidable negligence. These leave millions of people suffering because of loss, giving it more reason to file wrongful death lawsuits against the person or company accused.
Types of Wrongful Death
To start, you should know that there are several types or common causes of wrongful deaths
Vehicular and pedestrian accidents
Accidents involving vehicles or automobiles are the number one cause of wrongful deaths. According to the World Health Organization, the average number of people that lose their lives because of road traffic injuries every year is 1.35 million. The most common vehicles involved are cars, trucks, and motorcycles.
Dangerous Drug
Wrongful deaths involving dangerous drugs is caused by the manufacturers' negligence to catch defective medications before releasing them in the market. They are considered dangerous drugs if they have caused detrimental side effects to the patient or were unable to undergo necessary tests but were still manufactured and sold by the developer.
Medical Malpractice
One of the most common causes of wrongful death is medical malpractice. Even after years and years of training, medical practitioners can still potentially commit even a single mistake at one point in their careers. It can either be a misdiagnosis, surgical errors, improper prescription of medication, etc.
Defective products
Deaths caused by the use of defective products are also grounds for a wrongful death lawsuit against a seller or manufacturer — this calls for a case for product liability. This type of wrongful death can be caused by the manufacturer's failure to include a warning on the instruction, or the product itself had manufacturing errors that were overlooked.
Premise Liability
On the other hand, Premise liability is the negligence of an owner to remove hazardous conditions in their property, which resulted in an injury or death. The tenant or the property owner has to be held accountable in an occurrence of wrongful death.
Workplace Accidents
We are also no stranger to the likelihood of accidents in the workplace. Any wrongful death proven caused by workplace negligence is the liability of the employer, and they must provide appropriate worker's compensation to the surviving family.
Aviation Accidents
Mechanical failures commonly cause wrongful deaths in aviation accidents. In this case, manufacturers of aircraft parts can be sued, and airlines can still be held accountable.
Drowning Accidents
If the drowning occurs in a pool, owners, operators, employers, and lifeguards should hold accountable. Wrongful death lawsuit can also be filed against boat operators in case the drowning occurred when the victim fell overboard.
Filing a Wrongful Death Lawsuit in Houston – Who? What? Where? When? How? 300
If you do not know where to start filing a wrongful death lawsuit, then the process can be challenging for you, especially if you do not have any idea about legal policies. You are likely to have these five basic questions about the filing process, and we are here to answer them.
Who is eligible to file a wrongful death claim?
Figuring out who is authorised in filing a wrongful death claim mainly depends on the age and civil status of the deceased.
If the victim is married, the surviving spouse can file the lawsuit.
When the spouse is also no longer around, the eldest legal child is allowed to do it.
If there are no spouse or children, the deceased's parents can file the wrongful death claim.
Parents should also file the lawsuit if the victim is minor or unmarried.
Depending on your state's policies, domestic partners are sometimes allowed to file the claim.
Some states also allow distant family members, like siblings and grandparents.
Those concerned with wrongful deaths are encouraged to check their state's laws on who is eligible to file the lawsuit. It is essential to keep in mind that policies may differ from one state to another.
What do you need in filing a wrongful death lawsuit?
There are a couple of documents required to file, which indicate the beginning of a wrongful death lawsuit. The qualified descendant of the deceased should submit a complaint or petition with the court.
It must indicate the legal grounds of the case, the facts of the incident, and the reason why the court has jurisdiction over the claim. Along with the complaint, a writ of summons should also be filed notifying the person or institution getting sued.
How to file a wrongful death claim?
Basically, the submissions of the documents mentioned above, the Complaint and the Summons, commences the wrongful death claim. To file a wrongful death lawsuit, submit those two documents to the court.
When does the statute of limitations begin and end in wrongful deaths?
Statute of limitations in wrongful death cases vary depending on your state's laws. The statute begins following the discovery rule, which means the day when the decedent's cause of death was discovered.
The shortest statute of limitations for wrongful death, which is only one year, is in Kentucky, Louisiana, and Tennessee, while the longest is in Maine with six years. The rest have 2 to 3 years, while a few have 4 or 5. Make sure to check the laws of your state regarding wrongful death statute of limitations.
Where can I ask assistance in filing a wrongful death lawsuit?
Filing a wrongful death lawsuit is no doubt challenging and complicated, especially for those who are clueless about the legal process. The best thing you should do is ask assistance from lawyers or law firms specialising in wrongful death cases.
Responsibilities of a Wrongful Death Lawyer

To prove to you that a wrongful death lawyer would be of great help with your lawsuit, here are their responsibilities in the entire legal process of a wrongful death claim:
Handles majority of the case
You can count on a wrongful death lawyer to handle the entire lawsuit for you, from the construction of Complaint and Writ of Summons to actual court hearings. One advantage of hiring a lawyer is that they can lift off too much pressure from you as they take responsibility for everything. This helps you and your family focus on grieving and getting over the death of your loved one.
Assesses the impact of the death on the family
Your lawyer will investigate how your family is affected by the death of the decedent. It can be measured by the loss of wages if the deceased is the sole breadwinner of the family. The suffering of all loved ones emotionally and mentally can also be factored in as an impact.
Provides legal advice
One of the primary responsibilities of a lawyer is to advise the decedent's family on what legal measures they should take and what they should do while the lawsuit is ongoing.
Builds a solid case to win the lawsuit
Your lawyer can initiate an investigation to find statements and pieces of evidence that could support your case and further press those liable for the wrongful death. Documents necessary in the case, like contracts and medical bills, have to be collated. Your wrongful death lawyer is also responsible for finding and prepping credible witnesses in case of hearings.
Negotiates on your behalf
After assessing the impact of the wrongful death on the decedent's surviving family, a lawyer should be able to come up with a value for your claim, covering all expenses incurred during the death and compensating lost wages and the surviving family's suffering. He or she will then present during the negotiation to reach a settlement with the other party. Your lawyer has to ensure that you will be appropriately compensated.
Represents you in court
In case no settlement has been reached, your lawyer then has to represent you in court during trials. To make sure that you win the case, one factor that has to be kept in mind is having a good wrongful death lawyer Houston. Find a reliable and credible lawyer that is experienced when it comes to handling cases similar to yours. Let your wrongful death lawyer help serve justice to the loss of your family member. Nothing is more difficult than the death of someone close to you. Let a lawyer assist you in overcoming the grief and sufferings.
---
Interesting related article: "What is Justice?"