The Hen Harrier, an endangered bird of prey in the UK, is to get Government help to build up numbers in the wild and restore its once abundant population. Once a common sight across upland and lowland Britain, the Hen Harrier was lost as a breeding species from the British mainland around 1900.
Its breeding population in Britain reached a low point between 1920 and 1040, when just fifty to sixty pairs were present in the Orkneys.
Today, the Department for Environment, Food & Rural Affairs (DEFRA); Natural England, a non-departmental public body; and Rory Stewart, Member of Parliament (MP) for Penrith and The Border, who also serves as Parliamentary Under Secretary of State at the Department for Environment, Food & Rural Affairs, announced plans to help reprieve one of England's most iconic birds.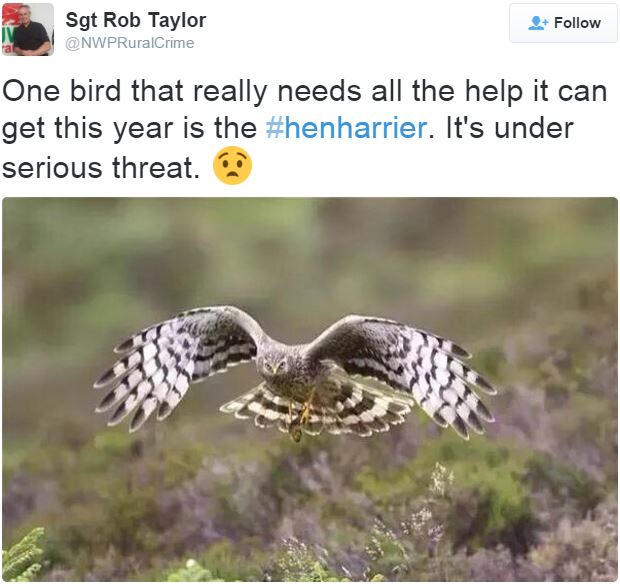 Bird lovers and rural law enforcement personnel across the UK have long been urging the Government to do more to protect the Hen Harrier. (Image: twitter.com/NWPRuralCrime)
According to DEFRA, hen harriers make an important contribution to our intricate ecosystem, and are a much loved feature of our skyline.
Introduction of the Hen Harrier Action Plan
The Hen Harrier Action Plan will co-ordinate action already taken by several conservation groups, landowners, as well as wildlife crime officers across the nation to ensure a strategic and consistent approach.
---
---
The plan also aims to encourage groups to share best practice to help halt the population decline of these 'precious birds'.
Mr. Steward said:
"This new plan will transform the fate of one of our most magnificent birds. We are working closely with conservation organisations and landowners and with their help, this plan will help hen harriers flourish once more while coexisting with a thriving rural economy.
"Our wildlife is a crucial part of our national identity. That's why we care deeply about protecting this vital species for future generations to come."
Rob Cooke, Natural England's Director of Terrestrial Biodiversity, said:
"We welcome the publication of Defra's Hen Harrier Action Plan which sets out an important set of actions to help improve the conservation status of hen harriers in England. Natural England is firmly committed to this shared plan and has been asked by Defra to lead on the implementation of some of the actions set out in it."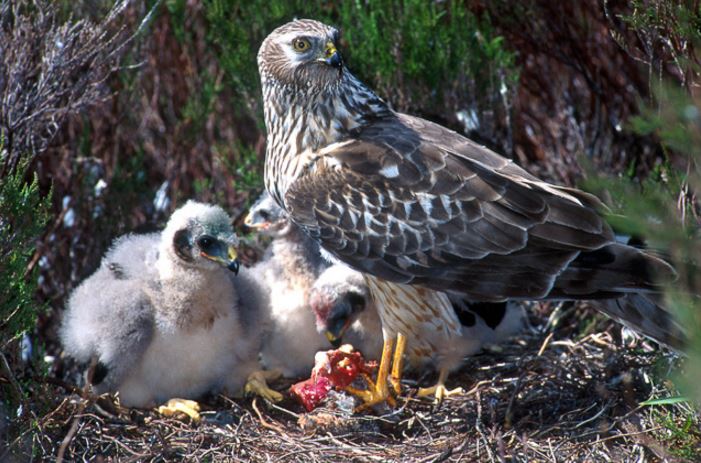 The male will help with feeding the young, but will generally give what he has caught to the female, who does the feeding. When the juveniles are older, she simply drops their food into the nest. (Image: raptorpolitics.org.uk)
"We are looking forward to working with a range of organisations and land managers to help secure a future for the hen harrier as a breeding bird in England."
The plan was created by DEFRA in conjunction with the Game and Wildlife Conservation Trust, the RSPB (Royal Society for the Protection of Birds), the Moorland Association, Natural England, and the National Gamekeepers Organisation, National Parks UK.
The six-point plan
The six-point plan, which will be led by Natural England, will:
– Use satellite tagging and tracking to monitor hen harrier numbers in England and the rest of the UK.
– Share best practice with gamekeepers and land managers, encouraging them to make sure there is provision of food for birds of prey.
– Scope out feasibility for trialling brood management.
– Liaise closely with the RPPDG (Raptor Persecution Priority Delivery Group) to analyse intelligence on persecution, in order to optimise enforcement and deterrent measures.
– Monitor and protect hen harrier nests and winter roost from destruction and disturbance.
– Liaise with landowners to bring back hen harriers to suitable areas in the South of England.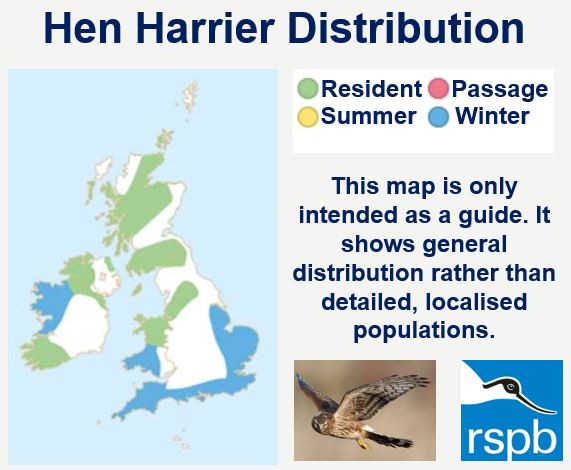 Source: RSPB
A number of these actions, like monitoring and sharing best practice, are already being done at known nesting sites, such as in the Forest of Bowland, also known as Bowland Fell, in north-east Lancashire.
Other actions, including trialling brood management, will be investigated by Natural England along with other partners to determine criteria for a field trial.
This nationwide action is already producing promising results – nest figures increased from four in 2014 to six in 2015.
Amanda Anderson, Director of the Moorland Association, commented following Defra's announcement:
"We are delighted that the Recovery Plan has been launched to help Hen Harriers breed sustainably across their former range in England. The plan contains exciting new actions that we are looking forward to working on with others to ensure they are successful."
About the Hen Harrier
Of the British birds of prey, the hen harrier (Circus cyaneus) is the most intensively persecuted.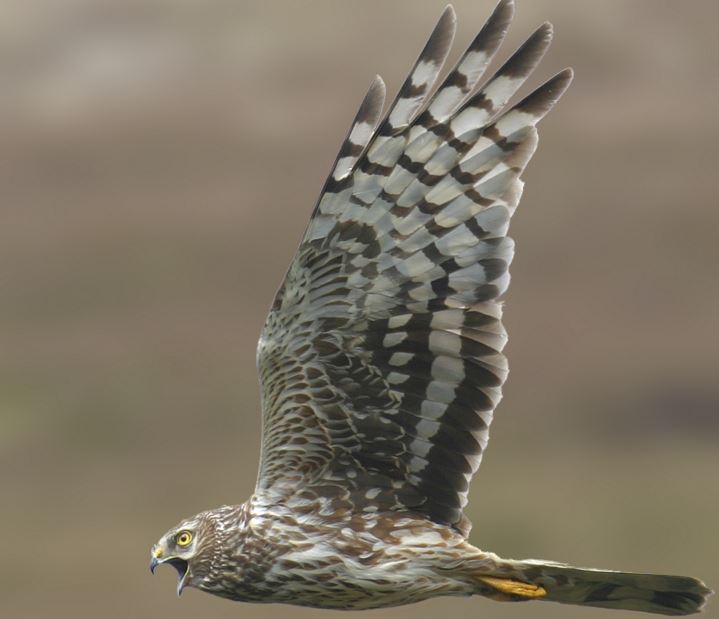 A female hen harrier over a grouse moor. (Image: moorlandassociation.org)
Males are pale grey in colour, while females and juveniles are brown with a white rump and a long-barred tail. They glide low in search of food with wings held in a shallow 'V'. They mainly eat voles and meadow pipits.
According to the RSPB "The Orkney population is famous for being polygynous, with males sometimes simultaneously mated to multiple females."
Hen harriers live in open areas with low vegetation. During the breeding season, British birds can be found on the upland heather moorlands of Scotland, Northern Ireland, the Isle of Man, Northern England, and Wales.
They move to lowland farmland, coastal marshes, heathland, river valleys and fenland in winter. Those observed in south-east and eastern England are probably visitors from continental Europe.
Video – Hen Harrier facing extinction