Canadian aerospace and industrial products company Héroux-Devtek Inc. posted strong sales and profit in the second quarter, but it missed its share estimate.
Sales jumped by 49.1% to $84.1 million while net income came in at $3.3 million or 9 cents per shares in the second quarter, which in Héroux-Devtek's 2014/15 fiscal year is the July-September period.
The steep sales increase was due to APPH Ltd, which was acquired in February 2014.
The Longueuil, Quebec-based company posted adjusted net income after excluding restructuring and other items of $3.8 million or eleven cents per share, compared to $2.6 million or 8 cents per share in Q2 last year.
Adjusted profit, however, was below a 15 cents estimate predicted by Thomson Reuters analysts.
Héroux-Devtek President and CEO Gilles Labbé said:
"Héroux-Devtek generated strong operating results during the second quarter, a period that is normally seasonally weaker due to plant shutdowns and summer vacations. In addition to solid sales and gross profit contributions from APPH, existing operations recorded higher sales to both the commercial and military aerospace markets driven by increased volume on several existing programs and the ramp up of the new Legacy 450/500 business jet program."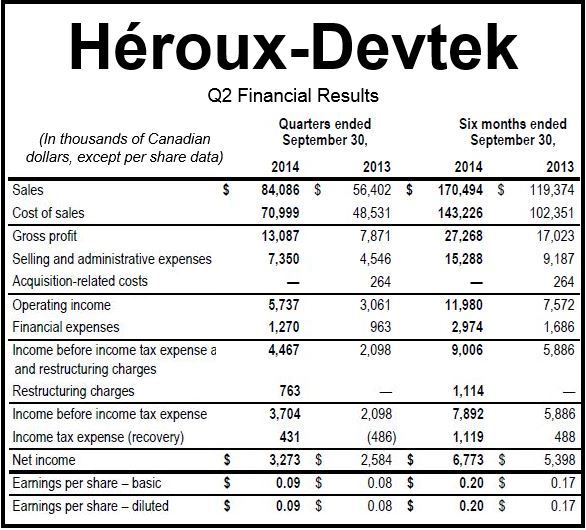 Source: "Héroux-Devtek Reports Fiscal 2015 Second Quarter Results."
"This greater business activity, combined with enhanced manufacturing efficiency and a more favourable product mix, resulted in margin improvements and solid increases in adjusted EBITDA and adjusted net income."
Six months financial results
For the first half of fiscal 2015, consolidated sales were $170.5 million, compared to $119.4 million for the same period last year.
APPH contributed $47.7 million towards H1 sales, and a $3.7 million increase resulting from year-over-year currency fluctuations. When these elements were factored out, comparable sales were virtually unchanged.
Gross profit in the first half of the fiscal year was $27.3 million (16% of sales), versus $17 million in H1 last year (or 14.3% of sales).
Héroux-Devtek outlook
The company says the commercial aerospace market remains buoyant. "Large commercial aircraft manufacturers are increasing production rates on certain leading programs through calendar 2018 and order backlogs represent eight years of production at current rates," Héroux-Devtek informed.
With the business jet market continuing to grow, the company believes the next three years will be good for business.
The military aerospace market has been and is expected to remain difficult.
However, the acquisition of APPH reduces Héroux-Devtek's exposure to the US military market.
As of September 30th, Héroux-Devtek had a $450 million firm order backlog, compared to $447 million in the previous quarter.
Mr. Labbé said:
"In the short-term, our priorities are the integration of APPH and the execution of our $90 million capital investment plan in preparation for our multi-year contract with Boeing to supply complete landing gear systems for the B-777 and B-777X aircraft."
"At this moment, all major elements of the plan are progressing on-schedule and within budget and we are eager to demonstrate our world-class capabilities in executing a large-scale, value-added mandate. These two priorities are key constituents of Héroux-Devtek's longer-term objective of achieving annual sales of approximately $500 million within the next five years, based on existing contracts and assuming no other acquisitions."
"As for fiscal 2015, we continue to anticipate a solid contribution from APPH and relatively stable internal sales compared with last fiscal year, as an increase in sales to the commercial aerospace market should be offset by lower sales to the military aerospace market."