A Hewlett-Packard massive layoff involving up to 16,000 more workers than the 34,000 previously planned, has been announced by the company in its Fiscal 2014 Second Quarter Results report.
The extra 16,000 layoffs will be done by October, 2014, the 75-year-old technology giant added.
News of the redundancies came as Hewlett-Packard announced its fiscal second quarter results, which showed a higher profit but falling revenue. Investors were disappointed that revenue fell to $27.3 billion, 1% less than the same period a year ago.
During the two previous quarters investors had been pleased, believing that the company was finally starting to stabilize itself.
HP struggles in a changing market
Hewlett-Packard, known for its server systems, printers, software design, and personal computers, has been struggling to cope with growing competition and the rapid changes that have been taking place in the technology industry.
Meg Whitman, the former Ebay chief, was brought in as President and CEO of Hewlett-Packard (HP) in September 2011. In 2012, Whitman initiated a restructuring plan that aimed to simplify the firm's business processes, speed up innovation, reduce costs, and deliver better results.
Challenges across its range of businesses still remain. Ms. Whitman's quest to revive growth and innovation in the company seems more difficult than ever now, analysts say.
Ms. Whitman said:
"With the first half of our fiscal year completed, I'm pleased to report that HP's turnaround remains on track. With each passing quarter, HP is improving its systems, structures and core go-to-market capabilities."
"We're gradually shaping HP into a more nimble, lower-cost, more customer- and partner-centric company that can successfully compete across a rapidly changing IT landscape."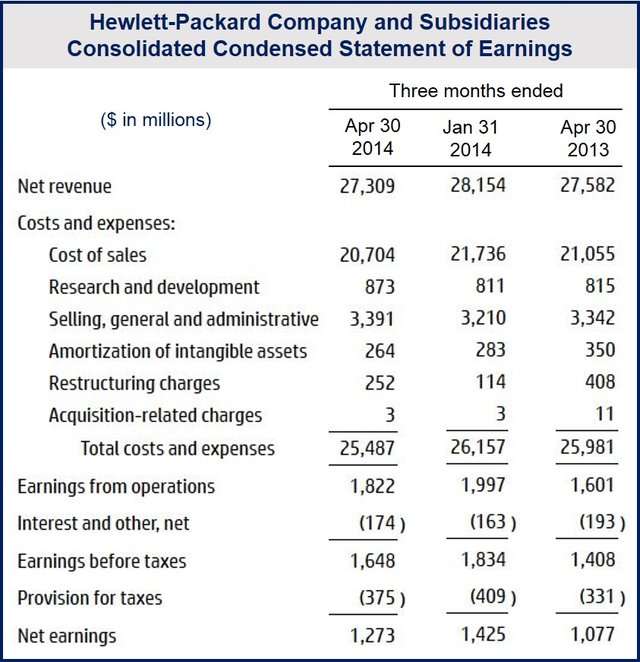 (Source: Hewlett-Packard)
Hewlett-Packard massive layoff involving all segments and regions
According to Ms. Whitman, the new redundancies will affect all the firm's business units and locations worldwide. She added that the new layoffs will probably produce about 2 to 3 cents a share of incremental savings, an incremental charge of about $500 million, and a further cash-flow impact of about $200 million in the last two quarters of the fiscal year.
The layoffs should also create further savings of about $1 billion a year as from 2016, HP wrote.
Is HP going the wrong way?
HP has not said when it expects to see the full results of its restructuring program. A growing number of experts wonder whether it will ever happen, given the company's product mix, adding that it may be running in the wrong direction.
In 2011, HP said it would strategically exit the tablet computer and smartphone business to focus on higher-margin products and services. Surprisingly, it held on to its personal computer division. As the whole market knows, personal computer sales have been falling while the smartphone and tablet business has been growing rapidly.
If PC and Notebook sales are declining, that means that other peripheral products, such as printers, monitors, etc. are difficult to sell. HP is strong in PCs, Notebooks and peripherals, but weak in smartphones and other mobile devices.
The only HP segment to show a gain in revenue in the second quarter was its personal systems division.
The BBC quoted Andrew Milroy, from consultancy Frost & Sullivan, who said:
"Revenues are declining. So it is cutting staff in anticipation of revenues declining further. HP's cost cutting and restructuring seems to be successful, but HP is struggling to make the jump into the growth market in IT in areas like cloud and mobile."
Two options: innovate or stay put
HP essentially has two options:
Focus on selling what it already has.
The first strategy is what Apple did, and came up with the iPod, iPad and iPhone, which completely transformed the company's prospects.
Innovating your way out of trouble is not that easy, and extremely expensive. Competition from thousands of innovative venture capital backed enterprises is fierce. For a giant like HP it is even harder, like trying to turn an aircraft carrier around in a hurry.
The other option, according to Tim Worstal in an article in Forbes, is to "accept that fate of being a boring and unexciting producer of last technology." Although an unlikely growth strategy, it can be a highly profitable one.
Worstal wrote "The profit comes from the fact that there's still vast revenues ($25 billion a quarter and up) flowing through the books. All that's required is to make sure that the cost structure allows a profit to be made from those revenues."
Video – Hewlett-Packard massive layoffs,/strong>