The Broadway Hotel, which claims it has the right to fine guests for bad reviews, charged Mr. and Mrs. Jenkinson's credit card an extra £100 after discovering they had made negative comments about it in Trip Advisor.
The couple, who paid £36 for the room, described the hotel as a "rotten stinking hovel. The wallpaper was peeling off the walls, the carpet was thin, dirty and stained. The bed was something else, it must have come out of the ark."
They had not been the first reviewers to criticize the hotel. One had said the staff were drinking cans of Strongbow (cider) while serving breakfast, while another wrote about "bedrooms full of mould."
The Trading Standards Institute says it is investigating and believes the hotel, located in Blackpool, may have violated trading practice regulations.
In the hotel's booking document, one can read "Despite the fact that repeat customers and couples love our hotel, your friends and family may not. For every bad review left on any website, the group organiser will be charged a maximum £100 per review."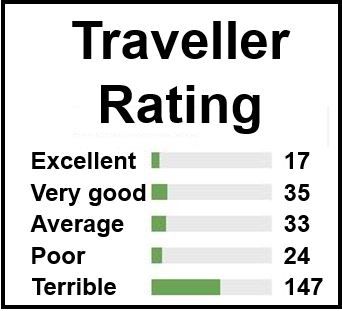 If 147 people gave the Broadway Hotel a "terrible" rating, does that mean it has collected £14,700 from them, and an extra £2,400 from the "poor" contributors? (Data source: Trip Advisor, Broadway Hotel)
Mrs. Jenkinson, who signed the booking document, said she did not have her glasses on and failed to read the small print.
Mr. Jenkinson asked "What happened to freedom of speech?" and added that "annoyed" is not strong enough a word to describe how he feels. He says he plans to fight the charge.
The Jenkinsons are seeking a refund through their credit card company.
The BBC quoted Trading Standards area manager, John Greenbank, who said "I have worked for trading standards for many years and have never seen anything like this. The hotel management clearly thinks they have come up with a novel way to prevent bad reviews, however we believe this could be deemed an unfair trading practice."
A spokesman for TripAdvisor said "It is completely against the spirit and policies of our site for any business owner to attempt to bully or intimidate reviewers."