Brexit uncertainty led to a decline in house prices and demand in October, says a RICS Survey. RICS stands for the Royal Institution of Chartered Surveyors. The persistent Brexit uncertainty has affected housing supply negatively. According to the RICS' latest survey, in October the regional picture remained negative.
Even though the regional picture remained varied, survey respondents in October were also doubtful that Britain's housing market would pick up. Specifically, over the next few months.
Brexit stands for BRitain EXITing the EU (European Union). In 2016, in a national referendum, 51.9% of the electorate voted to leave the EU. In other words, they voted for Brexit.
RICS Survey – October 2018
The latest RICS UK Residential Market Survey found that in October, interest from new buyers had declined. This subsequently led to a more negative trend in house prices.
Ten percent more respondents saw a decline in prices at the headline level (-2% net balance previously). This is the poorest reading since September 2012. Most of it stemmed from the South East and London, with the price balance in the South East weakening during October.
There were also negative balances in the North East, South West, and East Anglia. Prices in other parts of the UK, on the other hand, continued rising. Northern Ireland and Scotland posted the strongest increases.
The RICS Survey reported that three-month price expectations were also marginally negative at a national level. Over the next twelve months, the national outlook in October was broadly flat.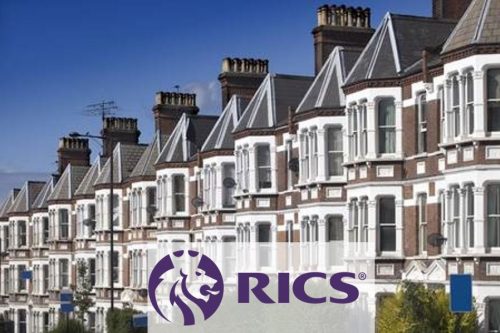 Price wise – market steady
The following comment came from a press release about the RICS Survey:
"For those looking for their first properties, the market is relatively steady price wise. Reporting on properties listed at up to £500k and below, a slim majority of survey participants reported that sales prices have been at least level with ask prices."
"Nevertheless, a still noteworthy 34% stated sales prices were coming in up to 5% below. Homes in the highest price brackets are noticeably below asking price."
A lack of demand from new buyers is driving the weaker trend in prices. The lack of demand is partly due to Brexit uncertainty, say the organisers of the RICS Survey.
A modest upward move in interest rates, a lack of fresh stock, and ongoing affordability pressures are also weakening prices.
Never-ending Brexit negotiations bad for business
Simon Rubinsohn, Chief Economist at RICS, said:
"Although the tone of much of the newsflow surrounding the housing market remains downbeat, this continues to disproportionately reflect developments in the south and east of England with the picture remaining rather more resilient in many other parts of the country. Uncertainty about the economic outlook on the back of the never-ending Brexit negotiations appears a key drag on sentiment according to respondents to the survey."
"Meanwhile, the announcement of the extension of Help to Buy, albeit in a narrower format, should continue to underpin the new build market in the near term. Whether it, alongside other measures recently announced including the lifting of the HRA cap, is sufficient to drive housing starts up to the government's 300,000 target over the coming years remains to be seen."