February is Black History Month, and all over the United States, Canada, Great Britain, the Netherlands, Germany, and other countries, citizens are coming together to celebrate the Black Community and Black History.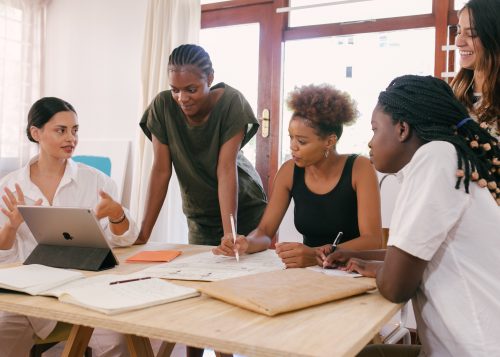 Although much of the Black History Month education programs, activities, and events are happening in schools and on university campuses, an increasing number of businesses and other organizations across these nations are taking an active part too. In fact, Black-led IT companies are just some of those leading the way.
We spoke with several Black-led IT companies, and they told us a few of the most important ways their organizations are taking part in Black History Month and working to increase diversity within the tech community.
How Are Black-Led IT Companies Celebrating and Increasing Diversity in the Tech World?
Embedding Diversity Within Company Mission Statements
According to Krystal Triumph of Atlantic-IT.net, a nationally-recognized, Black-led IT company with offices in New Jersey, Pennsylvania, and New York, diversity and inclusion are in the DNA of their business. It is "within [our] mission statement and recruitment strategy," she says. "We believe [by] having a diverse workforce we ensure we can relate with multiple clients, their staff and come up with new solutions to deliver to our clients."
Speaking With Local Schools and Universities
Many businesses look for ways to connect to the community through local organizations, schools, and universities. Educating young people especially is essential as some students aren't aware of the many career opportunities within the tech world.
Giving Back to Local Community Centers
Black-led IT companies are also interested in giving back to community centers that do a great deal for Black local communities. Triumph mentions providing these community centers with new and innovative technologies that they may not have been exposed to in the past. Ideally, these technologies could help them do their extremely important work with more ease.
Providing Internships for Students
It can sometimes be a challenge for young students who are interested in working in the tech field to find internships — especially those that fit their skill level and busy schedules but still challenge them. After all, having the experience that an internship can provide is critical for getting ahead in the tech world. To this end, many Black-led IT companies are opening up new internship positions to attract more students and give them a great experience as they move forward in their careers.
Creating Scholarships for Students
Just as internships can provide an excellent experience for young students interested in working in technology, scholarships help the same young students pay their way at college.
Black technology leaders are looking for ways to help with these scholarships. Many have established brand-new funds aimed at providing education dollars to exceptional students interested in tech.
Networking and Partnering With Other Like-Minded Organizations
As Triumph puts it: "We believe that networking and sharing information will also increase diversity as there is a lack of awareness of … the multiple areas of technology. We believe if we can get to our youth in diverse areas and do presentations they [will] understand [all the available] opportunities."
Of course, much of the focus is on our youth as they are our future. But adults with already established careers can help too. When Black-led IT companies partner with other organizations who share their goals for diversity and inclusion, everyone wins. Having a vision of inclusivity and opportunity for all should be the cornerstone of the businesses we support and look up to. With this mindset, the technology world can become a leader in this groundbreaking arena.
How Did Black History Month Get Started?
Most people know that February is Black History Month — also known as African American History Month — but do you know how it got started?
Dr. Carter G. Woodson was the first to come up with the idea. For much of his adult life, he lobbied broadly among politicians and in schools for the celebration and national observance of an African American History Month. Dr. Woodson was a leader in the African American Community and founded and established several publications.
Eventually, the growing Civil Rights Movement of the '60s propelled the idea forward, and the annual monthly celebration was officially established in 1976 when Gerald R. Ford was president. President Ford formally recognized the celebration of Black History Month at this time, and he encouraged Americans to "seize the opportunity to honor the too-often neglected accomplishments of Black Americans in every area of endeavor throughout our history."
---
Interesting Related Article: "Apple makes progress on racial diversity of its workforce"