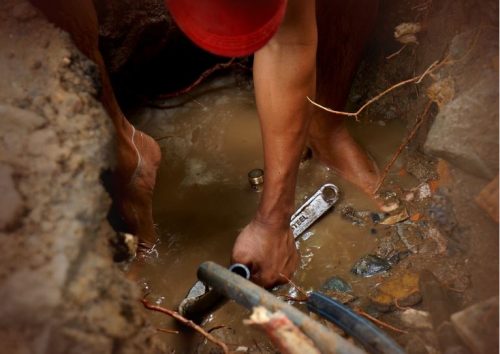 One of the stages of waste water treatment is mechanical dewatering of sludge from primary and secondary sedimentation tanks. Depending on the needs of an enterprise, it's possible to use various types of equipment for this procedure. 
It is important to note that each type of equipment has its advantages and disadvantages, which provide the greatest applicability of a particular type of equipment for specific conditions.
Unfortunately, at the moment, there is no unified equipment that would provide the maximum technological and economic efficiencies under a wide range of conditions. These include the minimum moisture content of the filter cake, minimum capital or operating costs, the ability to work with sludge of any nature.
You should select the type of dewatering equipment based on several factors:
type of sludge to be separated;

load on the dewatering section;

cost of reagents and their delivery to the dewatering site;

technological requirements for the purity of the filtrate and the moisture content of the filter cake;

filtration cake removal and disposal options;

the energy consumption cost;

equipment maintenance cost.
The most common types of sludge dewatering equipment are belt filter presses, chamber filter presses, centrifuges, and dehydrators.
Screw dehydrators
Dehydrators show excellent results when used for working with various types of sludge. The screw dehydrator is easy to install in confined spaces, does not require an additional ventilation system, and is extremely easy to maintain. The high wear resistance of the central units of the dehydrator ensures trouble-free operation of the auger and dewatering rings for up to 30,000 hours.
The unit demonstrates high maintainability rates. In particular, for installations with two or more augers, it is permissible to service one auger while the other augers operate in parallel.
The main usage limitation of the screw dehydrator is their low productivity – up to 150 kg/h of dry matter of the initial sludge per unit. At wastewater treatment plants of medium and large capacity, this necessitates installing a significantly larger number of units than when using a belt and chamber filter presses or centrifuges. This also necessitates more considerable capital and operational costs, making centrifuges and filter presses at such facilities a better option.
Centrifuges 
The main advantages of using centrifuges are:
higher content of dry matter in the cake, which is especially true for high content sludge or excess activated sludge;

a rather low need for rinsing water, 

no need to equip the room with an additional ventilation system.
Centrifuges are primarily used for oil and fat-containing sludge or sludge with a high content of excess activated slit. At the same time, it is not recommended to use centrifuges when working with sludge containing abrasive inclusions. It is all due to higher costs for electricity, reagents, maintenance, and overhaul. Moreover, these costs significantly exceed the benefits of their use.
Belt filter presses
The advantages of using belt filter presses are:
high productivity, which is especially noticeable when working with sludge with a high proportion of sludge from primary sedimentation tanks, 

low energy consumption;

relatively low maintenance and repair costs
The main consumables for belt filter presses are sieve belts and bearing sealing, which must be replaced every 1.5 – 3 years. Shaft repair (restoration of the polyurethane coating) may be required every 6 to 10 years.
Chamber filter presses
The key advantage of chamber filter-presses is the ability to obtain a filter cake of significantly lower moisture content than through other types of dewatering equipment – up to 65-70%. The use of chamber filter presses is most effective in cases where the incineration of the filter cake is expected.
The economic effect of reducing the cost of evaporating the water contained in the filter cake exceeds the increase in the cost of more expensive reagent treatment. In terms of energy consumption, chamber filter presses are positioned between belt filter presses and centrifuges.
How to choose the right equipment for sludge dewatering?
A preliminary examination will be necessary when choosing dewatering equipment regardless of calculations and analogies. Choose the optimal type of equipment based on the experiment results. The standard size and quantity of equipment are determined based on the type, dose, and regimen of reagents.
---
Interesting Related Article: "What Are The Common Causes Of Water Damage?"