How often does it happen that your best of photos are in low-resolution or blurred? Worry about there aren't much software available that allows users to convert a low-resolution image into a clear, HD quality. 
To make it easier for you, we have rounded up the best 4 apps along with their stellar features and pros and cons for how to increase photo resolution effortlessly. 
Thoroughly read the article to be able to choose the software that meets your needs every time.  
How to increase the resolution of a photo on PC
Below are the two professional-grade software to increase photo resolution on a Windows PC. 
For the people looking for how to increase the resolution of a photo without losing the original quality, HitPaw Photo Enhancer is the best choice. This tool has been the #1 ranked photo enhancer for quite some time now thanks to its high-efficiency, super-fast speed, and ability to transform pixelated images to high quality. 
Its latest version offers three advanced modes: General, Face, Denoise, that can enlarge and sharpen any image regardless of its type. Since Hitpaw is specifically developed keeping in view the needs of not-so-tech-savvy users, it provides a one-click process to enlarge your photos to minimize human error. 
Main Features of HitPaw Photo Enhancer 
Offers a one-click automatic procedure to upgrade low-resolution images to high-definition.

Users can choose any of its three powerful AI-driven models to improve the photos' quality 

Sharpen, enlarge, or increase pixels of photos with lossless quality 

Powerful batch processing feature 

Its Denoise feature can remove noise from your images and make them appear life-like 

Real-time preview to see the results  

Supports 4k images 
Converting a low-resolution image to a clear, HR quality has never been easier using HitPaw Photo Enhancer. Find out how to do that: 
Step 1
To begin, download HitPaw Photo Enhancer from the official website and install it. 
Step 2
On its main interface, hit "Choose File" and upload your low-resolution image.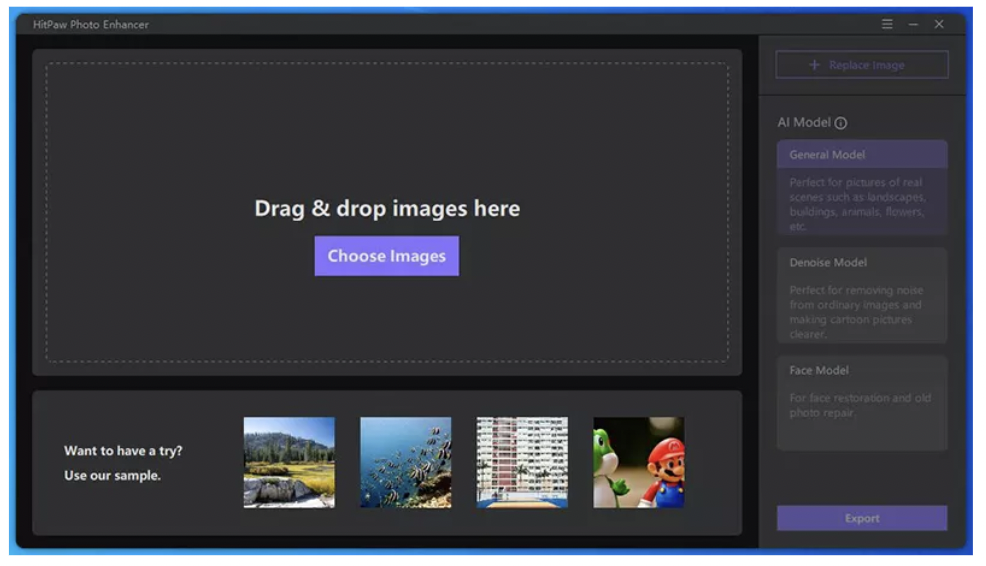 Step 3
Choose the AI-model: General, Denoise, or Face, depending on your image type. After that, hit Preview to start the process. 
Step 4
Wait patiently until the program increases the resolution. If you're satisfied with the result, hit Export to save it.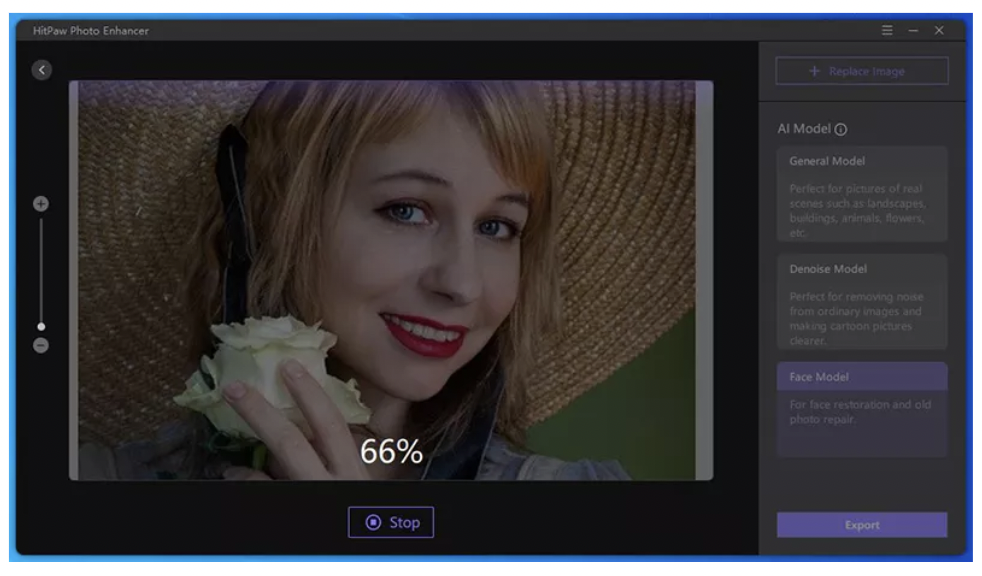 Adobe Photoshop 
The name Adobe needs no introduction in the world of top-ranked photo enhancers. Using this powerful, all-in-one tool, you can get convert an ordinary-looking photo into a stellar, breathtaking quality with just a few clicks.  
As great as Adobe Photoshop is, it's interface is quite complicated and tech-savvy for beginners. Also, you have to buy the premium version, priced $9.99/month, which is very expensive and which is why, Adobe is not a go-to choice for most users.  
Features of Adobe Photoshop 
Enlarge your photo to clarify the important details 

Curate the color aesthetics and adjust photo's brightness, saturation, and warmth  

Easily sharpen a blurry photo including its edges 
Follow the below steps to learn how to increase photo resolution in Photoshop:
Step 1
Launch Adobe Photoshop and import your image from File > Open. 
Step 2
Then, click Image at the top-left and choose Image Size. 
Step 3
On the pop-up window, increase the width, height, and resolution according to your needs.  
Step 4
Click Ok to save your changes.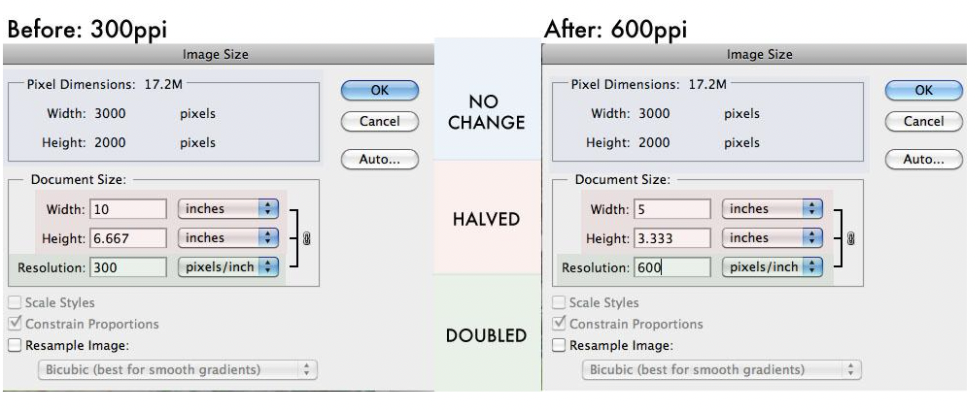 How to increase photo resolution on Mac
If you're a Mac user and wants to improve your photo's resolution quickly, the Movavi Picverse is your ideal companion. Designed for photographers of any skill, it makes it ridiculously easy to edit images and get amazing quality in no time.  
Its powerful AI auto enhance feature makes it an ideal choice for entry-level users to get high-resolution images in a jiffy. 
Features of Movavi Picverse 
Quick transformation of low-resolution photos into HD

One-click background removal

AI-based auto enhance 

Uses advanced algorithms to restore old photos 

Built-in 9 presets 

100+ filters and effects to make your photos even more captivating 
Here's how to increase photo resolution Mac: 
Step 1
Launch Movavi Picverse and import your desired photo into the program. 
Step 2
Choose the Resize option from the right tab and manually enter the Width, Height, and Pixels into the respective boxes.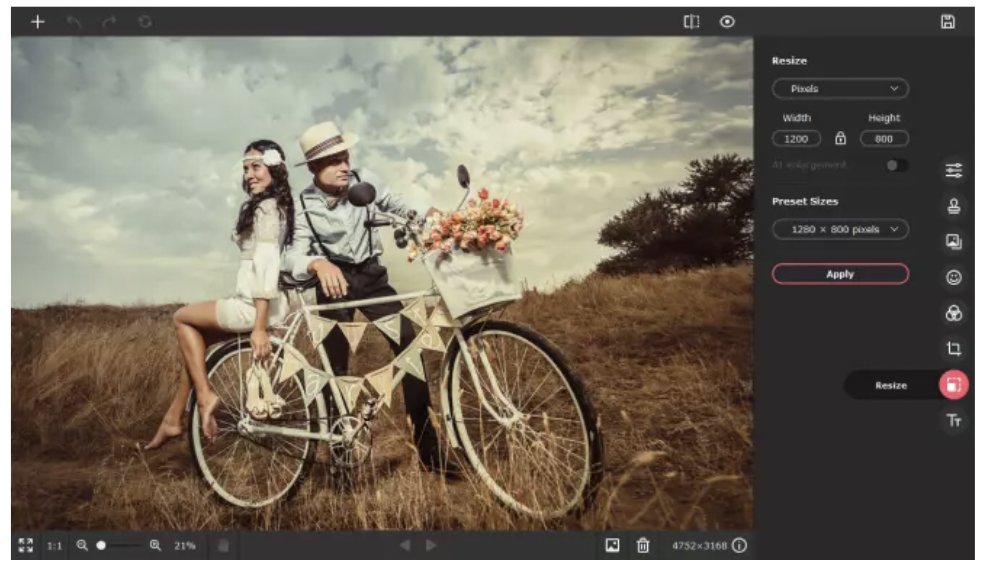 Step 3
You can also use AI built into the program to enhance and Denoise your photos as shown in the figure. 
How to Increase Photo Resolution Online
Many users prefer online tools for their added convenience and ease-of-use in editing the image. You can consider a lot of websites for improving a photo's resolution but the best one is Let's Enhance Online. 
It is one of the most popular platforms for enhancing old, blurred, or low-resolution photos with satisfactory results. Let's Enhance gives users freedom to manually select the upscale factor starting from 2x to as high as 16x. 
Additionally, you get tons of options to tweak with the output settings including resolution, tone, color, light, and so on. However, it mandates you to make an account before using its services. Also, the free version allows you to process just 5 images. 
Main Features of Let's Enhance Online 
Offers an intuitive way to increase image's resolution and size without losing quality

Users get access to built-in presets to save time 

Its powerful Magic feature can enhance the resolution up to 4 times the original resolution 

Makes your pixelated images neat and clear 

Allows you to process multiple images simultaneously 
Check out how to increase photo resolution online: 
Step 1
First of all, go to the official let'senhance.io and login/signup with your Let's Enhance account.  
Step 2
On the website's home page, click anywhere to import and upload your low-resolution images. 

Step 3
After that, the program will display the image's details on the screen. Now, you can easily improve its resolution. 
For that, go to Smart Enhance and hit Start Processing. Adjust other output settings as you want. 
Step 4
Once the program increases the photo resolution, hit the "down triangle sign" on the image thumbnail to save it on your PC.  
Conclusion
This article has provided a comprehensive guide on how to increase photo resolution without losing the original quality. You can rely on any of the aforementioned tools to get the job done but the best way to get high-resolution images is using HitPaw Photo Enhancer. 
It uses advanced AI tech to automatically detect and process your images and make them clear, better focused, and high-definition in just a few seconds.  
For any queries, feel free to reach out. 
---
You may be interested in: Why video editing in Mac is getting popular